What is an HQD Vape
What's up, vaper! Welcome back to VapePenZone Blog!
The brand that we're going to talk about has not been around for a very long time, but it's already quite famous, especially in Russia. Their first vape HQD Cuvie became one of the most popular disposable vapes right after it was released. It's literally all over the internet. I'm sure you have already heard of the brand – it's HQD tech.
So, obviously, today's topic is HQD Vape Review. They recently released some new HQD disposables Vape. There are HQD Melo, HQD Cuvie Plus, HQD King, HQD MAXX and so on. And I picked 2 of them that I think are the best to review. But for today, we're only going to talk about the HQD 1200 Puff Vape – HQD Cuvie Plus Australia.
Alright, let's jump into it!
HQD Cuvie Plus Review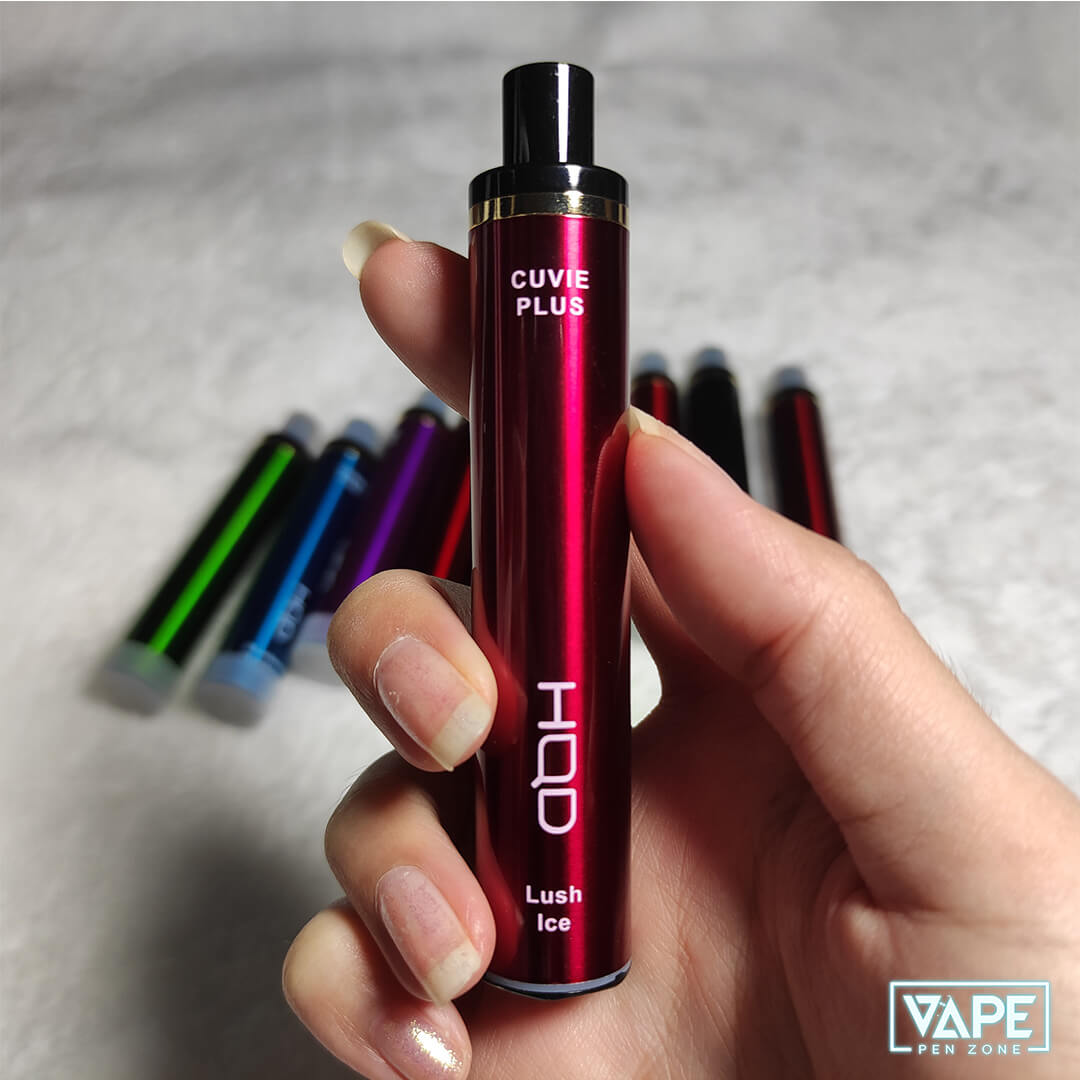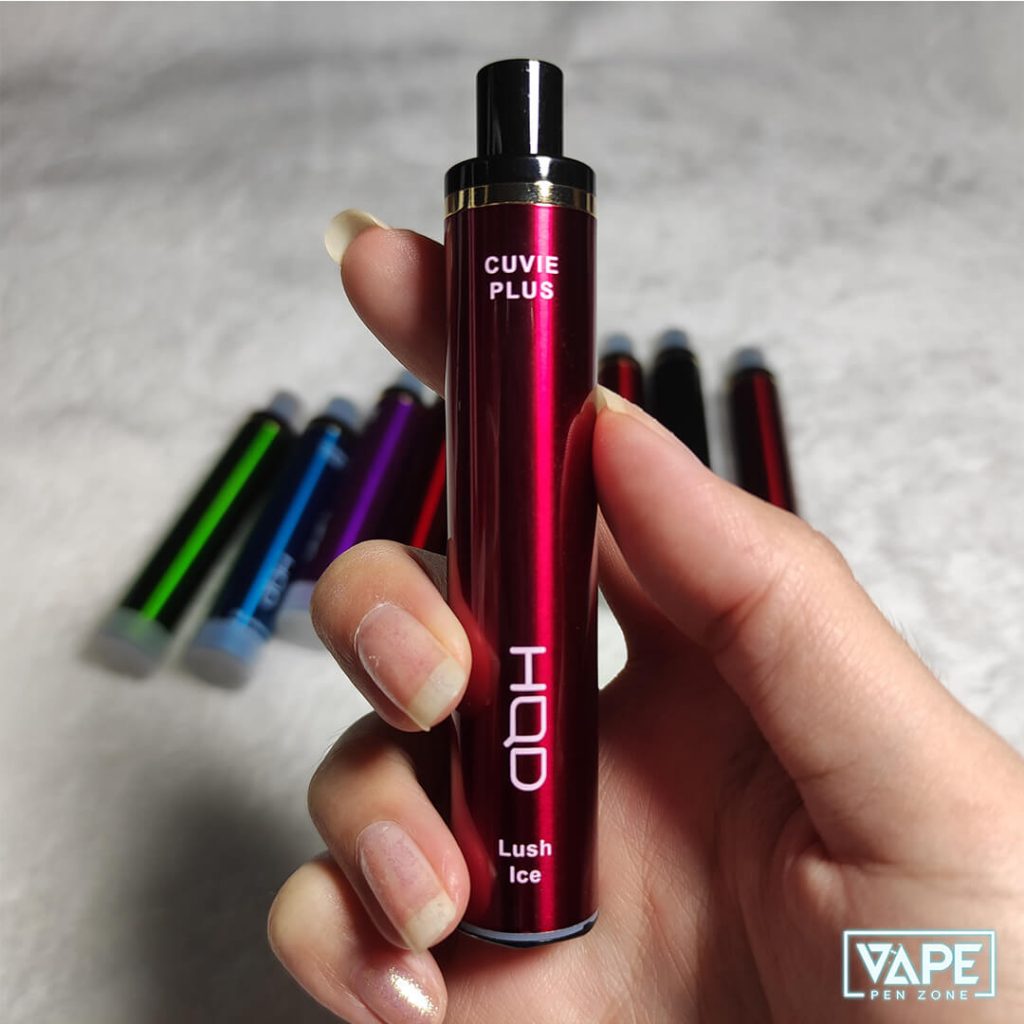 Specs
Size: 101 × 18 × 18 mm
Weight: 45g
E-liquid Capacity: 5.0ml
Battery: 950mAh
Coil resistance: 1.8ohm
Wattage: 7~12W
Input Voltage: 3.7V
Up to 1200 puffs
HQD Price: A$34.98 (Click here to purchase HQD Cuvie Plus)
HQD Vape Review: Design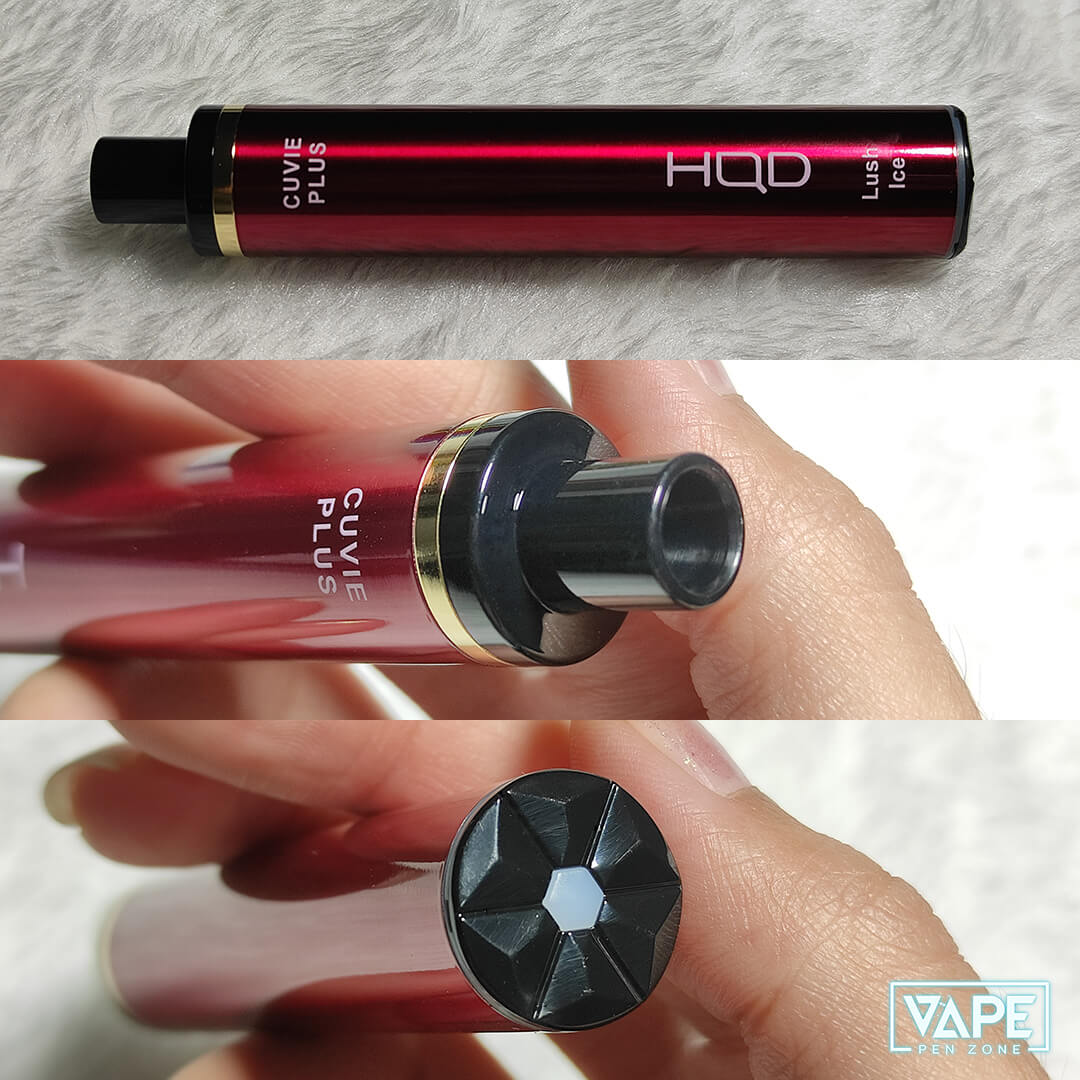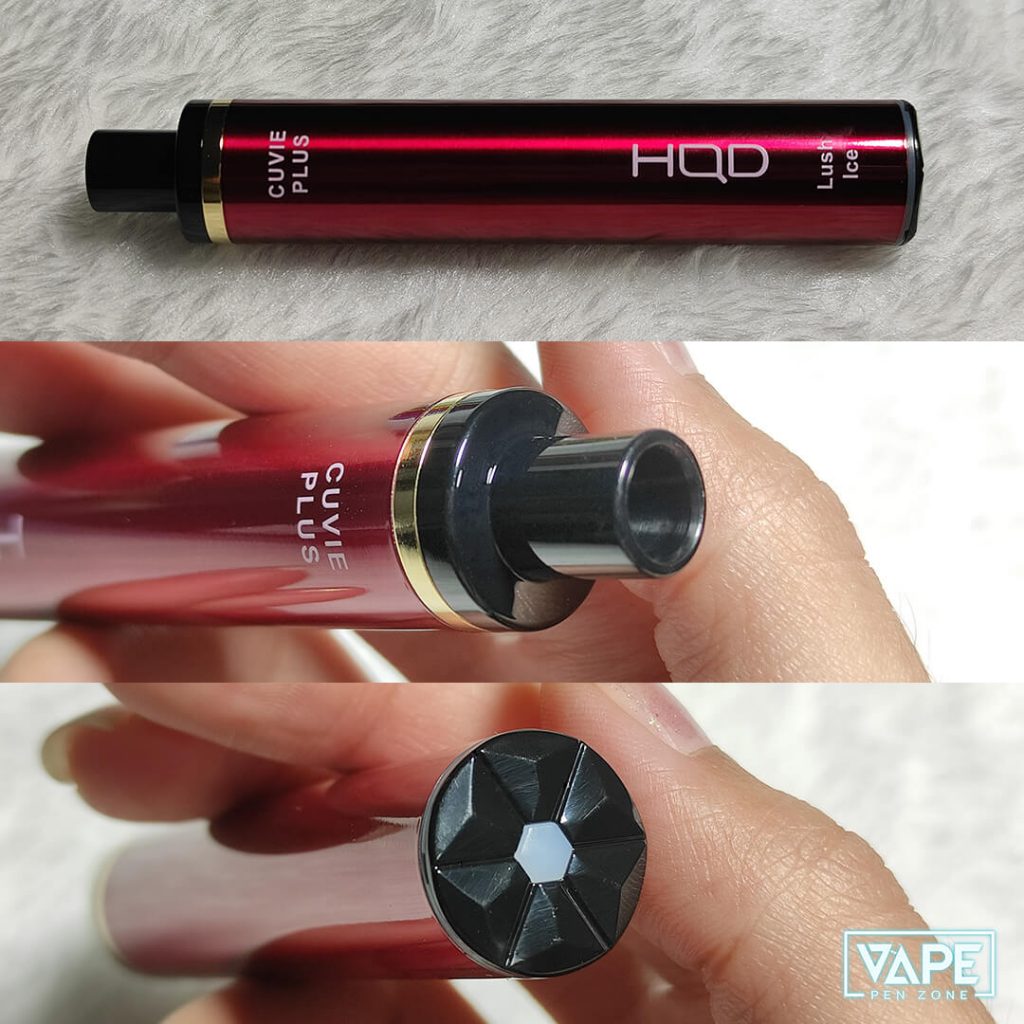 If you remember the last review of IGET Vapes, you must remember the IGET vapes, like XXL vape. The shape and the texture of HQD Vape Cuvie Plus feels a lot like IGET XXL. Same aluminium alloy touch, same reflective effect. And they're both pen-shaped – just that Cuvie Plus is a bit smaller than the IGET XXL.
Though the capacity of the IGET XXL is 2ml more than Cuvie Plus, Cuvie Plus weights a tiny bit heavier than IGET XXL for some reason. Many smokers will ask how many hits does a cuvie plus have? Then I can answer you clearly: there are 1200 puffs.
The differences are the mouthpiece and the bottom of the vape. The mouthpiece of the HQD Cuvie Plus is rounded. Very old-school style. Many old sub-ohm vapes used to have the mouthpiece in this style. And some people are very into that. But some people find it hard to put their mouth around it. Personally, I prefer a flat mouthpiece. However, it really depends on how you like it.
And the bottom of Cuvie Plus has a unique design. They carved it into a snowflake shape, and in the centre of it, there's the LED indicator, which shines through a frosted plastic cover. The cover makes the light soft and nice. And around the bottom, there's also a frosted plastic ring for the indicator to shine through, making it easier to see it when you vape.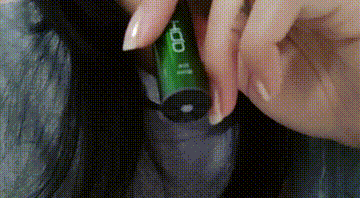 And that's all for the design. It's alright. I don't hate it, but I don't love it either. It's just the same old pen-shaped type.
User Experience
First of all, HQD Cuvie Plus for today's HQD Vape Review feels comfortable to hold in your hand. It's at the right weight. It's enough for you to feel it in your hand when you're holding it, while it's not too heavy when you put it in your bag or pocket. It's also cold and smooth to touch, thanks to the texture.
A Cuvie Plus comes with two silicone protectors, one for the mouthpiece, and another for the bottom. You can keep the mouthpiece protector to stop dirt from going into your vape. Since the shape of HQD Vape Cuvie Plus' mouthpiece is rounded, the protector was made into a lid instead of a plug. And that makes it easier for the protector to stay on the mouthpiece.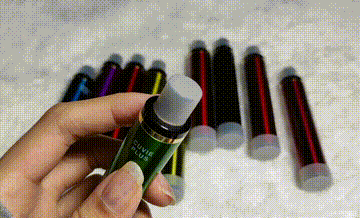 And about how it does when you're vaping it. The auto switch is instant. The draw resistance is a tiny bit looser than RELX Infinity. No funny noises when you're vaping.
Cloud production is great. First, you can feel the warmth of the vapour, and then it hits you with the right amount of cooling to refresh your mind. The vapour is smooth, and a little warmer than RELX. All Cuvie Plus Flavors are fruity flavours. All of them are strong and sweet, which makes some flavours a bit greasy. But most of them in this HQD Vape Review is good.
Pros & Cons
Pros
No leaking
Lid-shaped silicone protector
Rich flavour
Strong throat hit
Side bottom LED indicator
Cons
All sweet fruity flavours
All green indicator light
Regular basic design
FAQ
Is HQD a good vape
HQD Cuvie Plus is everything one could ask for in a disposable vape for adult smokers who are trying to switch to a healthier lifestyle. It has 10+ flavour options and a power range of 8 to 12 watts which brings the best flavour out of the juice.
And all the above shows that HQD Cuvie Plus Australiais a good vape.
How much nicotine is in an HQD vape
An HQD Vape Cuvie Plus has a nicotine level of 50mg/ml.
How many hits are in an HQD vape
An HQD Vape Cuvie Plus provides 1200 puffs, which would last you from 3 days to 2 weeks.
The HQD Cuvie Plus Vape is easy to use. Since the automatic switch is instant, screw the cartridge into the battery, inhale, and enjoy the HQD Cuvie Plus Australia. HQD cuvie plus best flavors, I'm sure you can make the right choice
How Long Does HQD Vape Last?
On average, an HQD vape will last about 15-20 days, but this may depend on how you use it. If you are a heavy smoker, your usage time will be even shorter. The best way is to take small puffs and avoid smoking cigarettes. If you can do this, you should be able to get more out of your HQD vape.
Is HQD Vapes Safe
HQD vapes are safe to use. The company uses high-quality materials and follows strict manufacturing guidelines to ensure its products are safe for consumers. Their products have been tested by third-party labs and be free of harmful chemicals.
HQD Vape Cuvie Plus Flavors Review
HQD Ice Mint Vape
Sweetness: ★★★★☆
Cooling: ★★★★☆
Intensity: ★★★☆☆
Recommending: ★★★★☆
It's not that intense comparing with others in this HQD Vape Flavours Review. You can feel the throat hit without a tingle, which I prefer. Some of you might like a harsher throat hit, but this one is rather smooth. It has a very sweet taste, mixing with a tiny little bit of the herbal bitterness of mint. The cooling is just enough. And it stays in your nose for a bit. So you can feel the refreshing scent of every breath after a puff. But don't take too many puffs once or chain vape because the cooling will hurt your throat.
Strawberry Watermelon
Sweetness: ★★★★☆
Cooling: ★★★☆☆
Intensity: ★★★★☆
Recommending: ★★★☆☆
This one is one of the richest flavors of this best HQD flavors Review. The sweet candy smell of strawberry burst straight into my nose once I unpacked it. Surprisingly, it's slightly less sweet than Ice Mint, but it's sweet enough for me. The strawberry taste is taking over, and it's much more than the watermelon. And the throat hit is not much more intense and harsher than Ice Mint.
Pineapple Ice
Sweetness: ★★★★☆
Cooling: ★★☆☆☆
Intensity: ★★★☆☆
Recommending: ★★★★☆
I have to say that this one is the strongest pineapple flavour that I've ever tried. It tastes like those sour pineapple hard candy, just like how it smells. Personally, I think the sweetness with a hint of sourness is the best combo of pineapple flavour things. The harshness of its throat hit is between the Strawberry Watermelon and the Ice Mint flavour. I'm more into smoother vapour, but I guess I'll take it for the good flavour.
Mango
Sweetness: ★★★☆☆
Cooling: ★★★★★
Intensity: ★★★★☆
Recommending: ★★☆☆☆
The cooling of this flavour is a bit too much for me. It's super strong, even stronger than Ice Mint.
It kind of weakens the taste of mango, even when the fragrance of mango tastes really good. The thing with too much cooling is that you can't vape too long for one time. If you do, it will hurt your throat when you take a deep breath. So I won't recommend this one too much since there are better ones in this HQD Vape Review. But if you really like mango with tons of cooling, you can give it a try.
Apple Peach
Sweetness: ★★★★☆
Cooling: ★☆☆☆☆
Intensity: ★★★★★
Recommending: ★☆☆☆☆
This flavour is a no for me. The throat hit is way too harsh for me. And it's got a bit of the bitterness of green apple, which I'm not really into. If you love a harsh throat hit and green apples, go for it. Personally speaking, I won't recommend it for this HQD Vape Review.
Blueberry Raspberry
Sweetness: ★★☆☆☆
Cooling: ★★☆☆☆
Intensity: ★★★★☆
Recommending: ★★☆☆☆
The Blueberry Raspberry of today's HQD Vape Flavours is a special one. You can taste the blueberry and the raspberry mixing equally just by the smell. The HQD vape flavour is strong as well. When you inhale, the sourness of the berries bursts right into your mouth. But the taste of blueberry is so strong that it overwhelms the raspberry taste. There's not much sweetness in it.
Grapey
Sweetness: ★★★★☆
Cooling: ★☆☆☆☆
Intensity: ★★★☆☆
Recommending: ★★★☆☆
I know that a lot of you like grape flavour vapes, so this one is your thing. Unlike the RELX pods, there's not much cooling in this HQD Vape Cuvie Plus flavor. This grape flavour is sweeter and stronger than the RELX Tangy Purple. But it's got the same grape soda kind of taste as the Tangy Purple. So if you like RELX Tangy Purple with less cooling and stronger throat hit, you can try this one out.
Lush Ice
Sweetness: ★★★☆☆
Cooling: ★★★★☆
Intensity: ★★☆☆☆
Recommending: ★★★☆☆
Sweet watermelon hard candy with a little bit of bitterness is just what it tastes like. I'm noticing that there're a lot of candy-like flavours in this HQD Vape Review. It's a minty watermelon flavour. Definitely good for summer if you don't mind the tiny bit of bitter taste. A lot of watermelon flavour vapes have that kind of bitterness. It's probably a watermelon flavour thing.
Kiwi Strawberry
Sweetness: ★★★☆☆
Cooling: ★ ★☆☆☆
Intensity: ★★★☆☆
Recommending: ★★★★☆
When I first unpacked this one, it immediately exuded a strong kiwi fruit scent. But when I inhaled, the strawberry taste just stood out and took over. I personally enjoy this flavour. Since I'm allergic to kiwi fruits, this vape flavour gives me a chance to taste it, lol.
Black Ice
Sweetness: ★★★★★
Cooling: ★★☆☆☆
Intensity: ★★★★☆
Recommending: ★★★☆☆
This flavour is probably the sweetest among all the flavours in this HQD Vape Review. It could be a little too greasy for some of you. Just a super sweet-sour blackberry candy taste. I'm okay with this one. If it weren't that sweet, I'd like it more. But if you're madly in love with extremely sweet stuff, and you like blackberries as well, you can give it a try.
HQD Vape Review: Verdict
All in all, it's an HQD vape good product. If you really like strong and sweet fruity flavours, HQD Cuvie Plus review is definitely for you. The capacity is big enough, and so far, there's no burnt taste, or liquid leaking, whatsoever.
Alright, that's all for today's review. Thanks for reading! If you decide to try it out after this post, you can click here to access the HQD Vape Cuvie Plus Product Page, and our web store can do a true HQD Vape Near Me! Also, be sure to follow us on social for more review videos and promotions. And I'll see you in the next review!
---
Related Posts:
👉 IGET vs HQD vs Puff Bar: Disposable Vapes How To Choose?
👉 HQD Cuvie Air Vape Review: Best HQD Yet?
👉 IGET Mega Vape: Don't Buy Before Reading This
👉 HQD MAXX Vape Review: 10+ Perfect Flavours Vape?