IGET Vapes Review – Intro
What's up fellow vapers, welcome to VapePenZone Blogs! It's Chay here! And today's blog post is going to be exciting – we're doing an IGET Vapes Review! As a brand that provides mostly disposable vapes, IGET has done a pretty excellent job, to be honest. And that's probably why IGET vape has been very popular lately. Disposable vapes used to be despised by the vape community (at least I did) because back in the day, they were terrible. The clouds were too thin to be visible; they sometimes would make you cough pretty bad, the flavours were either too plain or too artificial… Well you get my point.
But now, the time has changed. With all these amazing disposable vape brands producing better products, IGET still stands out. Mostly because of IGET Plus' genius design (which I'll talk about later) and the vape juice they use.
Alright, without further ado, let's start today's IGET Vapes review!
IGET Shion, Plus, XXL, Max Comparing Table
| | | | | |
| --- | --- | --- | --- | --- |
| Specs | IGET Shion​ | IGET Plus​ | IGET XXL​ | IGET Max​ |
| Picture​ | | | | |
| Size (mm)​ | 14.5 x 14.5 x 92.4​ | 15.5 x 15.5 x 127.7​ | 19 x 19 x 114​ | 25 x 25 x 116.5​ |
| Weight​ | 22.2g​ | 31g​ | 45g | 50g |
| | | | | |
| Liquid Capacity​ | 2.4mL | 5.0mL | 7.0mL | 8.0mL |
| Battery​ | 400mAh | 650mAh | /​ | /​ |
| Coil Resistance​ | 1.8ohm | 1.8ohm | 1.8ohm | 1.2ohm |
| Puffs​ | 600+ Puffs​ | 1200+ Puffs​ | 1800+ Puffs​ | 2300+ Puffs​ |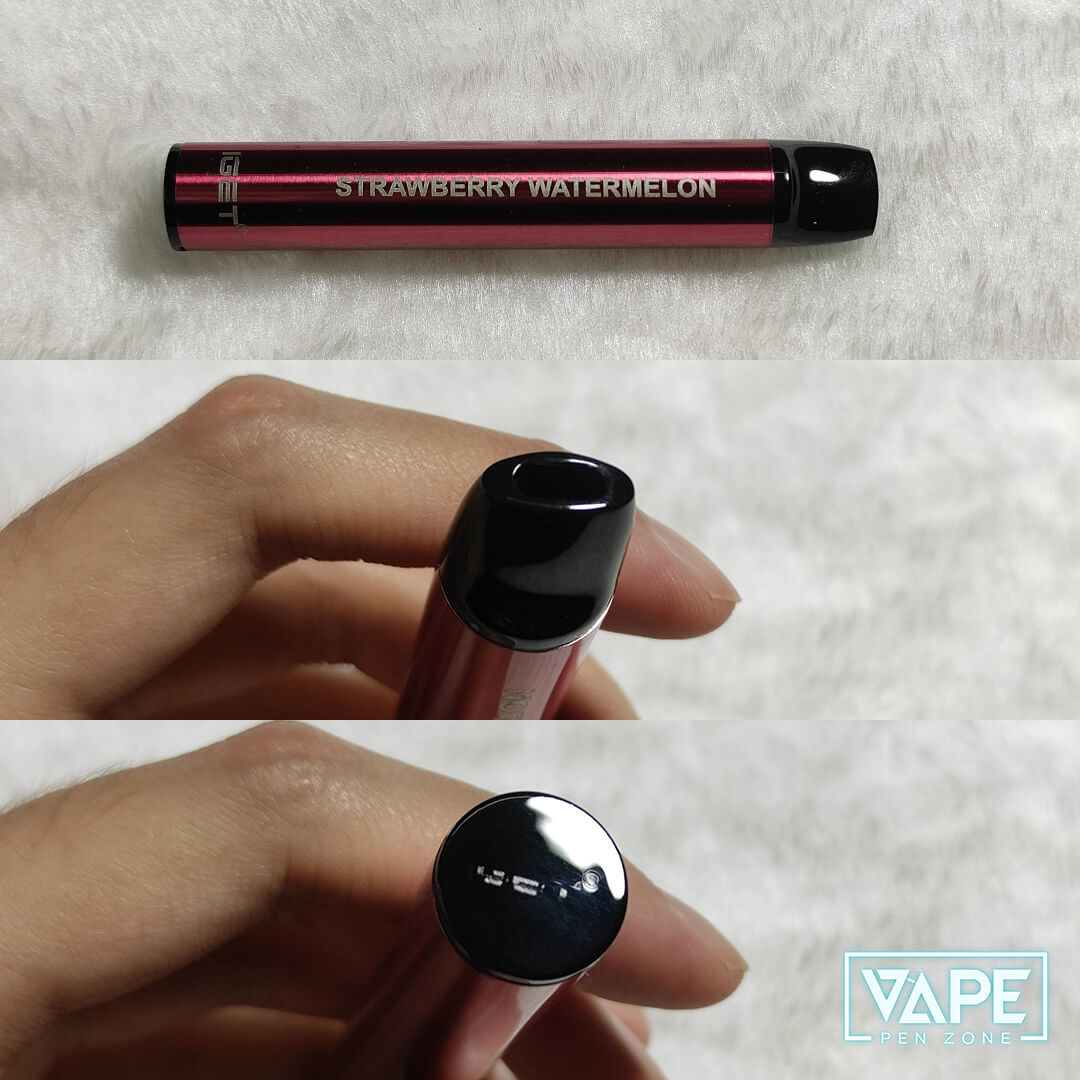 Specs
Size:14.5 x 14.5 x 92.4 mg
Weight: 22.2g
E-liquid Capacity: 2. 4mL
Battery: 400mAh
Coil resistance: 1.8ohm
Up to 600+ Puffs
Design
Shion is the slimmest, most small-sized vape among all the others in this IGET Vapes review, which makes it super convenient. It's actually smaller than it looks in the product pictures. And I kind of prefer smaller devices when it comes to disposables. But the weight is not as light, seeing the size of it. The case is made of metal, which makes it a little bit heavier and less cheap. It feels smooth when you touch it, I like it. The very radious reflectable metal material catches my eye.
The LED indicator on the bottom is shaped into a little IGET logo. I think it's cute and clever. It shines a bright white light when you vape it. But when the light is on, you can actually see through the transparent plastic logo, and it kind of makes it looks a bit cheap.
But all in all, the design is excellent, but not my favourite. It's still the same old pen-shaped disposable, like the Puff Bars (Click for Puff Bar Reviews). You have to admit that you'll get tired after seeing a lot of the same things.
IGET Vape Shion Flavour Review
Strawberry Watermelon
Sweetness: ★★★★★
Cooling: ★☆☆☆☆
Intensity: ★★★★★
Absolutely stunning! At first hit, you can already feel the warmth of the vapour coming into your mouth. Then the intense throat hit strikes you right away. Cloud production is great for a disposable, and I enjoy it very much.
It tastes like what it smells like. I mean, if you enjoy one of those sweet fruity chewing gums, you'll love this flavour. It's got the best parts of the taste of strawberries and watermelons mixed together, bringing out the memories from your childhood.
Pros & Cons
Pros
The size is very small, it can fit in the smallest pocket. I know this could be a con for some of you guys, but I definitely love smaller disposables.
The texture of it looks awesome, especially the radious shiny touch.
The flavour is outstanding, and gives you a sweet, tropical kind of vibe. The vapour is warm and thick, which is great.
No leaking at all.
Cons
When the LED indicator lights up, you can see through the plastic and see a bit of the inside, which feels kind of cheap.
There's not much cooling in the flavour, so if you're a RELX fan (we all know RELX puts tons of cooling into their juice), you might want to consider this before purchasing.
If you're not into strong or kind of harsh throat hit, you might want to pass. Or this could be a pro for some people, but it's too strong for me.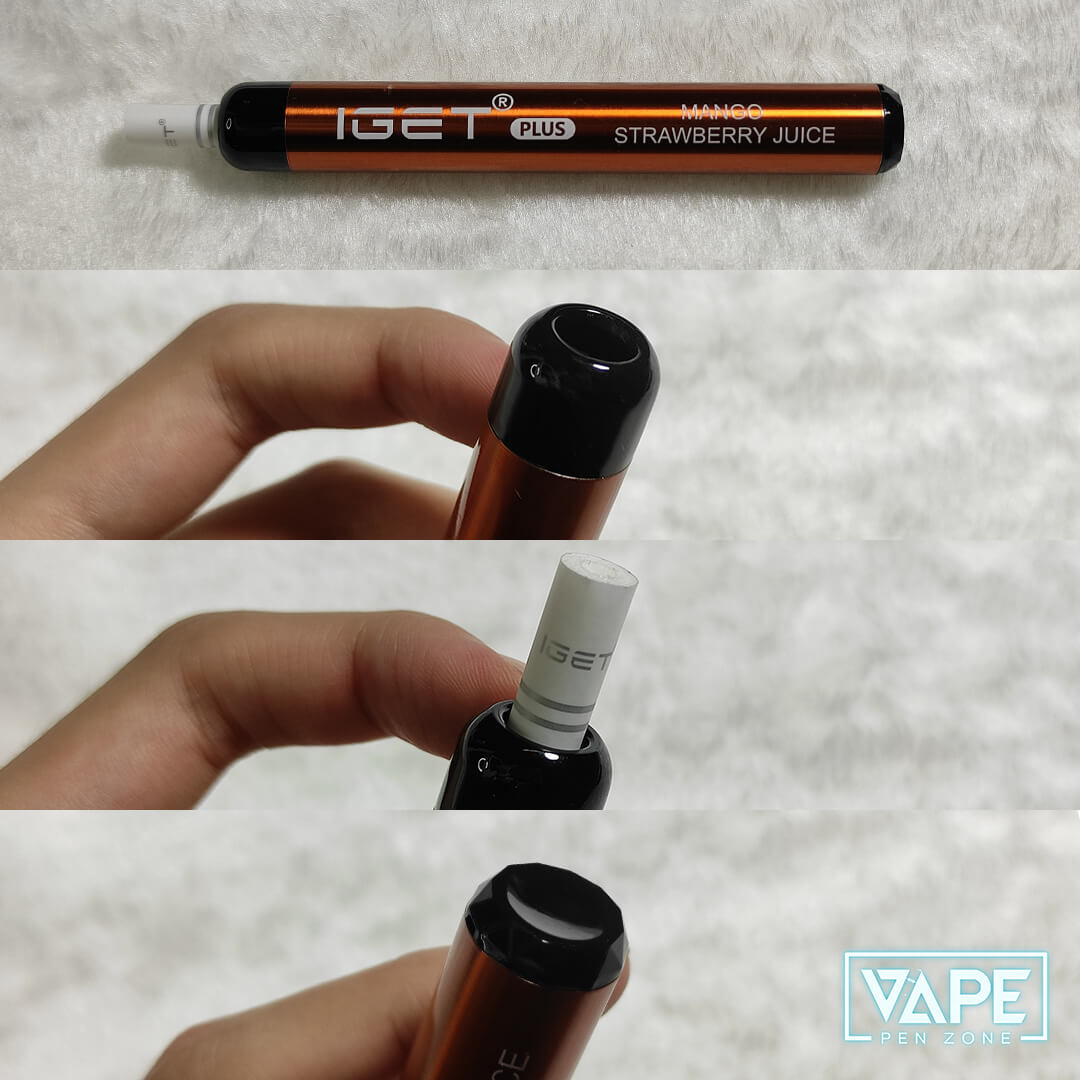 Specs
Size: 15.5 x 15.5 x 127.7 mg
Weight: 31g
E-Liquid Capacity: 5.0mL
Battery: 650mAh
Coil resistance: 1.8ohm
Up to 1200+ Puffs
Design
I have to mention at the beginning that they freaking decided to use actual cigarette filters on these little disposable vapes. Whoever thought of this is a genius. And I absolutely love it. This really simulates the draw of smoking a cigarette the most. It's on the next level. And it also prevents spitbacks (what are spitbacks and how to prevent them), which happens a lot when you're using cotton coils.
About the layout design, there's not much to talk about. The texture is the same as the IGET Shion, still cool and I like it. The size is a lot bigger than Shion, kind of the same as the Puff Bar Plus, but a bit longer. The LED indicator tho is really cool. It shines through the airflow at the bottom, and the colour of the light changes while you vape on it, looks pretty.
IGET Vape Plus Flavour Review
Mango Strawberry Juice
Sweetness: ★★★★☆
Cooling: ★★☆☆☆
Intensity: ★★★★★
I tried this one in 2 ways: with filter and without filter, just to see if it's actually doing anything to the flavour. But unfortunately, there's not much difference, not that I can tell.
The vapour is warm and thick, you can taste the mango soon as the vapour touches your tongue. The throat hit is intense, but it doesn't choke you if you're used to a high nic level. And when you exhale, the sweetness of the strawberry just burst into your nose and mouth.
With the combo of the 2 of my favourite fruits, I'm tasting heaven, literally. There's not much cooling as well, but it's not too cheesy either. All in all, I enjoy it.
Pros & Cons
Pros
The cigarette filter makes it perfect for ex-smokers who switch to vaping to quit smoking. At least 97% simulate a cigarette draw. Also, they give you 3 filters for one vape, very thoughtful.
The diamond-cut bottom and the LED indicator that shines in different colours are both really cool looking.
The 5.0ml liquid capacity could be a plus for some heavy vapers.
The flavour is definitely amazing. The temperature and the taste are perfect for me.
There's no leaking when transporting, even without any filters on the vape. I don't know how IGET did it, but they did well, that's what I get from this IGET vapes review.
Cons
It doesn't come with something for you to store your filters. Which means you can lose them very easily. An opened plastic bag isn't good enough.
After you installed the filter, it's kind of hard for you to keep the filter clean if you're going to put the IGET Plus in your bag or your pocket. And if your bag is full of heavy stuff, it might break your filter.
Again, not much cooling, it could be a con for some of you.
Could be too high for some people, especially new vapers.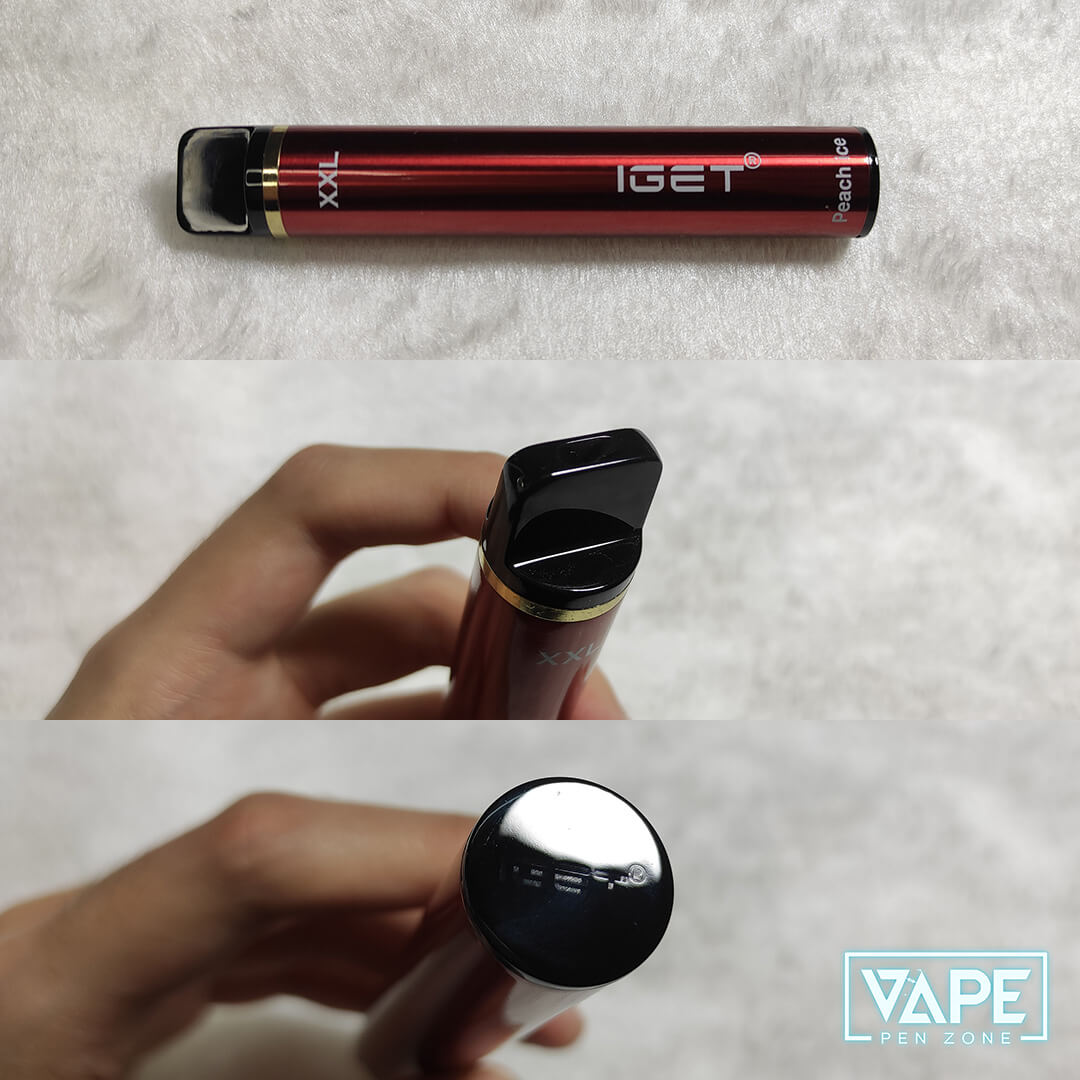 Specs
Size: 19 x 19 x 114 mg
Weight: 45g
E-liquid Capacity: 7.0mL
Coil Resistance: 1.8ohm
Up to 1800+ Puffs
Design
It looks like a bigger version of IGET Shion, which is exactly what it is. Same material, same pen-shaped design, same LED indicator, they added a shiny gold ring under the mouthpiece, and that's it. The only difference is the mouthpiece. The mouthpiece of the XXL is flatter, while the Shion is more rounded. I think the mouthpiece of Shion would work better with your mouth, it also feels more comfortable.
The size is huge because it holds 7.0ml liquid and the battery that's big enough for that amount of liquid.
And there's not much to say about the design of the IGET XXL, it's not standing out for me, really, compared to other vapes mentioned in this IGET vape review.
Next step, we have the best IGET XXL Flavours.
Best IGET XXL Flavours
Peach Ice
Sweetness: ★★★☆☆
Cooling: ★☆☆☆☆
Intensity: ★★★★☆
Flavour is good as always, just like the other vapes in this IGET vapes review, the warmth of the vapour and the good sweetness of peaches. The draw resistance is much looser than Plus or Shion, which made the vapour not as thick, and the flavour slightly not as strong. I mostly enjoy a tighter draw when it comes to pod vapes and disposables. But if you don't mind and are just looking for a disposable with a larger capacity, IGET XXL is still perfect for you.
Pros & Cons
Pros
7.0ml huge capacity would last you up to 1800 puffs, perfect for you if you like disposables with a lot of juice in them.
The flavour of the juice is fantastic. I think all juice that IGET uses are delicious. All fruity and juicy.
The little gold ring under the mouthpiece and the LED indicator both look kind of cool if you're into this type of design.
Cons
As an MTL (what is MTL?) disposable vape device, the draw resistance of IGET XXL is not tight enough for me. It makes the flavour thinner.
The throat hit is a tiny little bit harsher than the Shion and the Plus for some reason, even though throat hot is lower than Shion and Plus.
The mouthpiece design is too flat. It could be more comfortable with another shape.
IGET Max
Specs
Size: 25 x 25 x 116.5 mg
Weight: 50g
E-liquid Capacity: 8.0mL
Coil Resistance: 1.2ohm
Up to 2300+ Puffs
Design
The design of the IGET MAX is quite different compared to the first 3 IGET vapes, it looks nothing like them. The shape of it kind of looks like a nursing bottle. Nursing-bottle-shaped disposables are like a trend now, I'm seeing many brands doing that. But anyway, I like it.
The upper part and the bottom part are separated, putting white and orange together. It looks clean and neat. But there's one little problem – a gap between the 2 parts. It's kind of obvious, and when you touch it, you can feel it. This just makes me want to crack it open because that's how it looks like.
But besides that, it looks good, even without some eye-catching unique designs.
IGET Max Flavour Review
Passion Fruit Mango Ice
Sweetness: ★★★★☆
Cooling: ★★☆☆☆
Intensity: ★★★★★
The first thing to say is that this is the most smooth IGET disposable vape among the 4 in today's IGET vapes review. And the coil (what's a coil?) of it makes zero noise when you vape on it, giving you a nice tight draw that a disposable vape should have. Same warm touch in your mouth, you can feel a tinge of sourness of passion fruit on the tip of your tongue. Then as you inhale, there comes the fragrance of mango. The throat hit is perfect, smooth but strong, very satisfying. I'll say it's my favourite for today's review, 10 out of 10.
Pros & Cons
Pros
The flavour is outstanding. You got the most fruity sweetness, solid and nice, the perfect throat hit for heavy smokers.
There's zero noise when you're using it.
The design is clean and refreshing, the size makes it feel comfortable when being held in your hand. The material is plastic, but it's thick and smooth.
The liquid capacity is 8.0ml, even bigger than IGET XXL, making it last up to 2300 puffs, which is absolutely huge.
Zero leaking.
Cons
The gap between the two parts cannot be ignored. IGET can definitely do better in my opinion.
There's not much special about the design of this vape, I put it here because I can't really find more cons of this vape.
IGET Vapes Review – Verdict
All in all, IGET is an amazing brand for disposable vapes. It's popular for a reason. The vape juice they use is fantastic, they're pros for fruity flavours. If you're a heavy smoker who smokes 2 and a half packs of cigarettes and wants to quit smoking, I'd recommend IGET with zero hesitation. But there's one problem with IGET, that is, all of their popular disposables are on the highest. This will push some customers away, especially those who are new to vape. To be honest, I've been vaping for quite some time, and the throat hit is too intense for me even.
So IGET, if you're listening, please make some lower vapes, please.
Anyways, that's all for today's IGET vapes review, thanks for reading it! Hope you have found your answers. Be sure to follow us on Instagram and YouTube for more review videos and promotions. And I'll see you in the next review!
---
Related Posts:
👉 IGET vs HQD vs Puff Bar: Disposable Vapes How To Choose?
👉 IGET Mega Vape: Don't Buy Before Reading This
👉 7 FAQs About IGET King Vape: Are They Absolutely Worth Buying?
👉 IGET Bar Vape: 8 Useful Facts Must Read Before Buying