What's up vaper! Welcome back to another HQD Vape Review of VapePenZone Blog!
Today's blog is for HQD MAXX Review – one of the latest HQD vapes. Also, it's one of the most amazing vapes of all HQD series. About HQD, I introduced it in the last review (the HQD Cuvie Plus Review). You can check it out if you're interested.
So for this post, I'm going to jump right into it and introduce this whole new vape to you to help you choose your next favourite vape!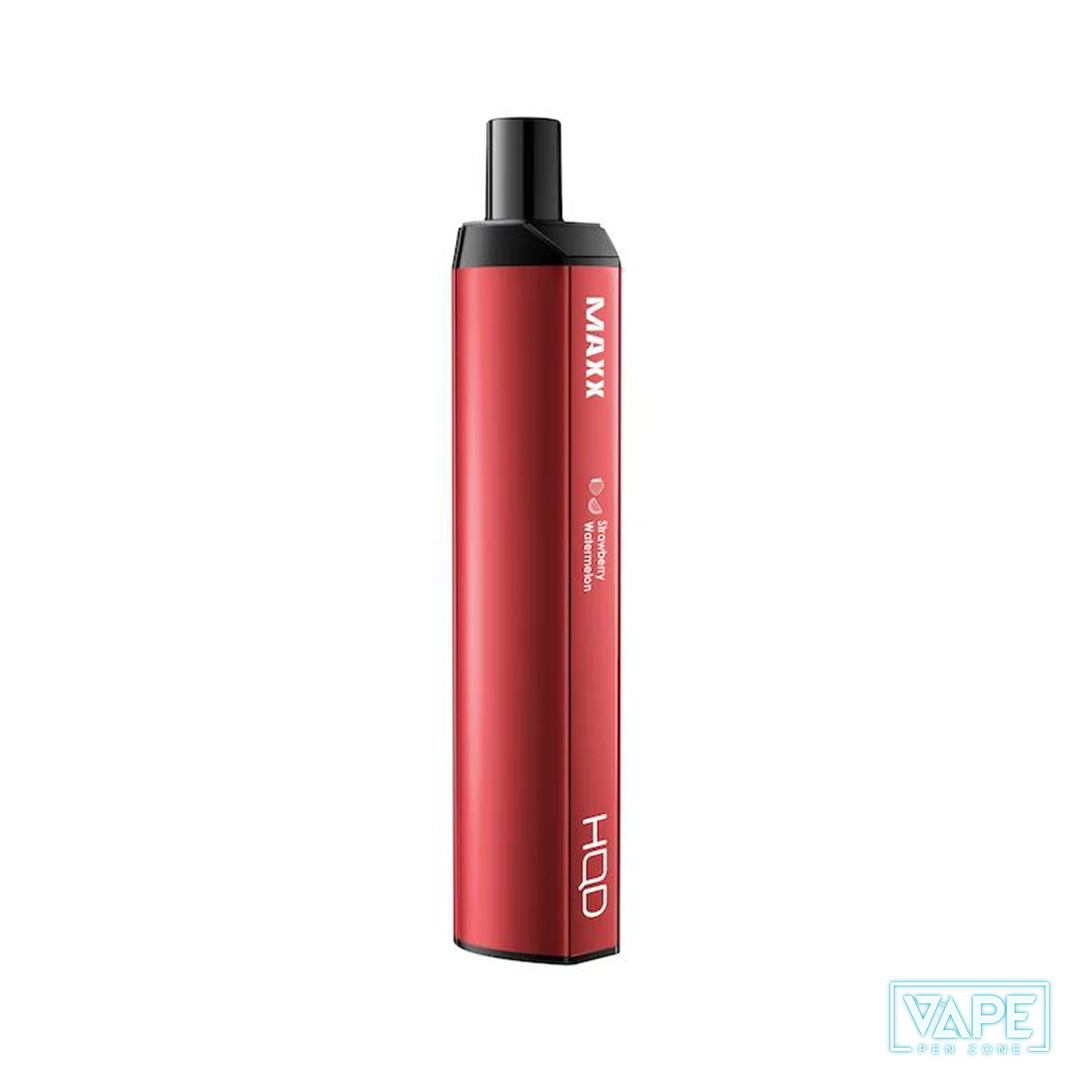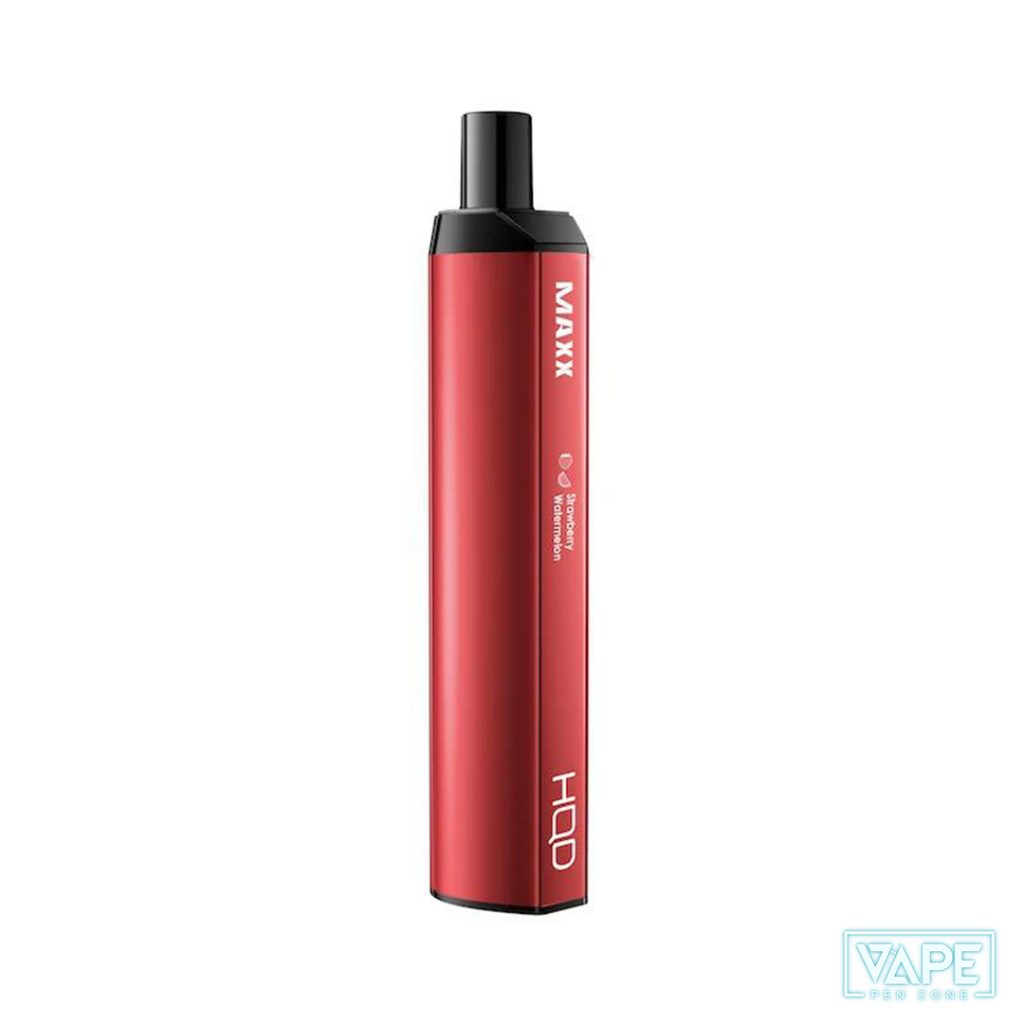 HQD MAXX Review
Specs
Size: 23. 5 × 20. 5 × 115mg
Battery Capacity: 1400mAh
Power Range: 7~12W
Weight: 52g
Total Puffs: 2500+ Puffs
Input Voltage: 3.7V
E-liquid Capacity: 8ml.
Resistance: 1.5ohm
HQD MAXX Vape: Design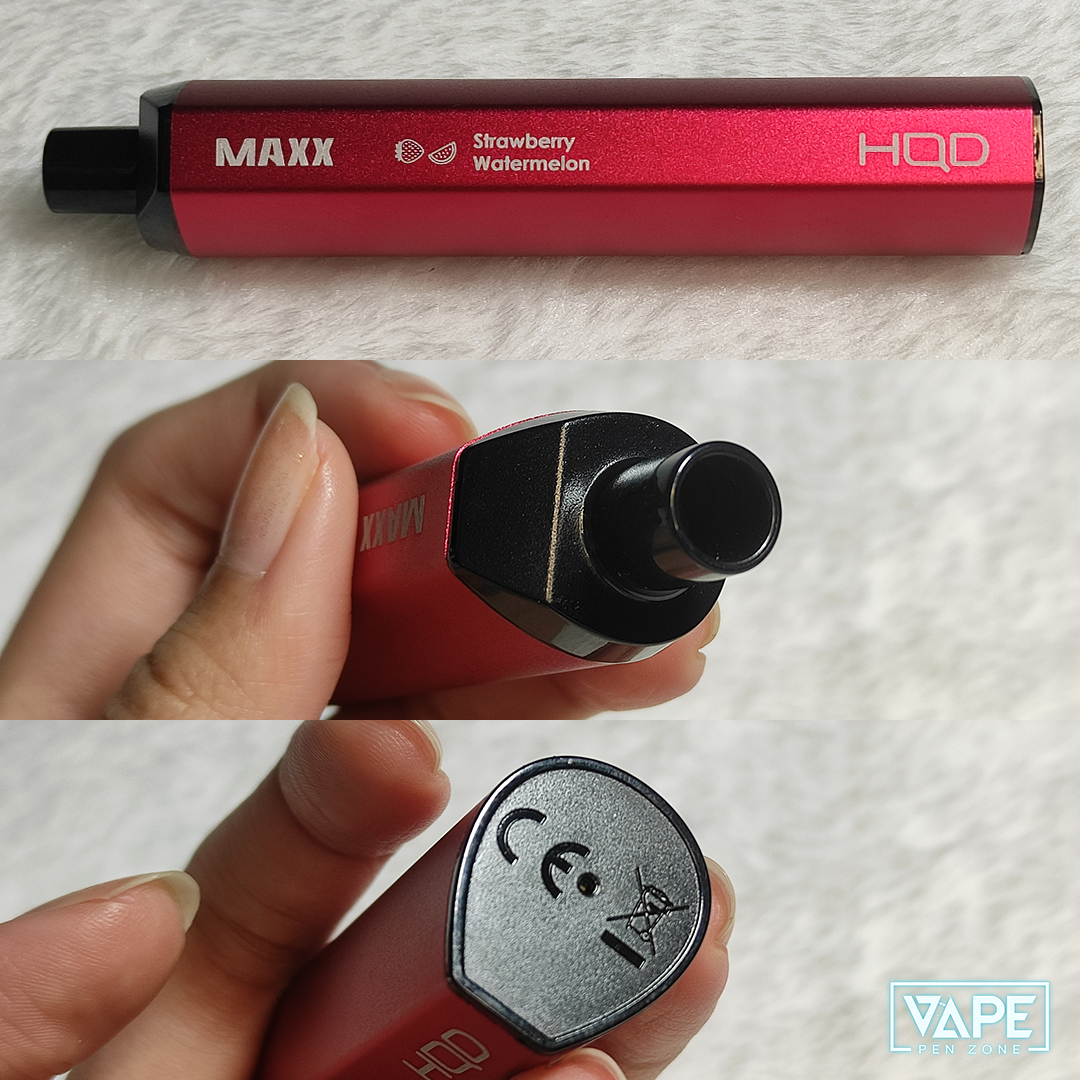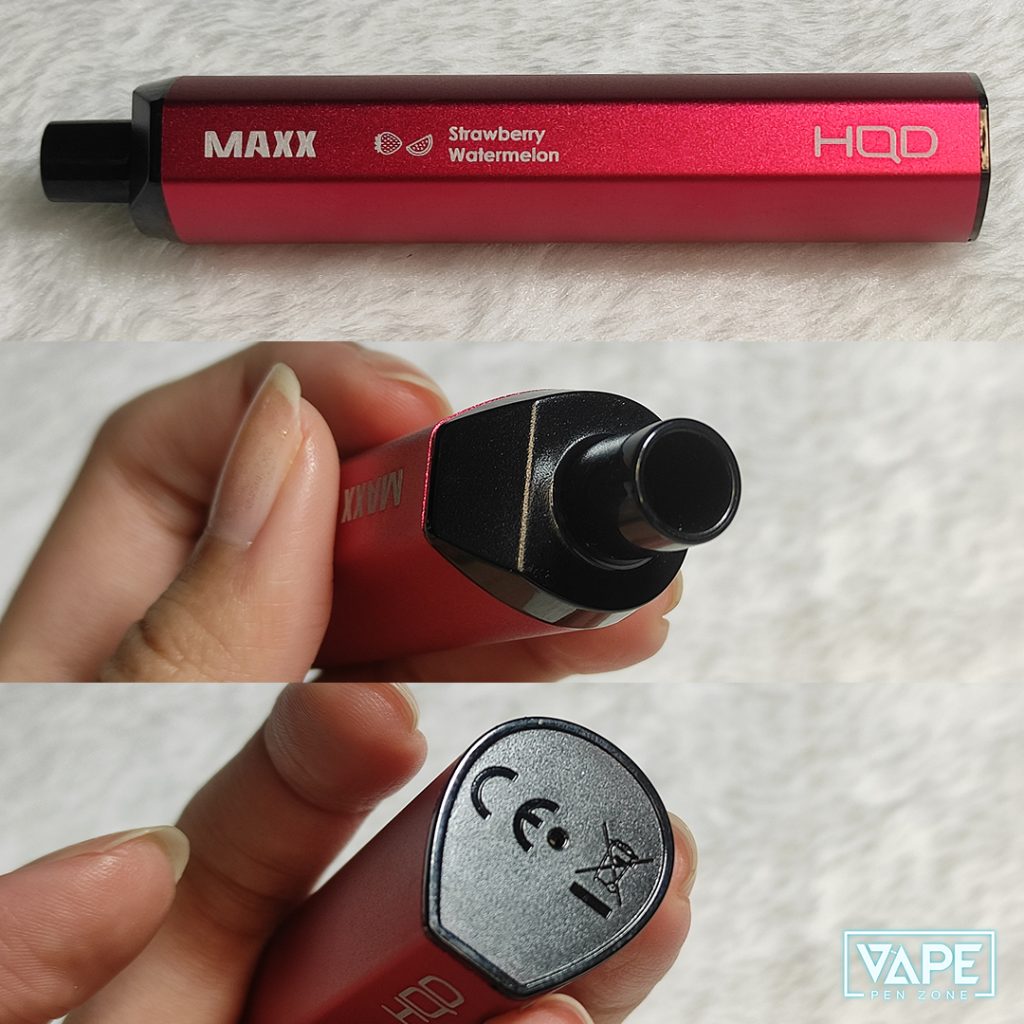 First of all, the shape of HQD MAXX Vape is really cool. It's creative, unique, and looks like a mod. It's no longer cylindrical-shaped. Instead, they add a flat side to it. I can't think of other reasons for them to do so except for making it look different and legit. Because there's no other vape that has this style.
They made the size bigger enough for the 8ml capacity and the 1400mAh battery without making it bulky. It's still pretty comfortable to hold in your hand. The texture of HQD MAXX is aluminium alloy but matte. And I do prefer the matte surface.
The mouthpiece of HQD MAXX is also rounded, the same as the Cuvie Plus. On the flat side of the vape, you can see the branding, cute little icons for the flavour, and the brand's name. The icons are adorable, caught my eye at first sight. These cute little details always work the best.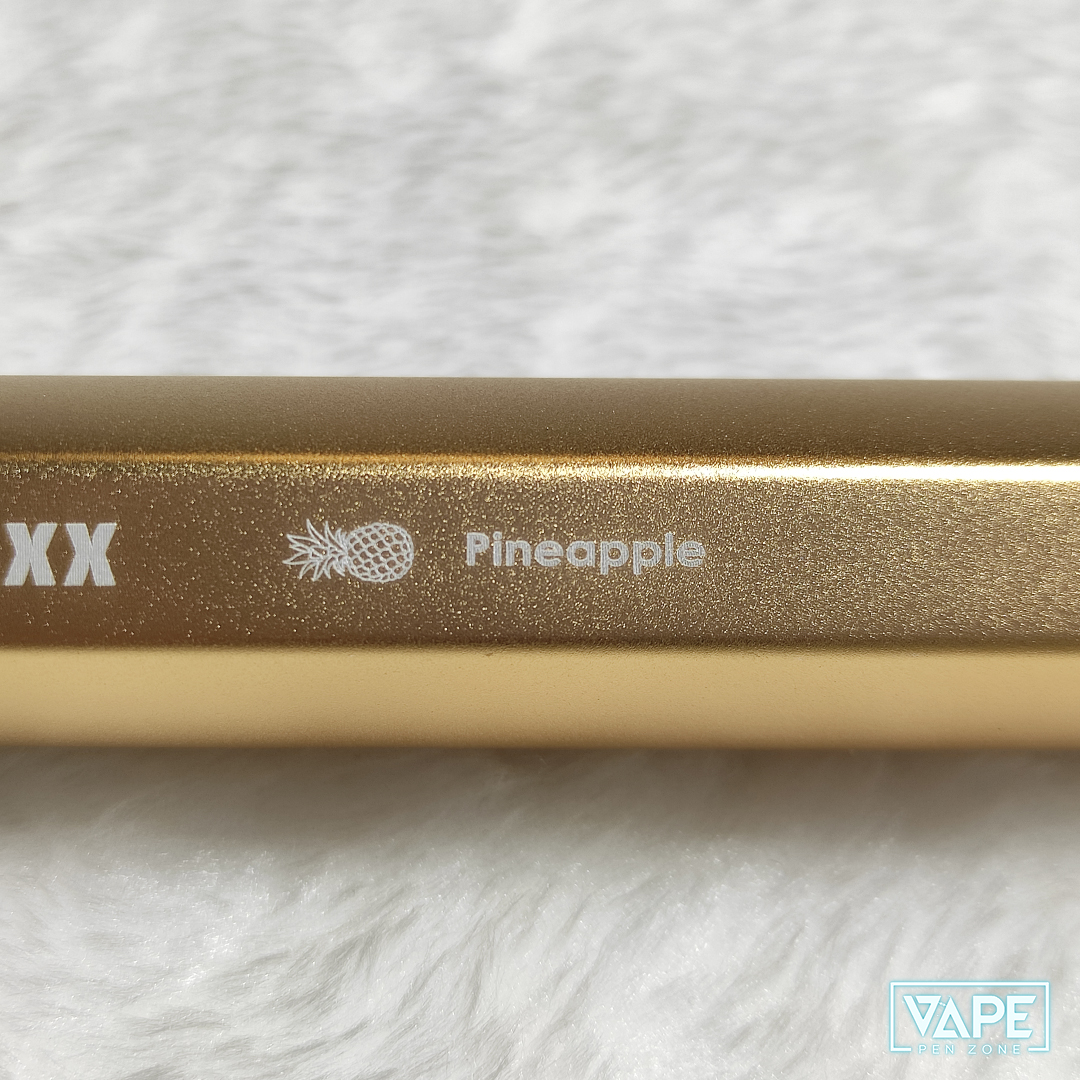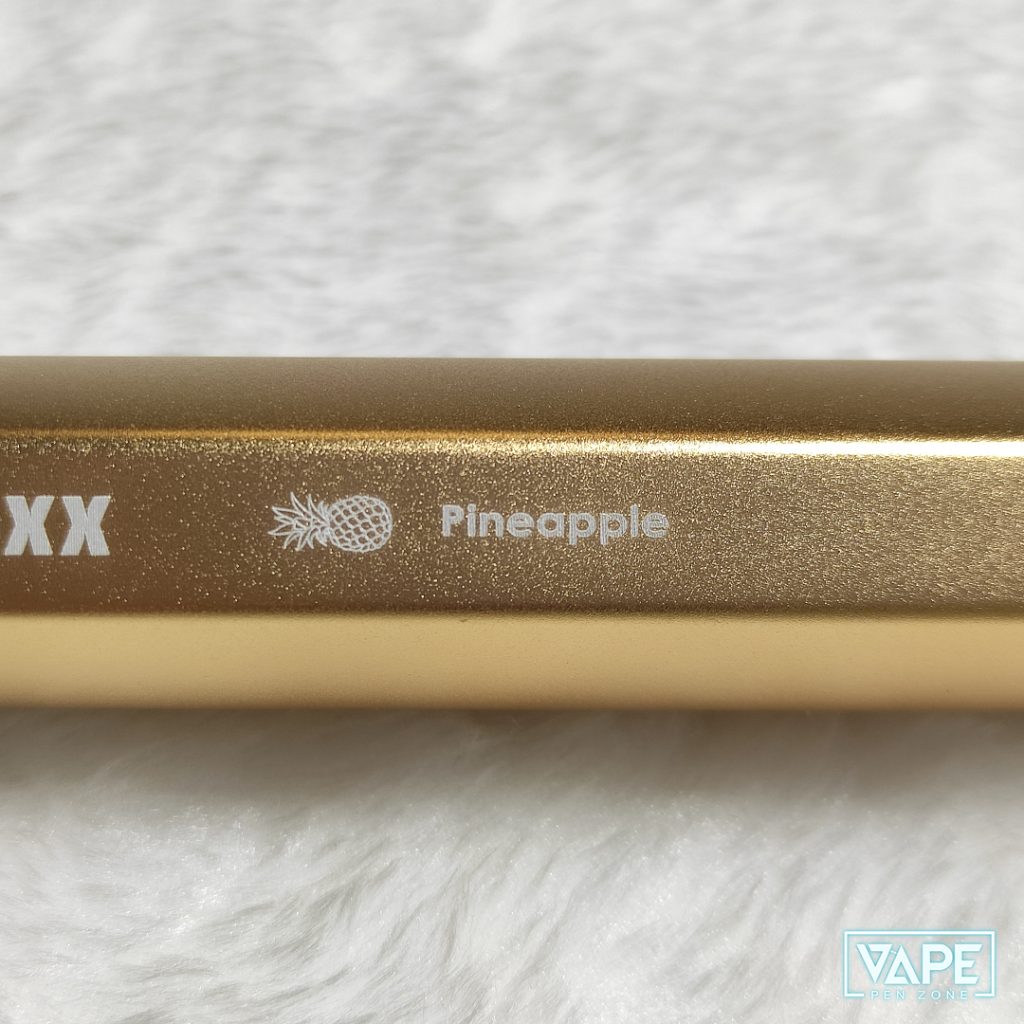 The bottom part of the HQD MAXX Vape is not that special. There's the CE mark and the waste electrical symbol. And the LED indicator is at the centre.
User Experience
The user experience is quite satisfying. It's comfortable to hold and cold to touch. The lower body is a bit heavier than the top. And I personally like how it weights.
The firing is instant. And then the warm, sweet vapour rushes into your mouth. There's only one silicone protector for this one, and it's for the mouthpiece. Same as the Cuvie Plus, you can keep the protector for preventing dirt when you put it in your bag or pocket.
And since the indicator is on the bottom, it's not that easy to tell whether the HQD MAXX Vape is working. It would be a lot better if they put the indicator on the flat side below the branding or the flavour name.
Pros and Cons
Pros:
Zero leaking
No noise
Lid-shaped silicone protector
Special layout design
Cute little flavour icons
Matte texture
Huge capacity
Cons:
All fruity flavours
All green indicator light
Bottom indicator
Heavy to put in bags
Intense throat hit
Only one protector
HQD Maxx Flavors Review
HQD MAXX Ice Mint
Sweetness: ★★★★☆
Cooling: ★★★★☆
Intensity: ★★★☆☆
Recommending: ★★★★☆
Mint has always been one of the most refreshing flavours of all. So is the HQD MAXX Vape Ice Mint. What's special is that the HQD MAXX Vape Ice Mint has a sense of mint bitterness, which makes it taste much more like natural mint. Also, the throat hit is a bit harsher than Cuvie Plus Ice Mint. So if you're into that, go for it.
Blue Razz
Sweetness: ★★★★☆
Cooling: ★★☆☆☆
Intensity: ★★★☆☆
Recommending: ★★★☆☆
I thought it was a blueberry flavour when I first looked at the flavour name. But the moment I unpacked it, I knew I was wrong. The sweet smell of mulberries was too strong to ignore. There's not much cooling. When you exhale, the sweetness will stay in your throat a little. I personally am into it.
HQD MAXX Grape
Sweetness: ★★★★★
Cooling: ★☆☆☆☆
Intensity: ★★★☆☆
Recommending: ★★★☆☆
A typical grape soda flavour it is. Compared to those grape flavours with a real-grape taste, this one tastes more artificial. HQD MAXX Grape flavour doesn't have cooling. So if you don't like cooling, this flavour is for you.
Strawberry Watermelon
Sweetness: ★★★★★
Cooling: ★★★★★
Intensity: ★★★★☆
Recommending: ★★☆☆☆
Strawberry and watermelon are both my favourite flavours. And I usually would love the combo of the two. But I'm not into this one because it's too strong and too much. They put tons of cooling and sweetness into it, which makes it kind of greasy for me. But if you like your flavours solid and thick, this one is for you.
Strawberry Banana
Sweetness: ★★☆☆☆
Cooling: ★☆☆☆☆
Intensity: ★★★★☆
Recommending: ★☆☆☆☆
Many banana flavour vapes don't have any cooling. So is the HQD MAXX Vape Strawberry Banana flavour. As a combo of two sweet fruits, this flavour surprisingly doesn't have a lot of sweetness. The banana taste is much stronger than strawberry. Actually, I can barely taste the strawberry. All in all, I won't recommend this flavour for its lack of sweetness and cooling.
HQD MAXX Vape Pineapple
Sweetness: ★★★★☆
Cooling: ★☆☆☆☆
Intensity: ★★★★★
Recommending: ★☆☆☆☆
This is a pineapple flavour with a bit of sourness and slight cooling in it. The pineapple fragrance is super strong. But the throat hit is too intense for me. If you read the previous HQD Cuvie Plus review (Click to read) that I posted, you'd know that I like my vape smooth. So harsh throat hit is really not my thing. But it really depends on you.
Kiwi Pomegranate
Sweetness: ★★★☆☆
Cooling: ★☆☆☆☆
Intensity: ★★★☆☆
Recommending: ★★☆☆☆
The moment I unpacked it, I could smell the sour taste in this flavour. And when I inhaled, the tip of my tongue sensed the sourness immediately. The fruit taste is not as strong as the other flavours. And it's not as intense neither. If you like sour flavours but can't find one, you can give the HQD MAXX Vape Kiwi Pomegranate a try.
HQD MAXX Vape Lush Ice
Sweetness: ★★★★☆
Cooling: ★★★★☆
Intensity: ★★☆☆☆
Recommending: ★★★☆☆
This flavour of HQD MAXX Vape is my favourite so far. It's not too intense to hurt your throat while the throat hit is still strong. The sweetness is right on the spot (it might be a bit too sweet for some people). The only two cons are too much cooling, and it will get stuck in your throat for one to two minutes, along with the sweetness. I'd recommend it to some of you, but it's not for everyone.
HQD MAXX Vape Blueberry
Sweetness: ★★★★☆
Cooling: ★☆☆☆☆
Intensity: ★★★☆☆
Recommending: ★★★☆☆
Like all the flavours in this HQD MAXX Vape Review, the blueberry fragrance was released immediately after I unpacked it. It's one sweet blueberry. There's not much cooling in it. And it's only medium intense. If you enjoy sweet blueberry dessert, you'll be really into this flavour.
Black Ice
Sweetness: ★★★★☆
Cooling: ★☆☆☆☆
Intensity: ★★★★☆
Recommending: ★★★☆☆
The first thing to say is that I haven't tried any blackberries yet. But I kind of like this flavour for its taste. There's slight cooling, so it's good to have with a cup of warm coffee or hot cocoa. When you exhale, you can sense a little hint of the sourness of the fruit. It's amazing. I'd recommend this one.
Q & A
How does a HQD work?
The vapes of HQD tech are all very easy to use. You take a puff right after you unpack it. After it's out of battery, you can throw it away and grab another. And that's it. No buttons to push or pods to pop on. You'd know how to use it once you have it, even if you're completely new to vaping.
How Many Hits Can You Get From a HQD?
That depends on which HQD you're using. The vape in this HQD MAXX Vape Review is HQD MAXX, and it has up to 2500 puffs for each vape.
What Is The Best Flavor HQD?
For MAXX, the best flavour would be Ice Mint. It's not too greasy. The mint taste is rather refreshing. And the vapour is not as harsh. I personally enjoy this flavour a lot. I like my vapour sweet and minty.
You might also want to read: Disposable Vapes Troubleshooting
Verdict
All in all, it's a decent product. HQD put work in the layout design. And it's working for me. They designed a disposable that doesn't look like a disposable, which is pretty cool. But some of the flavours are too harsh or too sweet. But there's not a flavour for everyone. So you can try some and test it out yourself. xD
Anyways, hope this HQD MAXX Vape review helps you a little! Thanks for reading! And I'll see you in the next VapePenZone Blog Post!
Related Products:
IGET vapes, HQD vapes, Puff Bar
Related Posts:
👉 IGET vs HQD vs Puff Bar: Disposable Vapes How To Choose?
👉 HQD Cuvie Air Vape Review: Best HQD Yet?
👉 IGET Mega Vape: Don't Buy Before Reading This