What's up vaper! Welcome back to IGET Mega Vape Review of VapePenZone Blog! This is Chay.
Today we have the biggest disposable vape icon here – the IGET Vape – along with their newly launched product – IGET Mega. It's the most massive disposable vape on the market right now. With its 10ml liquid capacity, it can last you more than a week. Though it's just been launched, the excellent reputation is already out there.
I have reviewed some other types of IGET vapes, and you can click here to check them out if you're interested.
And now, I'm going to test every flavour of the IGET Mega Vape and let you know my thoughts.
So without further ado, let's get into it.
IGET Mega Review
Specs
Size: 25 × 25 × 113mm
Battery Capacity: 1450mAh
Nicotine Level: 50mg/ml
Total Puffs: 3000+ Puffs
E-liquid Capacity: 10ml.
Resistance: 1.2ohm
IGET Mega Vape: Design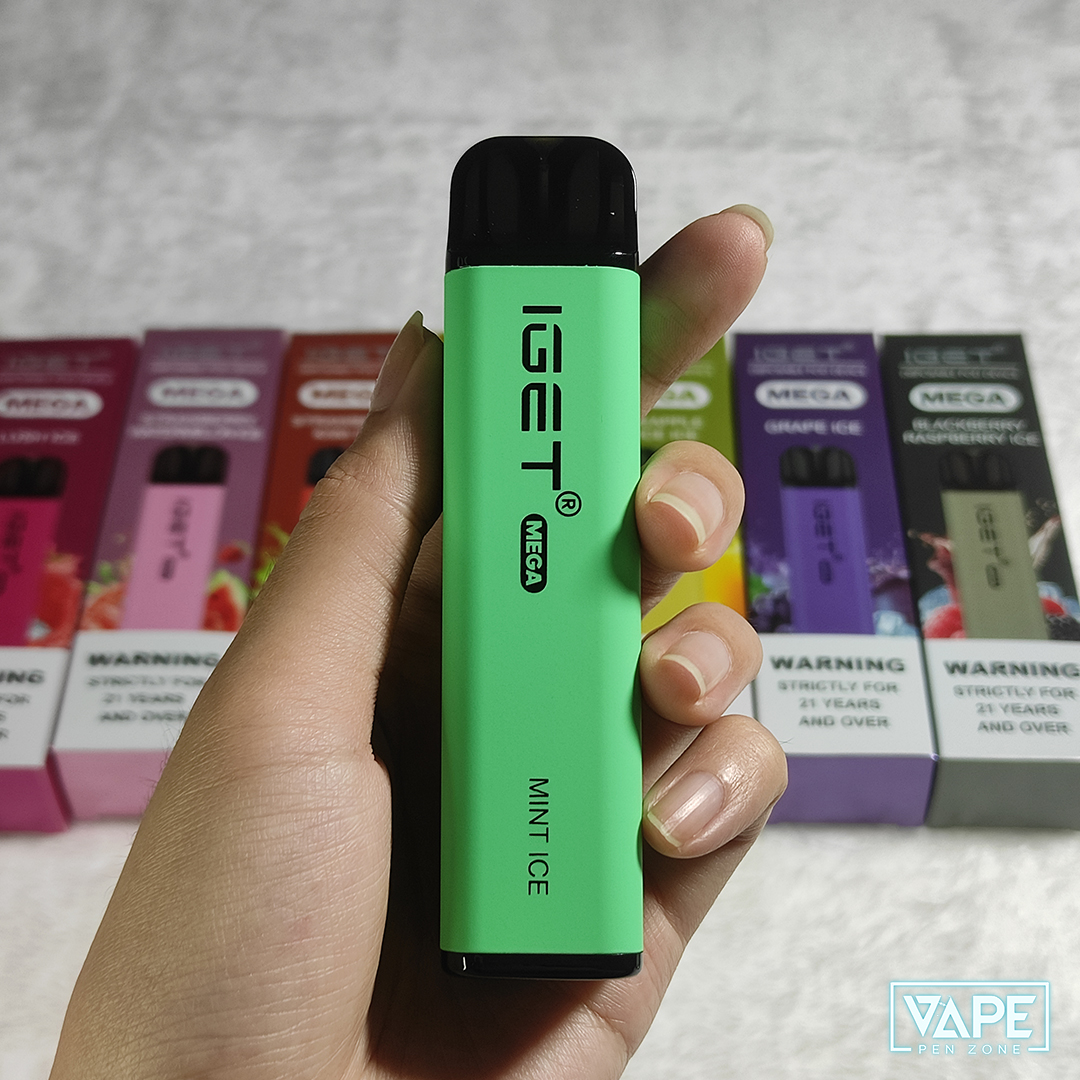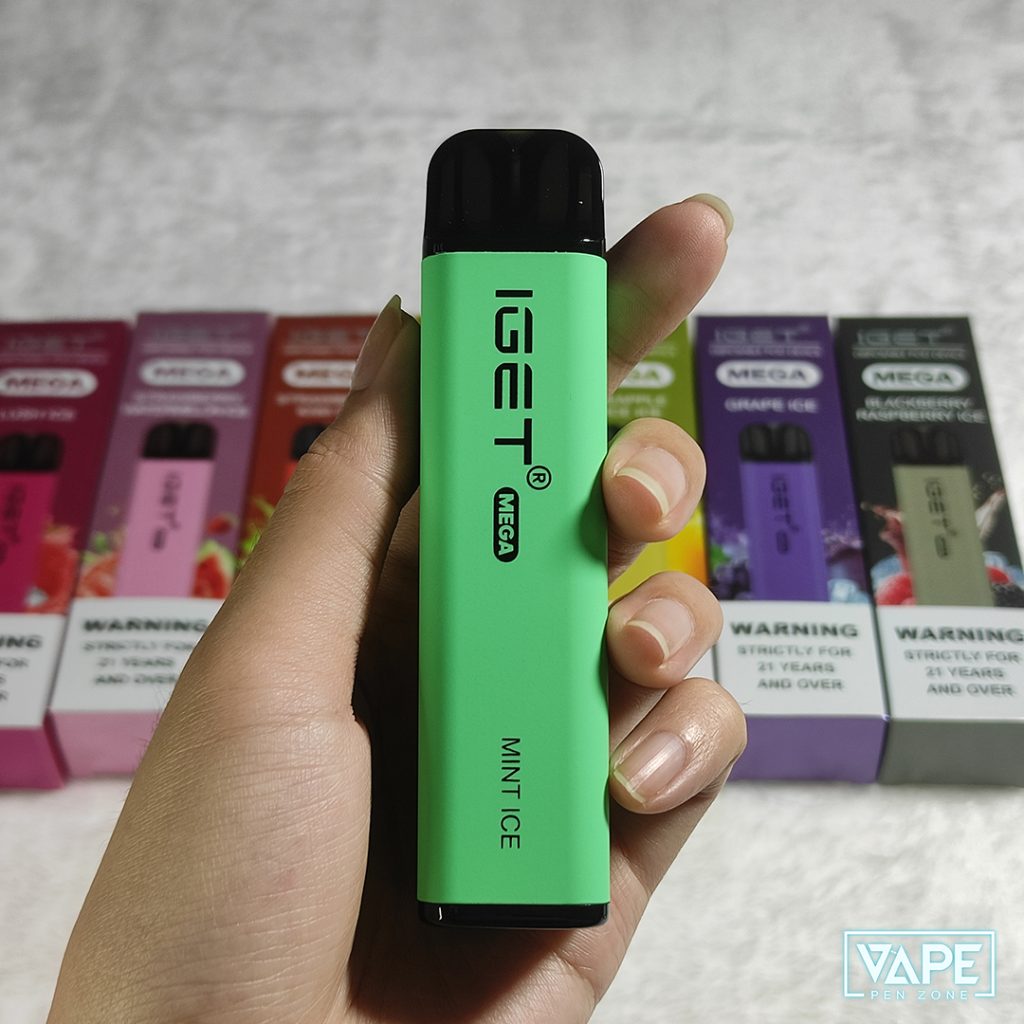 IGET Mega's design is rather simple. It's a big disposable vape with a square column shape. It has a thick angular mouthpiece. It's a black half-transparent drip tip, which is kind of cool. The primary colour of the body part matches the flavour. They're all bright candy-like colours. The texture is matte and comfortable to touch. On the front side of the body, there's the IGET Mega branding at the upper part and the flavour name at the lower part. And on the bottom, there's another branding that's made to be transparent for the LED indicator to shine through.
The size of the vape is a lot bigger than most disposable vapes. But it feels nice to hold it in your hand.
There're tiny gaps where the vape body, the mouthpiece and the bottom piece are connected. It kind of makes the product look faulty and cheap.
The design of this vape is very simple. I believe that IGET didn't put much work into the layout design. But it's okay for me since there're other things about it that attract me.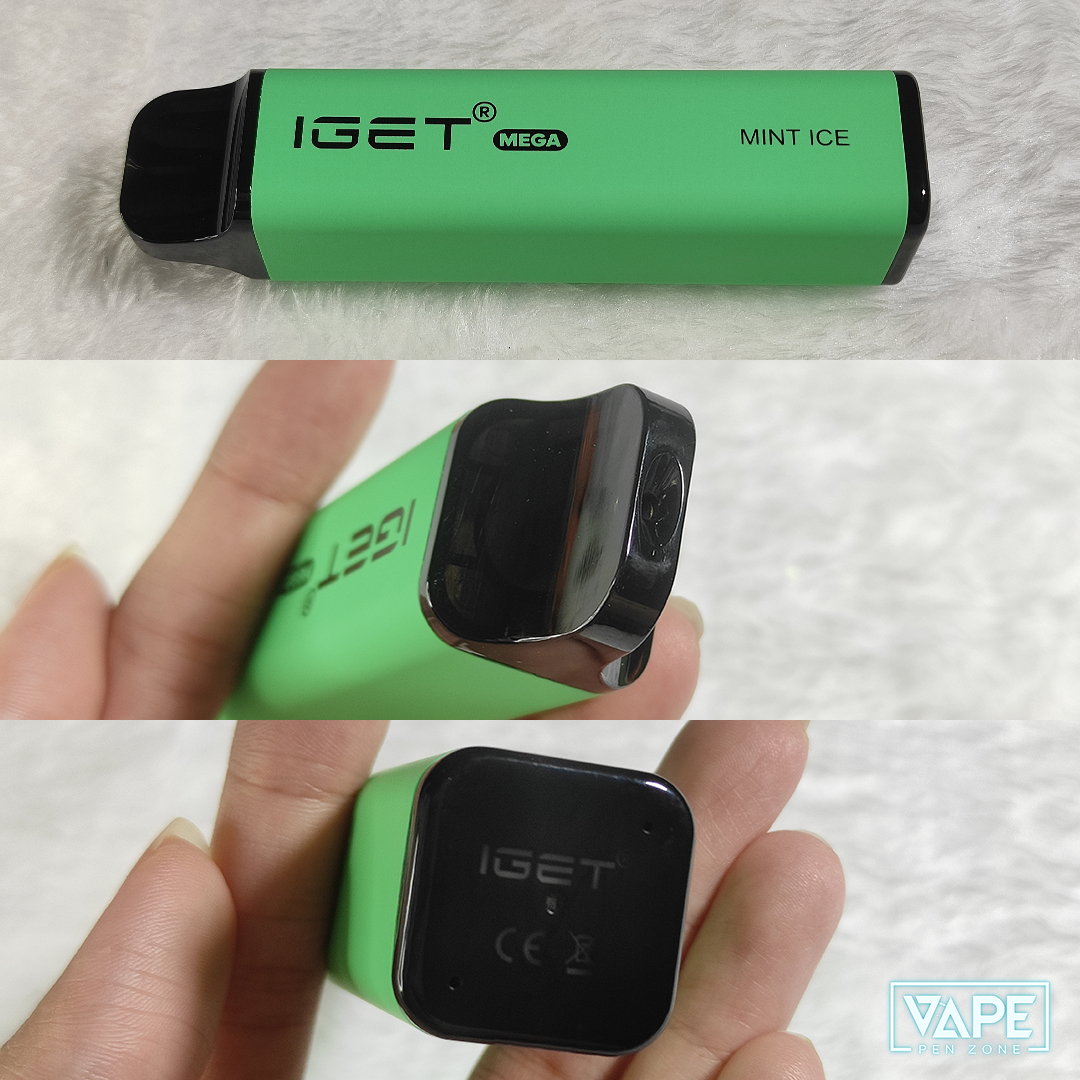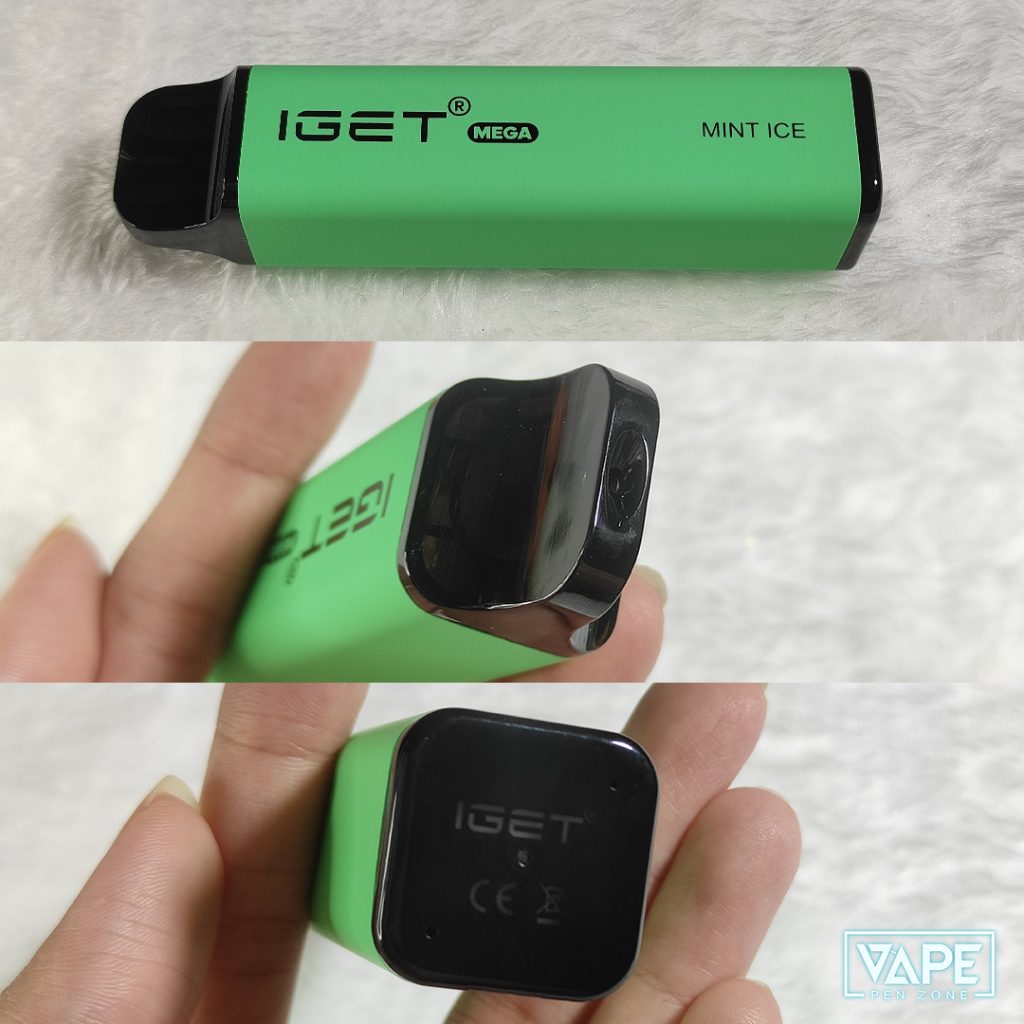 Click to get an IGET Mega right now
User Experience
First, this vape DOES NOT make ANY noise. It's so quiet that I thought it wasn't working when I took my first hit while it worked perfectly fine. I haven't tried any vape that's this quiet. You don't need to worry about annoying others with vaping noises if you have IGET Mega in your hand.
Cloud production is impressive. And with its rich flavours and strong throat hit, I rate the user experience of the IGET Mega 8.5 out of 10. I took off the 1.5 because Mega only has fruity flavours and one nicotine level to choose from, also for its size. Since it's a 10ml vape, I can't blame too much of the bulky size on IGET. With a liquid capacity that's this huge, you have to match it with a big battery. That's understandable. But one of the reasons why people choose disposable vapes is that it's convenient. But IGET Mega is as big as a regular-sized pod mod. And mods are not convenient at all because they're bulky.
But other than that, I enjoy this vape.
Pros and Cons
Pros:
Massive liquid capacity
Zero noise
Strong flavours
Smooth vapour
Matte texture
Huge capacity
Cons:
All fruity flavours
Simple design
Red indicator light
Bottom indicator
Thick mouthpiece
Too big or heavy to put in bags
Best IGET Vape Flavours
IGET Mega Vape Flavours- Mint Ice
Sweetness: ★★☆☆☆
Cooling: ★★★★☆
Intensity: ★★☆☆☆
Recommending: ★★★★☆
This mint flavour is super refreshing. It's like the morning breeze when you open your window after you just wake up. It has a hint of bitterness that only mint has, making the flavour more similar to the original mint taste. I enjoy this flavour a lot. It's sweet but not cheesy, right at the point.
Strawberry Watermelon
Sweetness: ★★★★☆
Cooling: ★★☆☆☆
Intensity: ★★☆☆☆
Recommending: ★★★★☆
I have tried a lot of watermelon flavours. And literally, all of them have tons of cooling, except for this one. This Strawberry Watermelon IGET Mega vape doesn't have much cooling. It's not that minty, and I actually like it. It's like a watermelon cake with some candy-coated strawberries on it. The two of my favourite fruits combined make the flavour I would most enjoy. Definitely would recommend it.
IGET Mega – Lush Ice
Sweetness: ★★★★☆
Cooling: ★★★★☆
Intensity: ★★★☆☆
Recommending: ★★★☆☆
Now, this is one of those minty watermelon flavours that I talked about. It's super refreshing, perfect for summer. It reminds you of beaches and watermelon juice on ice. But I won't recommend it to all of you since there's seriously a lot of cooling. Also, if you're chain vaping it, you're going to have a sore throat.
Strawberry Banana Ice
Sweetness: ★★★★☆
Cooling: ★☆☆☆☆
Intensity: ★★☆☆☆
Recommending: ★★☆☆☆
I really like a good banana flavour vape juice. However, I know that many of you are not a fan of banana flavours. So you can already tell that this one is not for you. This IGET Mega Strawberry Banana Ice tastes like a dessert with cream on top or a strawberry banana smoothie. I really enjoy it. But because of the amount of sweetness and the lack of cooling, you might feel a bit cheesy after vaping it for too long. And considering your guys' preferences, I won't recommend it to you. But if you're into banana flavours, you can definitely give it a go.
Strawberry Kiwi Ice
Sweetness: ★★★☆☆
Cooling: ★★☆☆☆
Intensity: ★★☆☆☆
Recommending: ★★★☆☆
This flavour is sour. But it's one of those good sour flavours. The sourness comes from the kiwi. Although it's not my favourite flavour, it's fun to try. The sweet strawberries mixing with kiwis is a fantastic flavour combo.
Pineapple Juice Ice
Sweetness: ★★★☆☆
Cooling: ★★★☆☆
Intensity: ★★☆☆☆
Recommending: ★★★★☆
This is the best so far. The scent of pineapple in this flavour is perfect. It perfectly mimics the taste of pineapple soda juice. Take one puff in the mid of a summer day. It'll cool your mind. I personally really like this flavour. Although it has a hint of artificial taste in it, I actually don't mind it. Compared to the RELX Pods Pineapple flavour – the Hawaiian Sunshine, I prefer the IGET Mega Pineapple. But if you're not into artificial pineapple juice taste or strong flavours and warmer vapour, you can choose the RELX Pods.
Blackberry Raspberry Ice
Sweetness: ★★★★★
Cooling: ★★★☆☆
Intensity: ★★★☆☆
Recommending: ★☆☆☆☆
This flavour here is super sweet, more than I can take. But the taste of blackberries and raspberries are amazing. If you're really into sweet stuff like desserts or soda juice, you might actually like this flavour. Also, the sweet taste kind of stays in your throat for a couple of minutes after a puff. I don't mind it. But if you're chain vaping, you're not gonna enjoy this feature here. Compared to the other flavours of IGET Mega, I won't recommend it.
Grape Ice
Sweetness: ★★★★★
Cooling: ★★★★☆
Intensity: ★★★☆☆
Recommending: ★★★☆☆
This flavour is super grapey and sweet. It's like a grape ice soda with ice cream on top. First of all, it's extremely sweet, like the Blackberry Raspberry Ice. And that makes it kind of cheesy. If you enjoy grape flavoured drinks or grape desserts, this one is made for you. If you can't take any cheesy stuff, you can pass this one.
Click to get an IGET Mega right now
Verdict
All in all, IGET Mega is a decent vape with a 10ml liquid capacity. The flavours are strong and sweet, and the vapour production is impressive. Though some flavours, like Blackberry Raspberry Ice or Grape Ice, are way too sweet. The vapour is all pretty warm and smooth, with no harsh feelings in the throat at all. The nicotine level is 50mg/ml, which is high enough. One puff would be satisfying enough.
The layout design is pretty simple. Considering the liquid capacity, the vast size of the IGET Mega kind of makes sense. But it's still less convenient for a disposable vape with this massive body. Also, the drip tip, the body and the bottom part are not tightly connected.
But since I'm not really that picky about the layout design, I'm more like a flavour person, so I'd still recommend IGET Mega Vape if you don't care much about how vape looks.
Anyways, that's all for today's IGET Vape Review. Thanks for reading! Be sure to follow us on Instagram and YouTube for more review videos and promotions. And I'll see you in the next review!
FAQ
Does IGET Mega Have Nicotine?
Yes, IGET Mega has nicotine.
How Much Nicotine Is In A IGET Mega 3000?
IGET Mega 3000 has 50(me/ml) nicotine content, equal to 5% nicotine percentage.
How Many Cigarettes Equal One IGET Mega?
IGET Mega 3000 Puffs is equivalent to 300 cigarettes.
How To Recharge IGET Mega Vape?
IGET Mega is not rechargeable, which is the design of a disposable vape. You only need to buy a new one when you run out; no need to recharge. And IGET Mega Vape is designed without an interface; for your safety, we do not recommend trying it yourself.
---
Related Posts:
👉 IGET vs HQD vs Puff Bar: Disposable Vapes How To Choose?
👉 Elf Bar 1500 Review: Top 1 Famous Vape In 2022
👉 IGET Legend Review: Legendary Vape In 2022?
👉 7 FAQs About IGET King Vape: Are They Absolutely Worth Buying?