Quick Guide
As a loyal fan of Elf Bar for 5 years, I've been writing articles to help newbies learn about Elf Bar products.
The article ElfBar BC3000 VS ElfBar TE6000 aims to assist vapers in having a deeper understanding of these two vapes. You will quickly grasp the following information in the article:
Key features of two vapes
Key differences between two vapes
The right vape for you
You can easily access this most practical and detailed information with just a few minutes of reading!
Introduction
Bar BC3000 and ELFBAR TE6000 are popular series from ElfBar. Trust me, you'll definitely find features that meet your needs in these two vapes, which is why many vapers choose them.
If you're still unsure about which vape to choose or know little about these two vapes, then this article is a treasure for you.
You can find answers to the most attractive features, designs, nicotine content, flavours, and more about the two vapes right here.
ElfBar BC3000 VS ElfBar TE6000: Overview
ElfBar BC3000
"Small Box, Big Power!" is the most fitting description for Elfbar BC3000. It's known for its compact and lightweight design but packs incredible performance.
The ElfBar BC3000 has a generous 10ml e-liquid capacity and a high-capacity 650mAh battery, surpassing most vapes in its price range.
Plus, its rechargeable feature ensures you can fully enjoy up to 3000 puffs of vaping.
Specification
Size: 69mm*41mm*19mm
Puffs: 3000
E-liquid: 10ml juice
Battery Capacity: 650mAh
Charging Method: Type-C Rechargeable
Nicotine Strength: 5%
Flavour:15+
ElfBar TE6000
Elf Bar TE 6000 is also a high-performance and stylish disposable vape. Despite having a 10.3ml e-liquid capacity and a 550mAh battery, it can provide vapers with up to 6000 puffs.
The 4% salt nicotine content in ELF BAR TE6000 is particularly appealing to those who seek a satisfying throat hit.
Specification
Size: 78mm*42mm*22mm
Puffs: 6000
E-liquid: 10.3ml juice
Battery Capacity: 550mAh
Charging Method: Type-C Rechargeable
Nicotine Strength: 4%
Flavour: 10+
Key Features
ELF BAR BC3000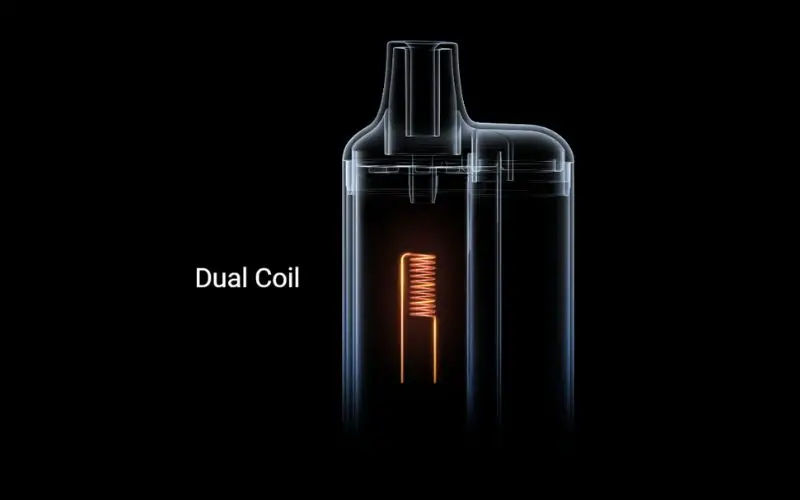 One of the key features of the Elf Bar BC3000 is its use of dual coils.
Compared to regular single coils, dual coils provide a larger heating surface area and faster heating of the e-liquid, resulting in greater vapour production.
The technological upgrade to dual coils enhances the purity and exceptional quality of the flavour in the Elf Bar BC3000.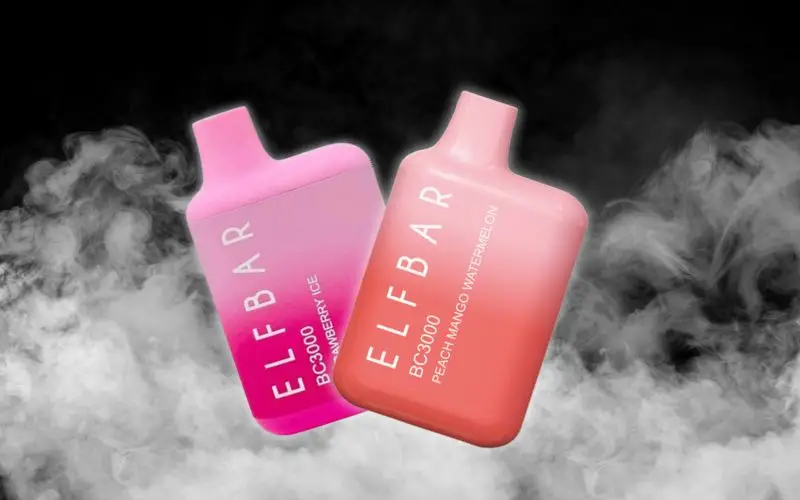 Unlike those complex button-operated vapes, all you need to do is take a gentle puff, and the ElfBar 3000 will activate, allowing you to start enjoying your vaping session.
This is the Elf Bar BC3000 auto-draw function, making vaping incredibly simple and convenient, especially friendly to novice vapers.
ELF BAR TE6000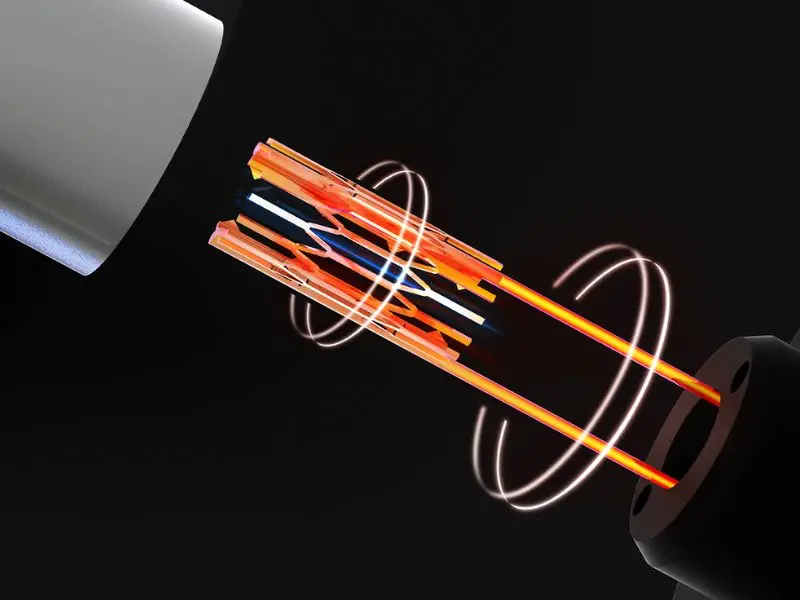 The Elf Bar TE6000 has undergone several technological upgrades, including adopting the QUAQ Mesh Coil.
The QUAQ technology, combined with the finely woven mesh structure and high-quality e-liquid, enhances heating efficiency. Within seconds of taking a puff, dense vapour immediately fills your mouth.
In addition, this Quaq-enhanced mesh coil provides a consistent output, ensuring pure and smooth vaping from the first to the last puff.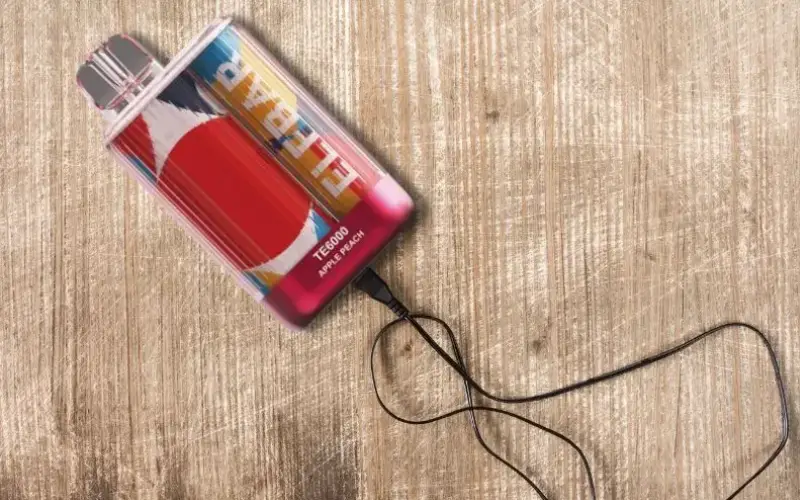 The overcharge protection design of the TE6000 significantly enhances the safety of the product's use.
After being fully charged, the vape can automatically stop charging, eliminating the issue of battery overheating.
During this time, you do not need to frequently check and worry about the battery level of the Elf Bar TE6000.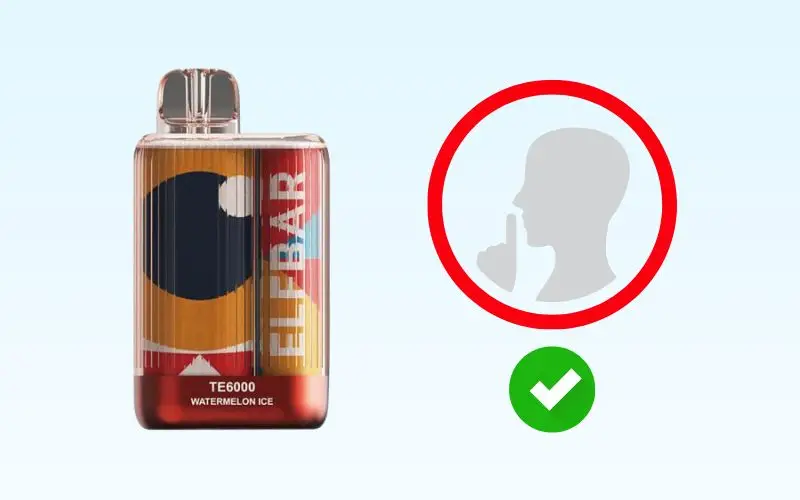 The silent design of the Elfbar TE 6000 addresses a common issue found in most vapes on the market: noise generated during vaping.
This design improvement allows you to enjoy your vaping time quietly. Moreover, you do not need to worry about disturbing others even in public settings.
Key Differences Between Elf Bar 3000 And Elfbar 6000
Design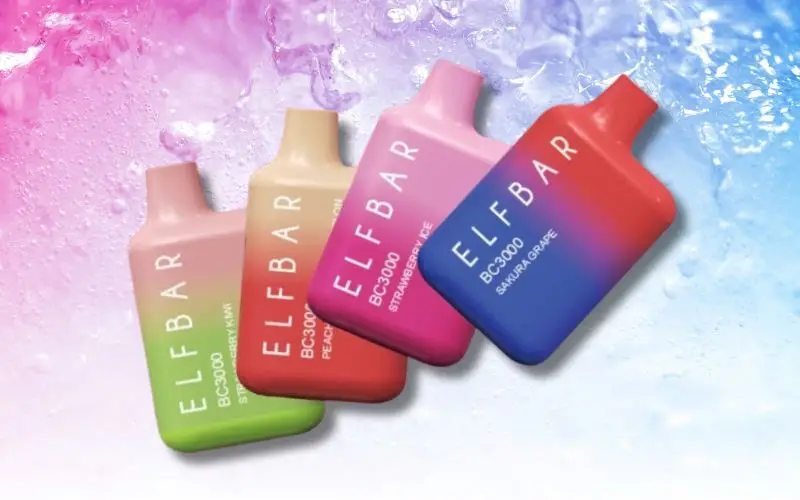 You could say that the design features of the elfbar bc3000 are simple, stylish, and compact.
It looks like a refined little jug, complemented by vibrant colour combinations immediately catching your attention. Interestingly, these colour designs are also associated with the flavours they represent.
Furthermore, the Elf Bars offer a comfortable grip, with all edges meticulously crafted to conform to ergonomic design principles.
Additionally, it can be easily held in one hand. It's not an overstatement to say that you can easily carry three of them in your pocket without being too conspicuous.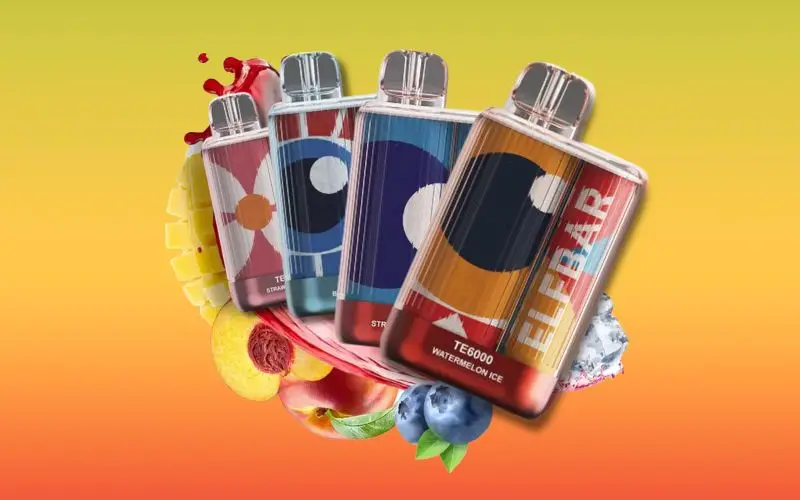 The Elf Bar 6000, in contrast, resembles more of a work of art.
Each vape flavour appears as a painting encased within a transparent shell, while the metal base adds a touch of modernity, making it very visually appealing.
Similarly, the Elf Bar TE6000 adheres to a colour scheme that corresponds to the flavours it represents. You can also determine the represented flavour through labelled text on the shell.
When you hold it in your hand, you'll notice that its curved design perfectly aligns with the curvature of your palm.
Nicotine Strengths
Elf Bar BC3000 has a nicotine content of 5%, whereas Elf Bar TE6000 contains 4% nicotine salt.
This implies that the former has a stronger throat hit, while the latter provides a relatively gentler and milder sensation.
However, it's essential to recognize that nicotine salts are absorbed more rapidly into the bloodstream than conventional nicotine.
This implies that users of elf bar 6000 puffs will experience the effects of nicotine more quickly.
Puffs
Elf Bar BC3000 offers 3000 puffs of vaping, while ElfBar TE6000 provides 6000 puffs, which is twice the amount of the former.
This significant difference can be attributed to two main factors. One factor is that ElfBar TE6000 has an e-liquid capacity of 10.3ml, slightly more than ElfBar BC3000's 10ml.
Another factor is that ElfBar TE6000 utilizes advanced quark technology, enhancing e-liquid vaporisation efficiency.
This means that each drop of e-liquid can produce more vapour, resulting in a higher puff count for ElfBar TE6000.
Popular Flavours
Interestingly, two of the top three flavours in the Elf Bar BC3000 best flavour and the elf bar te 6000 best flavours are the same: Blue Razz Ice and Watermelon Ice flavours.
In addition to these, Strawberry Kiwi and Strawberry Banana are ranked third in popularity for these two series.
Blue Razz Ice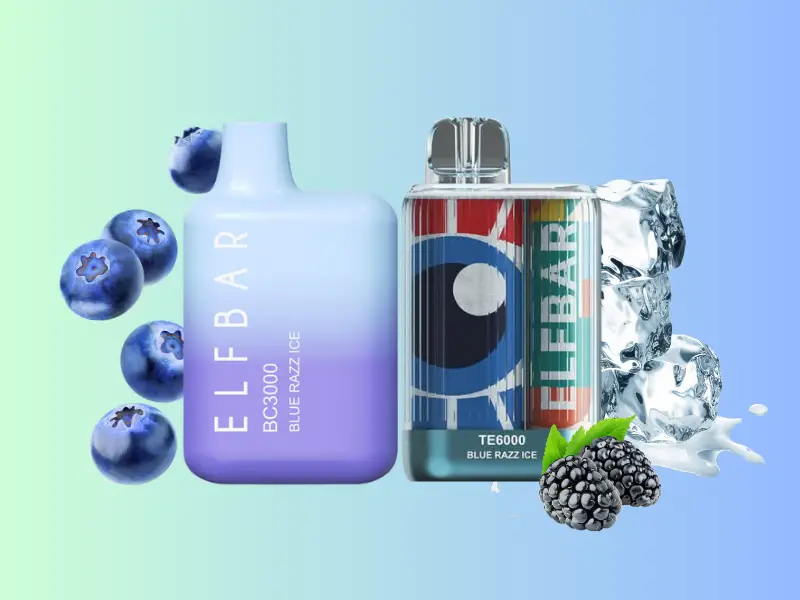 The tangy sweetness of blueberries and raspberries makes it feel like you're savouring fresh fruit juice. When combined with the icy chill, it's absolutely breathtaking.
Watermelon Ice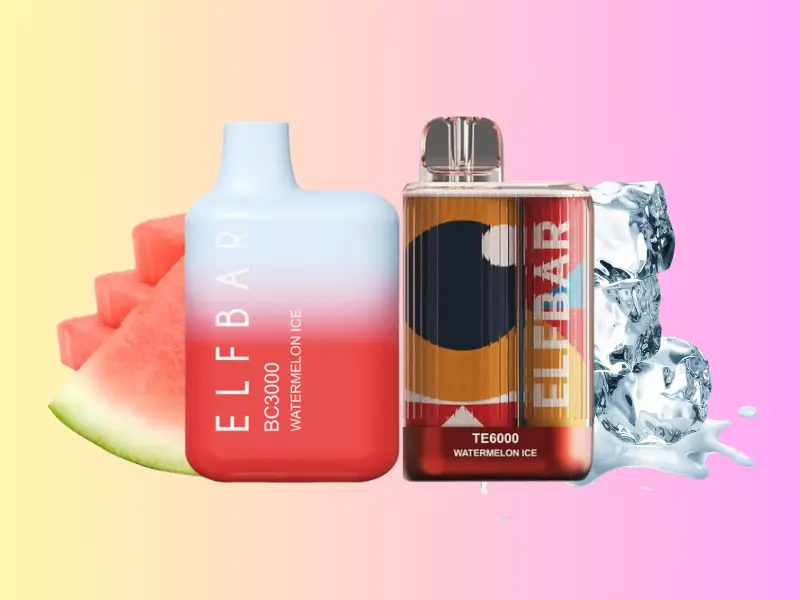 When you take a puff, you'll experience the refreshing scent of watermelon and a delightful coolness that hits you instantly.
It's like savouring chilled watermelon juice on a sunny beach during a scorching summer day.
Strawberry Kiwi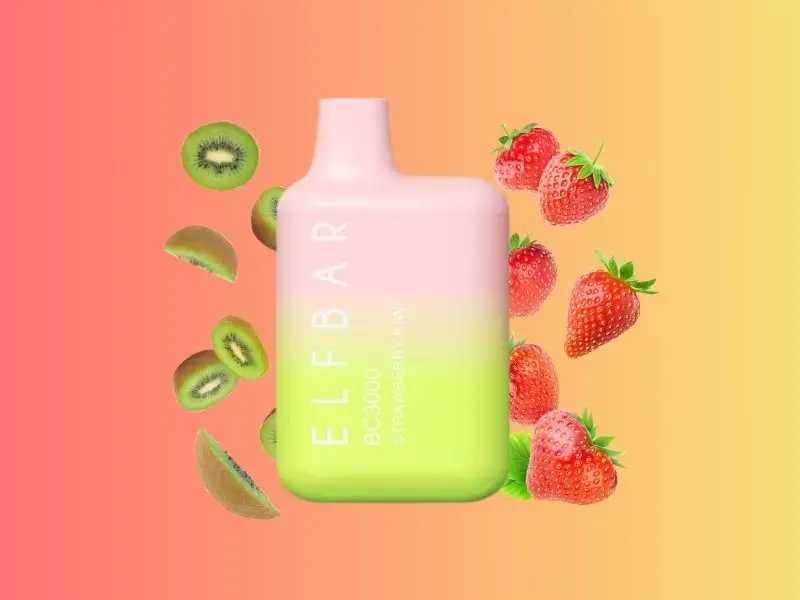 The tangy and delicious combination of strawberry and sweet-tart kiwi is absolutely fantastic. It offers a refreshingly light flavour.
Strawberry Banana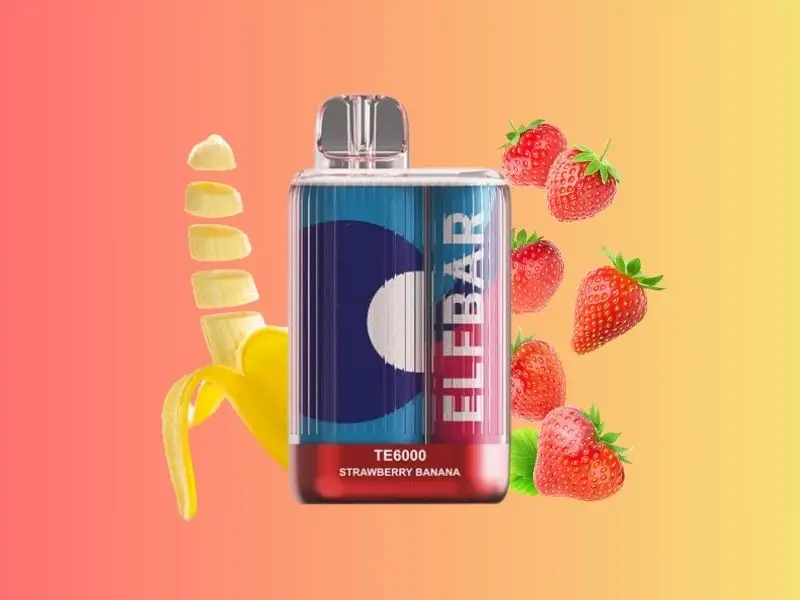 The strawberry banana flavour is also one of the unique Elf Bar TE 6000 flavours.
The velvety texture of banana and the succulent sweetness of ripe strawberries create an irresistible flavour. Moreover, even after vaping, this delightful aroma lingers in your mouth.
Battery Life And Charging
Elf Bar 3000 puff has a 650mAh battery capacity, while Elfbar 6000 puff has a 550mAh battery capacity. This means that elf bar 3000 provides a longer single-use time.
You can use a Type-C charging cable to charge both models of vapes, but the exact charging times are different.
Based on experience, Elf Bar BC3000 typically takes 30 to 60 minutes to charge fully, while Elf Bar TE 6000 charging time only takes around 30 minutes, without the need for a prolonged wait.
Price
Due to the performance upgrades of Elf Bar TE6000, elf bar te 6000 price is naturally slightly higher than that of Elf Bar 3000 puff. Here are the price references for both products: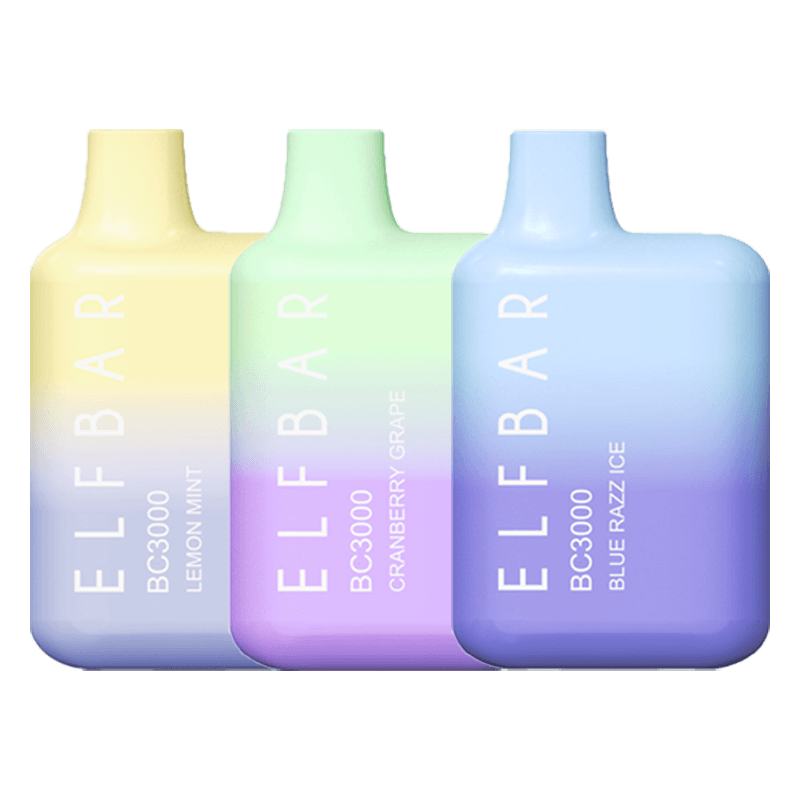 Elf Bar BC3000 Puffs (Rechargeable)
The ElfBar BC3000 has a generous 10ml e-liquid capacity and a high-capacity 650mAh battery, surpassing most vapes in its price range.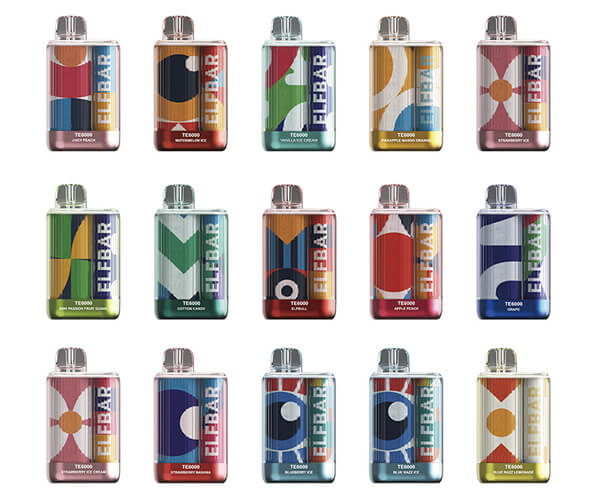 Elf Bar TE6000 Puffs (Rechargeable)
The revolutionary Elf Bar TE6000 is the ultimate vaping companion for today's on-the-go lifestyle!
Regarding overall value for money, a 6000 puff elf bar might have a slight advantage.
Because for just an additional $15, you can get an extra 3000 puffs of usage and access various upgraded features and services.
ElfBar BC3000 VS ElfBar TE6000 – Which Is Better?
If you were to ask me which model is better, my answer is that both have their advantages.
Regarding the number of puffs, e-liquid capacity, charging time, and value for money, ElfBar TE6000 is better.
In battery capacity, throat hit, and price, ElfBar BC3000 is slightly better.
Making A Decision Based On Your Personal Preferences And Needs
Please choose the product based on your personal preferences and specific needs.
You can try the Elf Bar BC 3000 if you are interested in the following features:
The TE 6000 Elf Bar would be more suitable for you if you are interested in the following features:
If you would like to learn more about the two vapes, you can read the Elf Bar 3000 review and Elf Bar TE 6000 review as follows:
Where To Buy ELF BAR BC3000 & ELF BAR TE6000?
You can buy both of these products at VapePenZone. We offer a guarantee of authenticity and free shipping for orders over $100 and high-quality after-sales service.
Moreover, we offer the most complete and up-to-date flavours and regularly share knowledge about vapes with everyone. If you're interested, please feel free to visit our website for more information.
Verdict
The battle between Elf Bar BC3000 and Elf Bar TE6000 is captivating.
Each Elf Bar Vape Australia has its own strengths, so your choice should be based on your specific needs. I hope this article has been helpful to you!
FAQ
Does the Elf Bar BC3000 have nicotine?
Yes, Elf Bar BC3000 nicotine content is 5%.
How much is elf bar te6000 nicotine?
Elf Bar TE6000 contains 4% nicotine salt.
What is the best Elf Bar device?
It's hard to define which series is the best Elf Bar device because each has its merits. The most recognized Elf Bar by vapers at the moment are:
ELF BAR TE6000
ELF BAR BC5000
ELF BAR BC3000
ElfBar TE6000 is also a high-performance and stylish disposable vape. It has a 10.3ml e-liquid capacity and a 550mAh battery. It can provide vapers with up to 6000 puffs.