Are you having trouble using your early version of the Vuse ePod Vape (formerly known as Vype ePod) but can't find a helpful Vuse ePod review?
Don't just give up and throw it away! Because we are here to provide you with a detailed Vuse ePod review matching with the ePod series!
Keep reading and bring your Vuse ePod to life by maximizing its compatibility with the ePod series!
Introduction To Vuse ePod Review
Vuse(formerly known as Vype) is a prominent vape brand mainly selling premium pod vapes with rechargeable functions and abundant flavours.
It's worth noting that the Vuse ePod was previously sold as the "Vype ePod" in Europe. While in the U.S. and Australia, it is always called "Vuse ePod".
When the "Vype Vape" was rebranded as "Vuse Vape" worldwide, the Vype ePod Vape was upgraded to the Vuse ePod 2 Vape.
To simplify the description, we will use "Vuse ePod" to refer to the "Vype ePod" in this review.
This review aims to offer an impartial evaluation of Vuse ePod in terms of dimensions of design, flavours and functions.
General Rating Of ePod Vuse
POSITIVES
Rechargeable & Pod replaceable

Widely compatible with the ePod cartridges series

LED battery indicator

Ergonomic design

Smooth and stylish appearance

Puff activated & Easy operation

Simple maintenance
NEGATIVES
Frequently charging

Frequently replacing pods

Low battery capacity

Not applied with the usual charging cable

Longer charging time than ePod 2 Vape
Vuse ePod Specifications
Here are the Vuse ePod specifications from Vuse Australia.
Size: 105mm*19mm*10mm
Weight: 22.5g
Battery capacity: 350 mAh
Pod capacity: 1.9 mL
Nicotine strength: 12mg/ ml or 18 mg/ml
Kit Package content: A device, a pre-filled pod, a USB charging cable and a user guide.
Vuse ePod Overview
The Vuse ePod series evolved over three generations, starting with the Vuse ePod, then the Vuse ePod 2, and finally advancing to the Vuse ePod 2+.
It's worth noting that all Vuse ePod cartridges in the ePod series are compatible with all other ePod Vapes device series but not the ePen Vape series. As a result, we will also compare it with ePod 2 and ePod 2+ in this Vuse ePod review,
As the compatibility of the ePod series, you can apply the ePod 2 cartridges to the Vuse ePod Vape or the Vuse ePod 2+ Vape. And we should mention again that do not attach the Vuse ePod device and pod to the ePen series.
Vuse ePod consists of all the basic designs of the ePod series but shows a slight difference compared to the other 2 advanced versions.
The ePod Vape allows recharging the battery and replacing the pod, which is the same as other ePod Vapes. But it has a flatter and silkier shell than the ePod 2 and ePod 2+.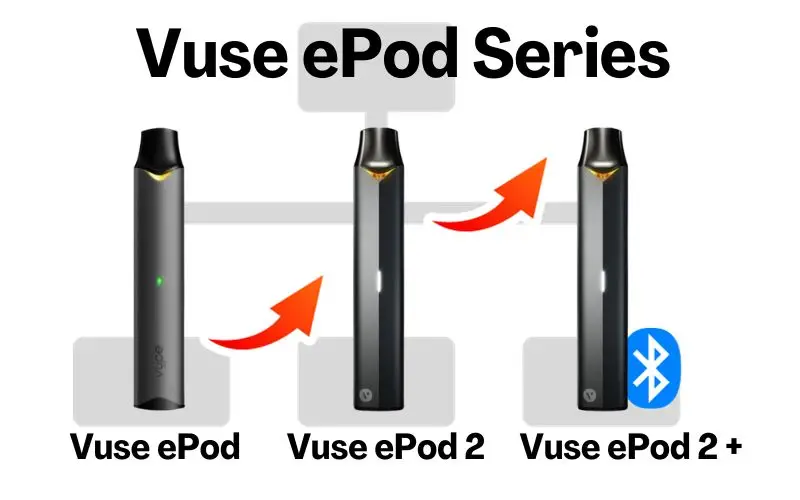 Design And Build
Let's start the detailed descriptions of this Vuse ePod review with the design. The vape device features a sleek, round design and matte graphite finish for a beautiful look and feel.
Its device design consists of these components:
1. An ergonomic mouthpiece
Offers a softer playability when touching your mouth.
2. A silvery and flat Aluminium shell
Thus, it leads to a slightly heavier weight but won't be too bulky due to the small size.
3. Magnetic bottom parts
There are three contacts at the base of the vape device but no USB port. Compared to traditional USB ports, this contact design reduces a lot of dust accumulation and effectively avoids the problem of poor circuit contact.
4. Magnetic bottoms under the pod
Inside the Vuse ePod device is a Vuse ePod cartridge attached with magnetic parts, which help pull the pod into place and hold the pod tightly inside the vape.
User-Friendliness And Ease Of Operation
Vuse ePod is a simple pod vape that is easy to handle and use, and here are some featured functions that are friendly to Vuse Vapes users:
Ergonomic mouthpiece: suited to your lips
Puff-activated function: No button and activate in 1 second.
Magnetic charging cable: Easy charging and connect tightly.
The magnet contacts: Pull the pod in and hold it tight.
Vuse ePods Flavours Reviews
When it comes to the vaping experience of Vuse ePod Vape, we would divide it into 2 parts:
1. Best Vuse ePod Flavours
Vuse ePod refill offers 6 flavours, and here are some hot-sale Vuse ePod flavours in the past:
Very Berry
Tropical Mango
Golden Tobacco
Vanilla Medley
Chilled Mint
If you've got a sweet tooth, Very Berry and Tropical Mango would be your best choice. And if you are fond of super strong throat hits, the Golden Tobacco and Chilled Mint surely satisfy your taste.
2. Vuse ePod Nicotine Strength Options
Vuse ePod offers two nicotine options: 12mg or 18mg per ml of e-liquid. You can choose the strengths depending on your preference.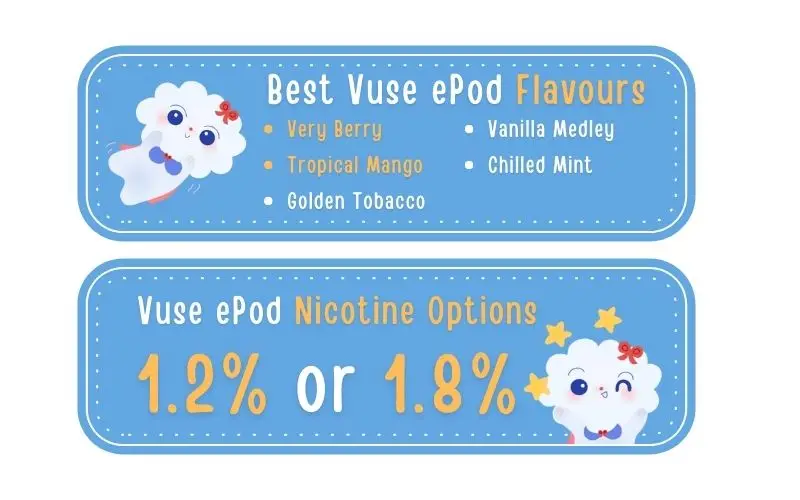 Battery System Of Vuse ePods
The Vuse ePod shares the same functions as the Vuse ePod2 but differs slightly in battery indicator.
1. Battery Capacity
The ePod battery runs on a power of 350mAh. Generally, a well-maintained Vuse ePod Vape can last for 12 months in total.
2. Battery Longevity
If fully charged, the Vuse ePod Vape can be used for 1-2 days and offers approximately 275 puffs.
3. Battery Indicator Light
Compared to the Vuse ePod 2 Vape, the battery indicator of the Vuse ePod differs in the light colour and flashing times.
| | Condition | Light Colour | Flashing Time |
| --- | --- | --- | --- |
| Vuse ePod | Activated | Green | None |
| Vuse ePod | Low battery | Green | 10 |
| Vuse ePod | Short-circuit | Red | 3 |
| Vuse ePod | Puff over 5 seconds | Red | 3 |
| Vuse ePod | Puff ends | Green fades | None |
| Vuse ePod 2 | Activated | White | None |
| Vuse ePod 2 | Low battery | White | 10 |
| Vuse ePod 2 | Short-circuit | White | 3 |
| Vuse ePod 2 | Puff over 5 seconds | White | 3 |
| Vuse ePod 2 | Puff ends | White fades | None |
4. Charging Ways And Speed
The ePod series all require a magnetic charging cable to charge the vape.
Your Vuse ePod should be fully charged before first use for optimal performance.
Vuse ePod Vape requires 80 minutes to charge fully, while ePod 2 takes 60 minutes, and ePod 2+ takes 50 minutes.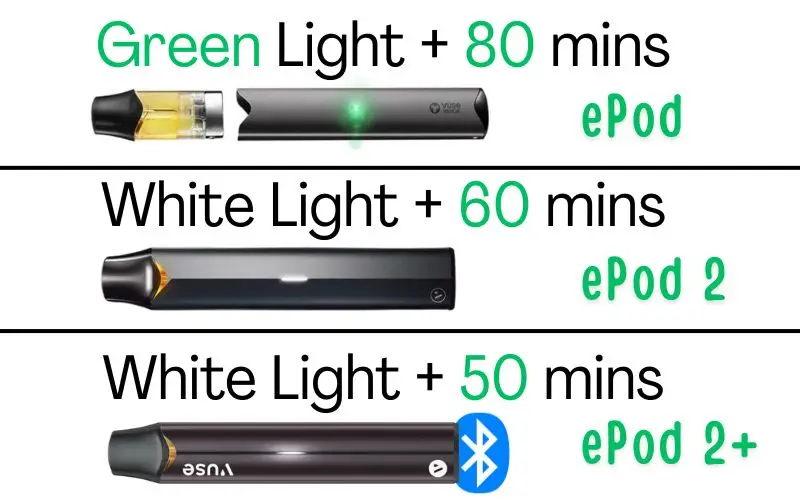 Pod System Of Vuse ePod Vapes
The pod system of Vuse ePod Vapes consists of a pod refilled with e-liquid, an atomizer, a battery and a magnetic contact connected to the battery and charging cable.
When you are vaping, it's better to insert the mouthpiece inside the mouth rather than resting it directly on the lips for optimal enjoyment and satisfaction.
The pod is prefilled with e-liquid but is not allowed to be refilled. As the compatibility of the Vuse ePod series, you could buy the cartridge of the ePod 2 Vuse to replace the ePod cartridges.
Maintenance And Care Of ePod Vuse
Vuse ePod needs little to no maintenance. However, following these maintenance tips can prevent malfunctioning and extend battery life.
1. Keep it in a dry and cool place:
Avoid extreme temperatures, and 25℃ would be the best.
2. Avoid scratches:
Hold the device gently and avoid setting it with keys or coins to prevent unsightly scratches.
3. Keep the shell clean:
Use a wet cloth to wipe the shell to remove the dust.
4. Clean the contacts:
Ensure the battery and magnetic contacts are dry and dust-free to avoid charging malfunctioning.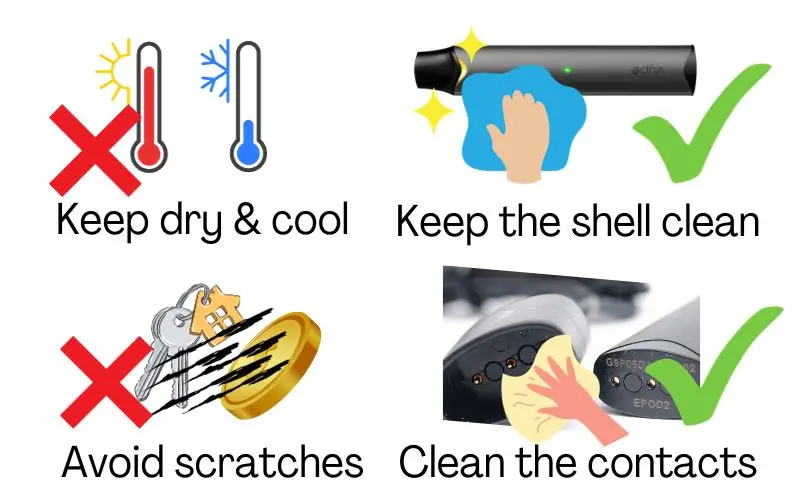 5. Use proprietary charging cables:
To avoid the risk of fire, injury and/ or damage to your Vype ePod or other property, only charge your Vype ePod with the equipment provided in your Vype ePod kit or with compatible Vype charging accessories.
6. Charging and replacing in time:
When the pod's remaining level reaches 1/4, you should start charging the battery and replacing the Vuse pods to prevent draining.
7. Don't overcharge and leave the device unattended:
Vuse ePod only requires 70-80 minutes to charge fully. So, don't charge it for several hours or overnight.
8. Don't vape while charging
Vuse ePod is not allowed to puff when charging, leading to an overheating risk and hurting your lips.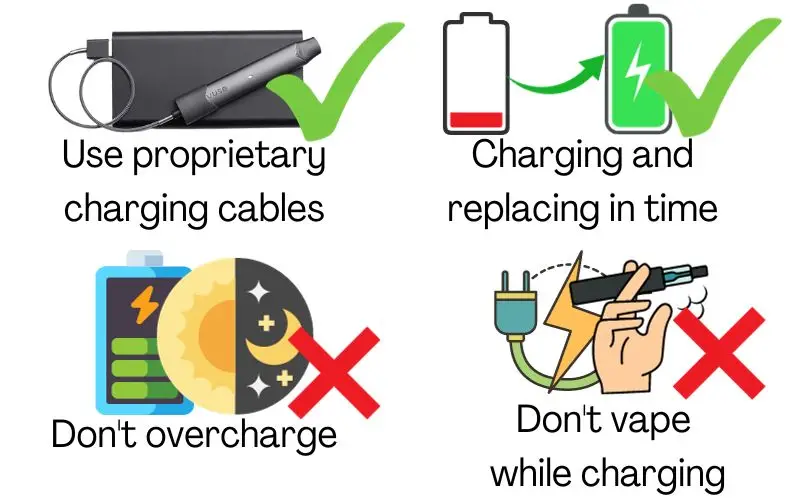 Vuse ePod Review Reddit
Here are some comments about the Vuse ePod review on Reddit.
We found that most of the positive comments focus on the lightweight, easy use, decent throat hits and cigar-like features and negative comments focus on the flavours or temperatures.
audiofoxthethird
I like these precisely because they come with ease of access, unlike other vape systems.
Lovestolaugh113
I've never been able to find one that didn't weigh a ton. With the Vype ePod, I have found it light enough to feel like an actual cigarette.
MikRab
It is good, but it's a POD system. For me, this is my travelling stealthy device. Although I'm strictly an MTL vaper, I tend to prefer tank systems with freebase nicotine. I find the warmth and flavour from tank systems superior to this.
autofocus111
The throat hit is decent but not harsh. A nicotine buzz is definitely there, and you can blow out a fair amount of 'smoke. '
It's simple to use, and light and very compact. I like the fact that vaping doesn't stink up everything like tobacco.
Verdict
That's all about the detailed Vuse ePod review, including the description of the design, pod system functions, battery system functions, and flavours review.
Follow this review to get your Vuse ePod alive again! Or you can simply buy the advanced version of Vuse ePod 2 Vape in VapePenZone, which offers better customer service and corresponding devices.
FAQ
How many cigarettes are in a Vuse pod?
A single 3% Vuse pod is equivalent to a 20-cigarette pack since the Vuse ePod pods contain 200-275 puffs.
How many puffs are in a 5% Vuse pod?
Generally, a 5% Vuse pod offers approximately 275 puffs.
How long does a Vuse pod usually last?
Generally, a Vuse pod lasts for 1-2 days since it has 275 puffs.
Yes, Vuse Vape offers ePod with prefilled cartridges in various flavours with 4% and 3% nicotine concentrations, each containing 1.9 mL of nicotine salt liquid.