Summaries
The IGET Bar should be the least controversial in Australia's most popular disposable vapes. The optimal balance of throat hit and smoothness is at the heart of the IGET Bar's ability to stand out from the crowd of vapes.
At the same time, the choice of up to 30 flavours allows each and every vaper to choose his or her favourite flavour and enjoy the most extreme flavour experience possible.
But what is the vape experience really like? This IGET Bar review is based on the most important factors: features, setup, flavours, performance, and price. And give it an overall rating: should you buy IGET Bars?
Introduction
When people first hear about IGET, it could be 2021 or even earlier. Yes, no one could have imagined that the IGET Bar would stand out in a near-saturated e-cigarette market, rising rapidly at an unprecedented rate, appearing on various Australian social media platforms and forums, and quickly becoming Australia's best-selling disposable vape.
If you regularly search for vape products, you'll know that the IGET Bar pops up in all sorts of places, and this post will give you the most comprehensive perspective on the product, so let's get started!
Overall IGET Bar Review
The IGET Bar is a disposable vape. The device features a 1.2 ohm as well as 12 ml of nicotine salt juice with a 1500 mAh battery, allowing it to drain all e-liquid completely.
The IGET Bar vape is also at the top of the industry when it comes to the richness of its flavours, offering more than 30 great flavours while maintaining a high level of flavour, each one of which will overwhelm its intended audience.
It offers a relatively compact MTL draw of up to 3500 puffs, which may be accompanied by a subtle percussive sound when striking, which is normal.
Its mouthpiece is made of food-grade material, and when you get the product, simply open the package, remove the mouthpiece cap, and vape straight away.
Specification
Size: 41.3 x 21.3 x 94.5mm
E-liquid capacity: 12 ml
Nicotine strength: 50 mg/mL
Battery capacity: 1500 mAh
Puffs: Up to 3500
Features: 1.2 ohm mesh coil
Material: PC+ALU
Flavours: 30+
Weight: 78g
Package content
1 x IGET Bar 3500 disposable vape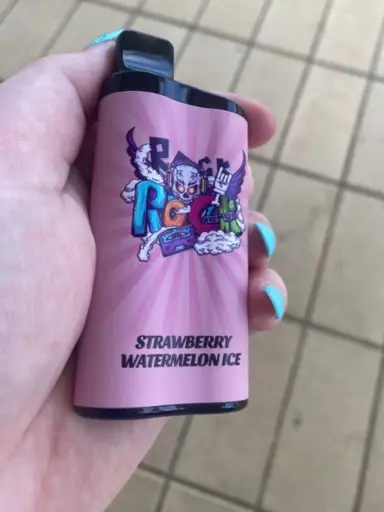 Appearance And Design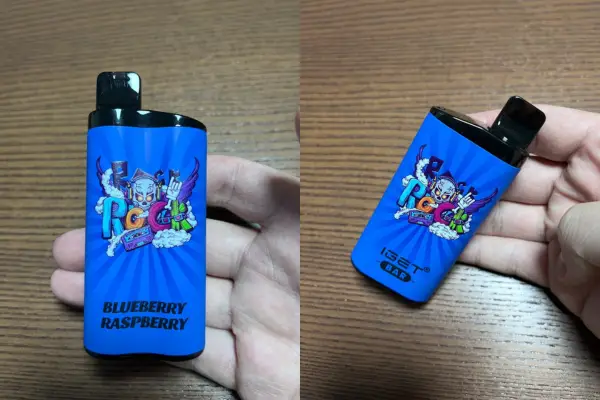 The IGET Bar boasts a sleek, rectangular design with a tactile frosted finish. Its front displays the flavour's name, accompanied by a stylish skull pattern and the word 'Rock' for a modern edge. This motif, coupled with the distinct IGET branding, is mirrored on the back. Four airflow vents are strategically placed at the bottom to ensure a robust throat hit and optimal vapour production with every draw.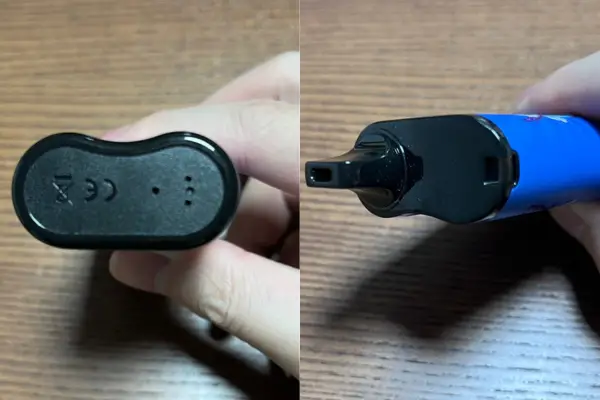 The front of the IGET Bar has a curved design, which might be why it feels more comfortable in hand than other vapes. This ergonomic design could be a reason users prefer it. The mouthpiece has flat venting holes for a more focused vapour release and a stronger throat hit. The top cap has a lanyard hole, so you can easily wear it around your neck.
How Did IGET Bar Perform? How Does It Work?
When it comes to the performance of the IGET Bar, you have to mention its battery life, with a massive 1500 mAh battery that is definitely among the best in the industry, as it is fully sufficient to support enough to absorb 3500 puffs. 12 ml of vape oil will satisfy your vaping experience for about a week, and up to 30 flavours are even more praiseworthy for vapers.
When you take a puff from the IGET vape bar, the disposable battery sends power to the 1.2-ohm coil. This coil gets hot and heats the vape juice in the surrounding cotton wick, producing the vapour you inhale. The process is straightforward, ensuring consistent vapour with every draw.
More Features Of The IGET Bars
In this IGET Bar review, the functional features of this disposable unit will be further analyzed from various aspects, so keep reading.
Battery Life
The Bar vape's battery is a 1500 mAh disposable battery. If you open the Bar vape, you can find that the battery is completely wrapped in tape, and the wires and the battery are tightly wrapped with tape to ensure that the device is able to provide a steady supply of power, which is generally enough to consume all 12 ml of vape juice.
Heating Coil
The IGET Bar vape comes with a 1.2 ohm heating coil, which is the standard for disposable vapes, which is also similar to the Elf Bar that is popular in Europe.
The 1.2 ohm coil in the vape uses power efficiently, producing a lot of vapour. This ensures every bit of vape juice is turned into vapour, bringing out the best flavour. As a result, the taste is both rich and smooth.
Wicking Material
The IGET Bar uses cotton wicks to store e-liquid, and here are the benefits:
Even Absorption: The cotton wick ensures consistent vapour with each puff.
Smooth Experience: Cotton delivers a smoother, more natural feel than other materials.
Leak Prevention: Cotton's absorption reduces the chances of leaks.
Longer Lifespan: Uniform e-juice distribution can extend the vape's life.
Heat Distribution: Cotton helps spread heat evenly, preventing hotspots.
True Flavor: The cotton wick preserves the genuine taste of the vape juice.
Vape Juice
The 50/50 VG (Vegetable Glycerin) to PG (Propylene Glycol) ratio in the IGET Bar offers a balanced vaping experience. This blend provides the following advantages:
Balanced Throat Hit: PG hits a strong throat like regular cigarettes, which is great for ex-smokers.
Good Vapor Production: VG produces thick clouds for a satisfying visual experience.
Flavour Clarity: 50% PG means clear and strong flavours with each vape.
Wicking Compatibility: A 50/50 mix suits many devices and ensures even liquid absorption, minimizing dry hits.
Smooth Feel: VG offers a sweet and smooth vape texture.
Pros / Cons
Pros
Lightweight and ergonomic

Perfect balance of impact and flavour

Flavour well above industry standards

Easy to use
Cons
Not rechargeable

A hissing sound when hitting
What IGET Bar Flavours You Should Choose?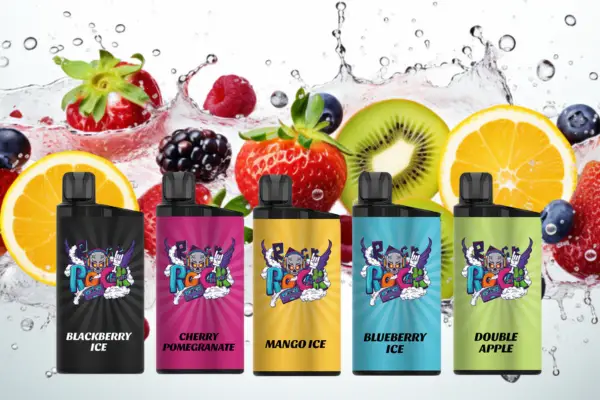 The flavours in this product are undoubtedly above average, but finding the right flavour for you is paramount, and if you're just trying out the IGET Bar vape, then the following flavours are probably the ones you can't go wrong with.
IGET Bar Flavors for Beginners:
Grape Ice – The grape flavours are moderately sweet and refreshing, making it a great place to start.
Blackberry Ice – It's not particularly sweet and can be experienced as the best vaping immediately.
Watermelon Ice – It is perfect for beginners as it is sweeter and has a full watermelon taste.
Ice Cream – One of the unique flavours for a sweet tooth.
Blueberry Ice – It tastes sweet and tart, and the blueberries with the vaping will make you float.
IGET Bars Review By Customer
Check out the VapePenZone review to learn more about whether the IGET vape bar is really right for you!
Price Of IGET Bar In Australia
VapePenZone offers IGET Bars in different price gradients, with prices for special flavours, individual products, bundles, and boxes below.
Verdict
I have to admit the IGET Bar is causing a frenzy in the Australian e-cigarette market, with a growing following. Reading this IGET Bar review will help you understand it better, rather than blindly following the trend and choosing a flavour you don't like and thus thinking that it's not as useful as it's marketed to be.
For more e-cigarette blogs, subscribe to VapePenZone. We'll keep you updated on the latest articles in the industry! Take action now and join us!
FAQ Of IGET Bar Review
What chemicals are in a IGET Bar?
The chemicals in IGET Bar are nicotine, vegetable glycerin, propylene glycol, glycerol, flavour, and benzoic acid.
Is the IGET Bar safe to use?
Using an IGET Bar is generally considered safe if you meet the local age requirements for vaping. It is forbidden to use the product for pregnant children and those who are sensitive to its ingredients!
What is the cigarette equivalent to an IGET Bar?
The IGET Bar offers 3500 puffs, the equivalent of 350 cigarettes.
What is the best Flavour of IGET Bar?
Strawberry Watermelon Ice is the best IGET Bar flavour.