About the package: You may receive a different version of the packaging (Chinese/English) of RELX. But we guarantee that they are all genuine, and the quality and flavour are exactly the same.
What Is RELX Phantom?
Founded with a vision to redefine the vaping experience, RELX has consistently set new benchmarks in the industry.
The RELX Phantom device also recognized as the RELX Infinity Plus device, represents the pinnacle of RELX's innovative journey in the realm of vaping technology. As the latest iteration and a significant upgrade over the Infinity, the Phantom or the Infinity Plus RELX combines cutting-edge design with advanced vaping mechanics, offering users an unparalleled experience.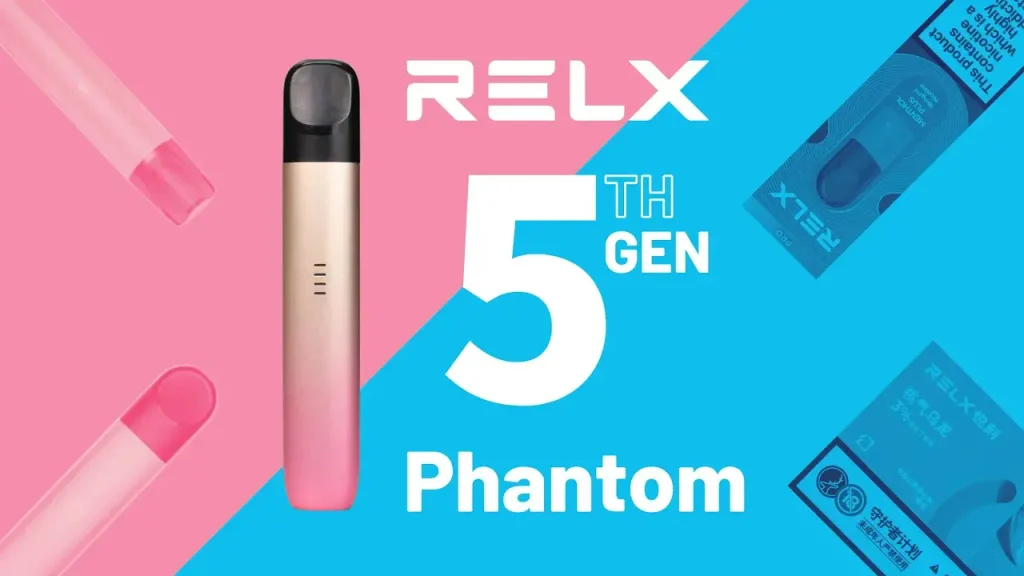 Why Choose RELX Phantom?
The RELX Phantom, representing RELX 5th generation of vaping devices, offers a superior vaping experience, standing as a testament to RELX's commitment to innovation. The device utilizes a cutting-edge 11-layer labyrinth structure, ensuring optimal ventilation while effectively blocking condensate and isolating the liquid.
As echoed in many RELX Phantom reviews, this design offers users unparalleled protection against liquid leakage, boasting a 40% improvement compared to earlier models.
Moreover, the Phantom RELX delivers a more relaxed draw, richer clouds, and a gentler throat hit than its predecessors. Plus, its versatility shines, with Phantom pods being compatible with the Infinity Vape. Dive into a new era of vaping with the RELX Phantom.
Package Content
Specifications
Dimension: 112 × 23 × 10 ml
E-Liquid Capacity: 1.9 mL
Battery: 380 mAh
Charging Port: Type-C USB
Charging Time: 45 mins
Up to 400 puffs when fully charged
FEELM Ceramic Coil
Draw Activated
Features
4-grid scale power light design: Displays remaining power and charging progress.
Labyrinth airway: Ensures a leakage-free experience and enhanced flavour.
Rapid Charging: Get your RELX Phantom ready in minimal time.
Enhanced Material Technology: Crafted for durability and a premium feel.
Compatibility: Compatible with a variety of RELX vape 5th gen pods and Infinity pods.
FAQ About The RELX Infinity Plus (RELX Phantom)
Here are some frequently asked questions about the version of the RELX Phantom Australia
Is RELX Phantom worth it?
Absolutely! With its state-of-the-art features and design enhancements, it offers value for every penny spent.
Is RELX Infinity and Phantom the same?
No, the RELX Phantom is the upgraded version of the Infinity, often referred to as RELX Infinity Plus.
Is RELX Phantom compatible with Infinity?
The RELX Phantom and RELX Infinity are compatible with each other and they both work with the Infinity Pod and Phantom Pod.
What pods are compatible with RELX phantom?
The RELX Phantom is compatible with RELX 5th generation pods (Pod Pro 2) and the RELX Infinity Pod (Pod Pro).
What is the difference between RELX Infinity and RELX Infinity Plus?
The RELX Infinity Plus, commonly known as RELX Phantom, boasts several enhancements including faster charging, improved battery life, and the unique 4-grid scale power light design.
Is RELX Infinity Plus worth it?
Yes, with its multitude of upgrades and new features, it provides an unmatched vaping experience.
What generation is RELX Infinity Plus?
It's part of the RELX 5th generation lineup.
How long does RELX Infinity Plus last?
The Phantom RELX (Infinity Plus) device can provide up to 400 puffs when fully charged.
Frequently Asked Questions
For a more in-depth understanding of our shipping and return policies, visit our detailed guide at VapePenZone.
What Is The Expected Delivery Time For My Order?
For most Australian regions, delivery occurs within 2-5 business days. For remote areas, it may take an additional 2-3 days. Contact our support with your postal code for precise timings.
How Soon After Placing An Order Is It Dispatched?
Orders made from Monday to Friday are processed within 24 hours. A tracking number will be sent upon dispatch.
Is It Possible To Modify Shipping Details Or Order Items?
Changes to shipping details are possible prior to dispatch. Post-dispatch, use the tracking page for redirections. For assistance, contact us immediately.
Do I Need A Prescription For Nicotine Vape Products?
Any Implications Of Australia's New Vaping Policy?
Australia is vigilant about policy changes. Subscribe for the latest updates from us.
When Will Out-Of-Stock Products Be Available Again?
Typically, products are restocked within a week. For specific products, our support team can help reserve them for you upon restocking.
What If My Vape Product Is Defective?
A 30-day warranty is provided from the purchase date. Reach out with specifics, and relevant media, for swift resolution.
What Should I Do If My Order Is Incomplete Or Lost?
Contact us with parcel details for an immediate investigation. We'll ensure replacements for confirmed missing items.
Is My Parcel's Packaging Discreet?
Absolutely, we value your privacy and ensure discreet packaging.