Quick Guide
Elf Bar vs Puff Bar is a highly anticipated showdown in vaping, as both brands have established themselves as leaders in the industry.
As someone who has been vaping for five years, I'm here to provide you with a comparison in the following aspects:
Mission
Product Technology
Popular Series Comparison
If you're unsure which side you should be rooting for, read on with me!
Introduction
While Elf Bar vapes and Puff Bar vapes share some common features as disposable vapes, there are still essential characteristics and differences to consider when buying a vape.
This article will provide a comprehensive overview of these two vape brands, comparing their popular series to offer you more insights and assist you in making an informed decision between Elf Bar and Puff Bar.
Elf Bar Review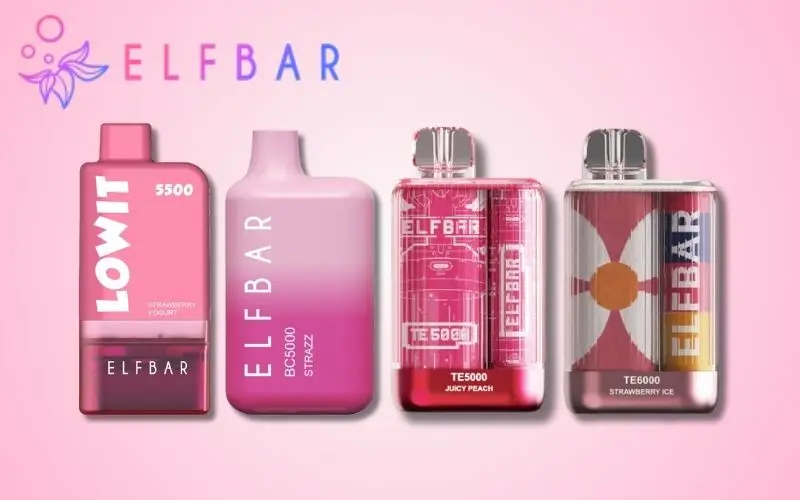 Even though Elf Bar has only emerged in the eyes of vapers for a few short years, it has garnered a warm welcome in several countries, becoming one of the world's most popular vape brands.
ElfBar is not just a hot topic of discussion among young people on social platforms. Still, it's also the preferred choice of numerous influential individuals and celebrities who use vapes.
The reason is simple: ElfBar has struck the perfect balance between price, flavours, technology, and brand reputation.
Puff Bar Review
Puff Bar disposable vape is equally well-known among young vape enthusiasts. Despite being headquartered in California, their popularity extends worldwide.
Puff Bar vape draws design inspiration from USB flash drives, giving it an overall lightweight and portable design.
Additionally, their range of fruit and dessert-flavoured vapes has attracted a substantial following.
Elf Bar VS Puff Bar Review
Mission
With a customer-centric approach, Elf Bar places exploration and innovation at its core, dedicated to providing vapers with intelligent and safe vapes.
Innovation lies at the heart of Puff Bar, where not only is Puff Bar's mission but also its demand to offer consumers the finest choices in the market.
Puff Bar is dedicated to delivering top-quality products and memorable vaping experiences.
Product Technology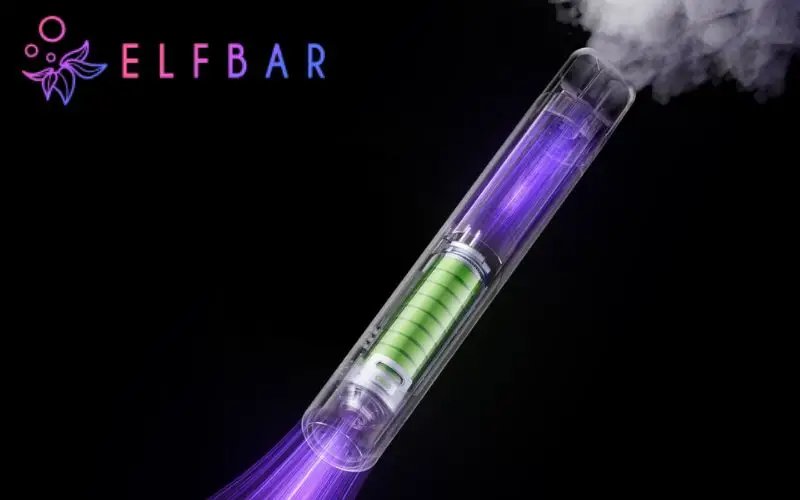 Elf Bar's QUAU technology enhances ultimate aerosol performance, increasing aerosol production at the same voltage level.
It results in denser vapour and ensures a consistently pure and smooth vaping experience from start to finish.
The QUAQ CELL also integrates the Elf Bar battery and PCBA in a modular design, enabling automation in the manufacturing process and Elf Bars battery recycling and disassembly.
QUAU technology also utilizes German food-grade SUS304 and food-grade silicone materials, significantly enhancing the product's safety.
Puff Bar has harnessed an upgraded version of mesh coil technology, resulting in significant improvements in performance aspects such as e-liquid heating, flavour, vapour production, and coil longevity.
The upgraded mesh coil technology gives Puff Bar a larger heating surface area, increasing vapour production.
Additionally, e-liquid heating becomes more even, resulting in richer vapour flavours.
Compared to traditional coils, mesh coils typically have a longer lifespan because they experience less thermal stress due to even heating, reducing coil wear and deformation.
Popular Series Comparison: Elf Bar BC5000 VS Puff Ultra Zero
Appearances
The dual-colour gradient matte body paired with a smooth plastic mouthpiece and base immediately draws attention to the design of the Elf Bar BC5000.
Its appearance resembles a stylish and minimalist small decanter, allowing you to effortlessly hold it and enjoy a delightful vaping experience anytime, anywhere.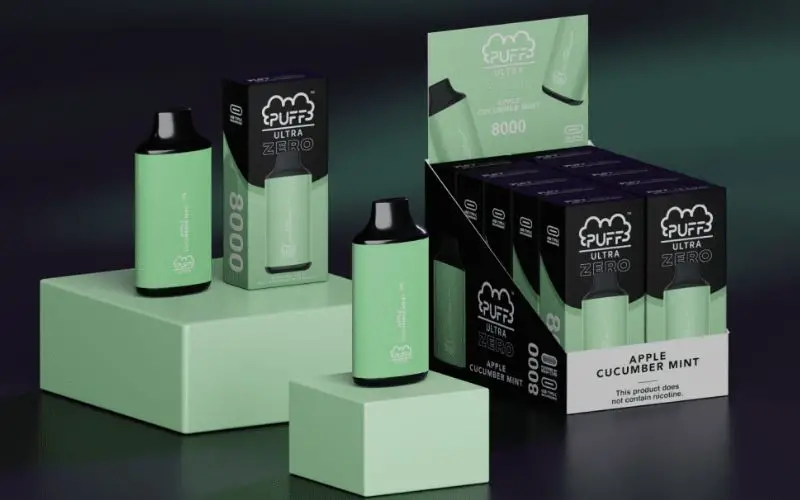 The main body of the Puff Ultra Zero features a vibrant, solid colour design. The mouthpiece and base are elegantly complemented by a premium black finish, exuding a sleek and minimalist appeal.
The front also retains Puff Bar's iconic logo and flavour names. This design detail gives Puff Ultra Zero a stylish and distinctive look.
It makes it easy for users to identify and select their favourite Puff Bar flavours.
Nicotine Content
Elf Bar BC5000 offers slightly more nicotine strength options, including 0%, 3%, and 5%.
As evident from its name, Puff Ultra Zero is a kind of nicotine free Puff Bar, containing no nicotine.
The former is undoubtedly the better choice for vapers who prefer nicotine vapour.
Flavours
Elf Bar BC5000, as one of Elf Bar's popular series, stands out for a crucial reason.
It offers over 67 vape flavours and Elf Bar all flavours catering to the diverse flavour preferences of a vast majority of vapers.
While Puff Ultra Zero's flavours have also garnered recognition and popularity among vapers, it provides a more limited selection, with only 15 flavours available for vapers to choose from.
Elf Bar vs Puff Bar flavours, where the Elf Bar is better.
E-liquid Capacity
Puff Ultra Zero has a 14ml e-liquid capacity. In terms of e-liquid capacity, Puff Ultra Zero has a slight advantage.
How much e-liquid in elf bar? Elf Bar BC5000 has a 13ml e-liquid capacity.
It means that Puff Ultra Zero can support longer vaping sessions, making it more suitable for vapers who engage in extended outdoor activities.
Puffs
Elf Bar BC5000 and Puff Ultra Zero offer 5000 puffs and 8000 puffs, respectively.
It is not only because Puff Ultra Zero has a larger e-liquid capacity than Elf Bar BC5000 but also because of its mesh coil technology.
The upgraded mesh coil enhances heating efficiency and allows the same amount of e-liquid to produce more puffs.
This means that Puff Ultra Zero's advanced technology contributes to its extended vaping capability, making it a favourable choice for those seeking prolonged use from a single device.
Battery
Elf Bar BC5000 has a battery capacity of 650mAh, while Puff Ultra Zero has a battery capacity 550mAh.
For those who need to vape multiple times throughout the day and prefer not to charge frequently, Elf Bar BC5000 Is the better one.
Recharge
Both vapes feature rechargeable capabilities with built-in batteries.
This means that vapers can easily replenish the rechargeable Elf Bar vape and Puff Bar's power by charging them, eliminating the need for frequent battery replacements. 
However, when discussing the Puff Bar and Elf Bar rechargeable features, it's worth noting that these vapes use different charging cables.
Elf Bar BC5000 requires a Type-C charging cable, while Puff Ultra Zero utilizes a USB-C charging cable.
Key Features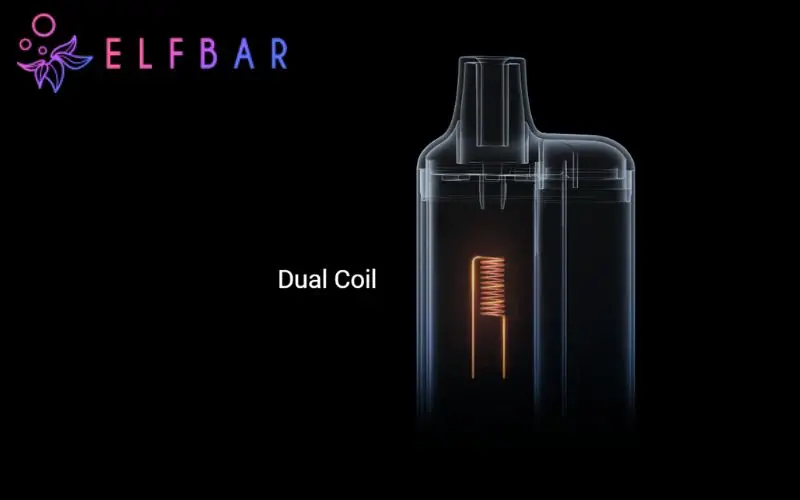 The most significant feature of Elf Bar BC5000 is its dual-coil technology.
With advanced dual-coil vaporization technology, vapers can enjoy a smooth and consistent hit.
The dual-coil ensures excellent flavour and guarantees that every puff is filled with rich vapour, providing vapers with a satisfying experience.
The dual-coil design also contributes to heating the e-liquid more evenly, further enhancing the quality of the vaping experience.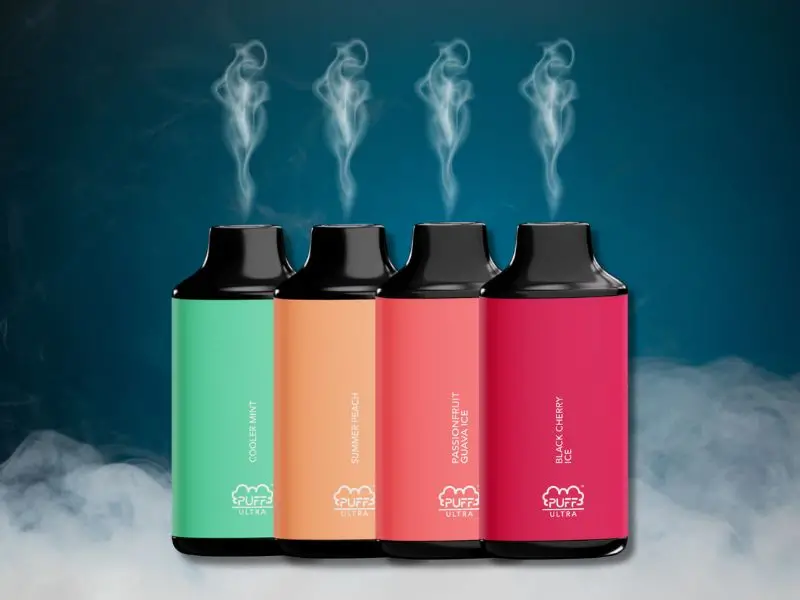 The standout feature of Puff Ultra Zero is its automatic draw function.
This advanced technology eliminates vapers needing to press buttons or activate switches. A gentle inhalation allows Puff Ultra Zero to detect and generate vapour automatically.
This convenient automatic draw feature makes Puff Ultra Zero incredibly user-friendly, catering to experienced vapers and making it accessible for beginners.
Which Is More Value For Money?
Based on the current market prices, Elf Bar BC5000 is priced at approximately $39.99, while Puff Ultra Zero is priced at around $24.99.
In terms of Elf Bar vs Puff Bar price, Elf Bar price is higher, but it's challenging to determine which offers better value as they excel in different aspects.
For example, Puff Ultra Zero offers better value in terms of puffs. You can get an additional 3000 puffs for less money compared to Elf Bar BC5000.
However, when it comes to nicotine content, the result may vary. Elf Bar BC5000 provides three nicotine strength options, whereas Puff Ultra Zero contains no nicotine.
For vapers who seek nicotine vapour, Elf Bar BC5000 would offer better value.
Which Vape Is Better, Puff Bar Or Elf Bar?
Whether Elf Bar or Puff Bar is better depends on which vape aligns better with your needs.
Both brands are well-regarded in the world of vapes, and you can trust them. However, Elf Bar Australia and Puff Bar Australia offer different models of vapes with varying specifications, features, and prices.
You can make a better choice by reviewing the product descriptions and selecting the one that best suits your requirements. That's what makes it the better vape for you.
Where To Buy Elf Bar Disposable Vapes Online?
Many vapers may wonder elf bar where to buy.
You can buy your favourite Elf Bar vape on VapePenZone. We offer the most comprehensive and up-to-date selection of Elf Bar flavours and models to cater to various vapers' flavour preferences.
Whether you're seeking rich flavours or looking for nicotine-free options, we have a variety of choices for you to select from.
Verdict
Elf Bar VS Puff Bar, in this showdown, both emerge as winners because they each have their strengths.
Please remember that the ultimate winner is the vape that suits your needs. You can choose the vape that fits you best based on the above information!
FAQ
How much nicotine is in a elf bar?
There are three main Elf Bar nicotine content types: 0% & 3% & 5%.
The exact nicotine content of Elf Bar should be referred to the specific model.
Are Puff Bars better than elf bars?
In terms of price and puff number, the Puff Bar may have the edge. In terms of flavour and performance, the Elf Bar may be better.
However, determining which vape is better also requires reference to the specific model and specifications.
Are Elf Bars healthier than vapes?
Compared to regular vapes, ELF BAR may be healthier and safer as they are strictly regulated and tested for quality assurance.
Does the elf bar have side effects?
Although Elf Bar is a trusted vape brand and almost no vapers have experienced adverse reactions, Elf Bar may also have side effects.
Common elf bar side effects include dry mouth, coughing, vomiting, nausea, dizziness, and so on.
What's the difference between an Elf Bar and a normal vape?
How many puffs are in an elf bar?
The number of Elfbar puffs varies depending on the model.
For example, the Elf Bar BC3000 has 3000 puffs, the Elf Bar BC5000 has 5000 puffs, and the Elf Bar Lowit 5500 has 5500 puffs.
The specific elf bar puff number can be found in the product specification.