Quick Guide
Elf Bar offers a variety of series and numerous flavours. As a loyal Elf Bar fan for five years, I have selected the best Elf Bar flavours 2023 for you. Here are the top 7 Elf Bar flavours:
Blue Razz Ice
Watermelon Ice
Strawberry Kiwi
Malibu
Summertime
Sunset
Strawberry Banana
Whether you prefer classic tobacco flavours, refreshing fruit flavours, or innovative blends, you can find a flavour that suits your flavour among these options!
Introduction
The Elf Bar Vape Australia is favoured by many vapers, not only because of its high performance and aesthetic design but also because of its incredible variety of flavours.
In this article, our primary aim is to shed light on the vast array of best flavours, assisting vapers in exploring the rich tapestry of options.
About Elf Bar Disposables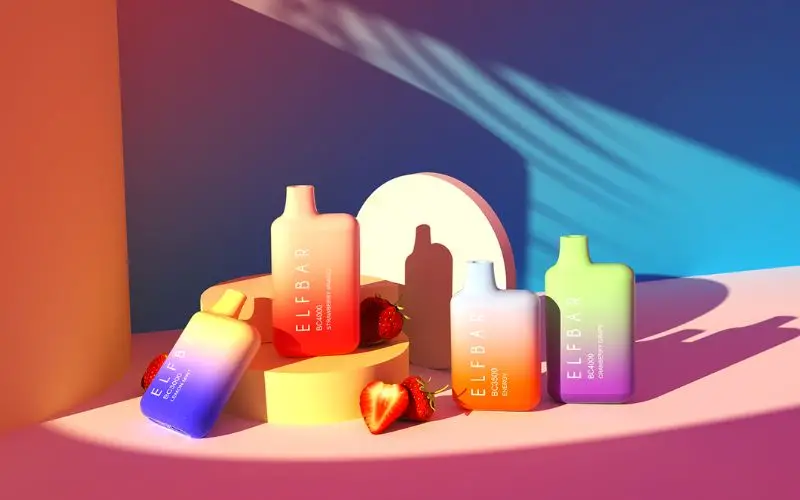 With its exceptional performance, technology, design, and flavour selection, ElfBar vapes stand out among global brands.
Since the inception of Elf Bar Australia, it has garnered a significant following.
Among them, the Elf Bar BC3000, Elf Bar BC5000, and Elf Bar TE6000 series have received enthusiastic acclaim, and the best Elf Bar flavours featured in this article also hail from these three series.
Best Elf Bar Flavours At A Glance
| Flavour | Sweetness | Cooling | Richness |
| --- | --- | --- | --- |
| Blue Razz Ice | ⭐⭐ | ⭐⭐⭐ | ⭐⭐⭐ |
| Watermelon Ice | ⭐⭐⭐ | ⭐⭐⭐⭐ | ⭐⭐⭐⭐ |
| Strawberry Kiwi | ⭐⭐⭐ | ⭐⭐⭐⭐ | ⭐⭐⭐⭐ |
| Malibu | ⭐⭐ | ⭐⭐⭐⭐⭐ | ⭐⭐⭐⭐ |
| Summertime | ⭐⭐ | ⭐⭐⭐⭐ | ⭐⭐⭐ |
| Sunset | ⭐⭐⭐⭐ | ⭐⭐⭐⭐ | ⭐⭐⭐⭐ |
| Strawberry Banana | ⭐⭐⭐ | ⭐⭐⭐ | ⭐⭐⭐⭐ |
Best Elf Bar Flavours Ranked
Below, you will find details on the best three flavours of the BC3000, BC5000 and TE6000 models.
Elf Bar BC3000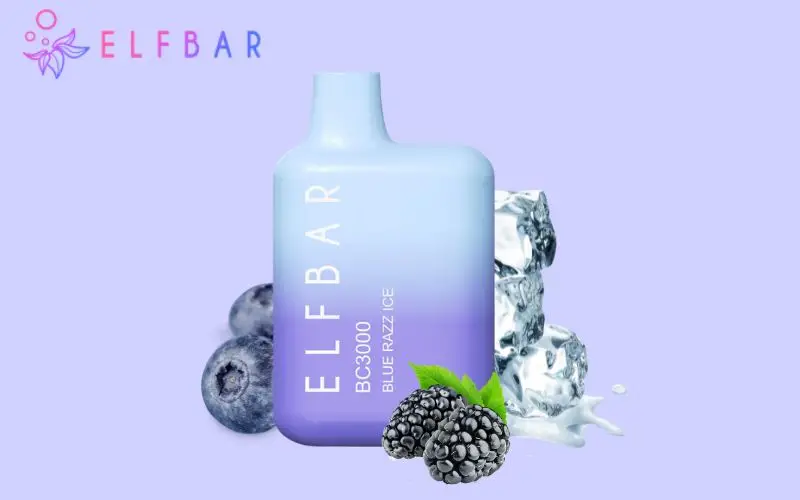 The flavours of blueberry and raspberry blend, your taste buds are treated to a double delight.
Blueberry brings its unique sweetness and tartness, with deep blue fruits emitting an enticing aroma as if you were picking fresh berries in a ripe blueberry patch.
Raspberry adds a bright dimension to this flavour, with its acidity and sweetness complementing each other, delivering a cheerful vaping experience.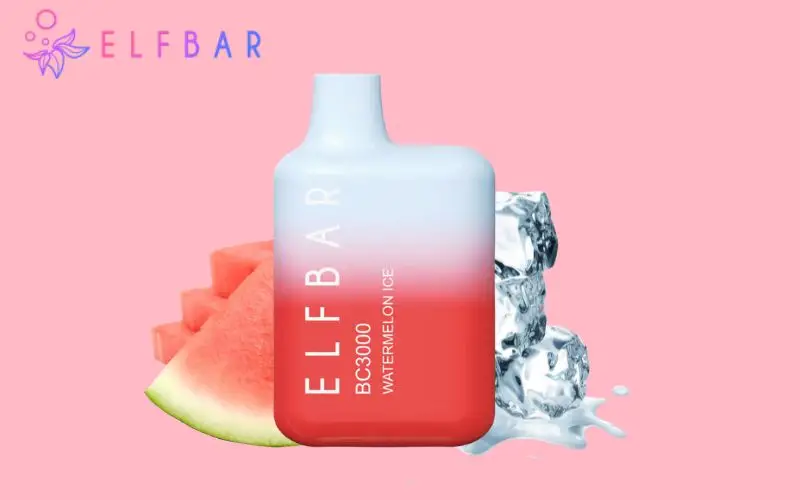 The blend of the sweet and refreshing watermelon flavour with the chill of ice is undeniably the ultimate summer pairing.
Every inhale feels like a burst of fruit juice, filling your mouth with the delightful aroma of sweetness.
Ice adds a refreshing sensation as you vape, like savouring a cold drink.
The synergy between ice and the sweetness of watermelon achieves a perfect balance, making the flavour exceptionally pleasing.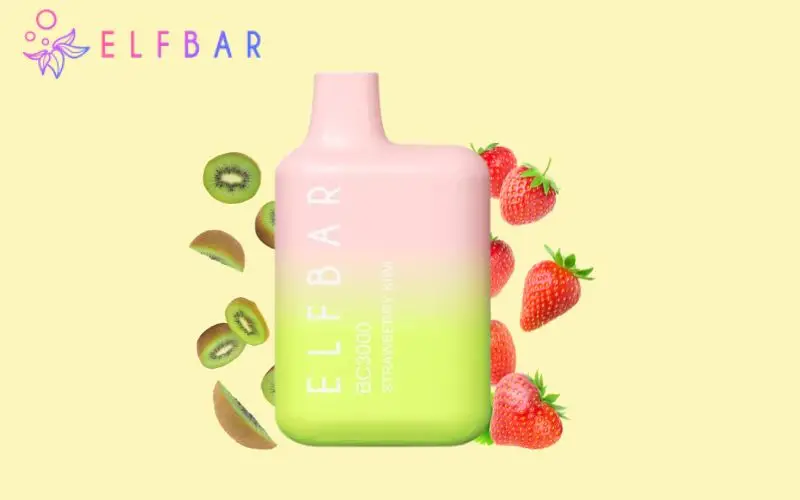 The sweet and tangy combination of strawberry and kiwi is incredibly irresistible!
Strawberries bring a natural sweetness, and each puff releases the rich aroma of ripe strawberries. The sweet and tangy flavour is like a symbol of summer, immersing you in the wonderful world of fruit.
Kiwi adds a refreshing touch to the Strawberry Kiwi Elf Bar. Kiwi's unique tartness and crisp texture invigorate your taste buds.
The balance of sweetness and freshness of the Elf Bar Strawberry Kiwi flavour makes every bite a surprise!
Elf Bar BC5000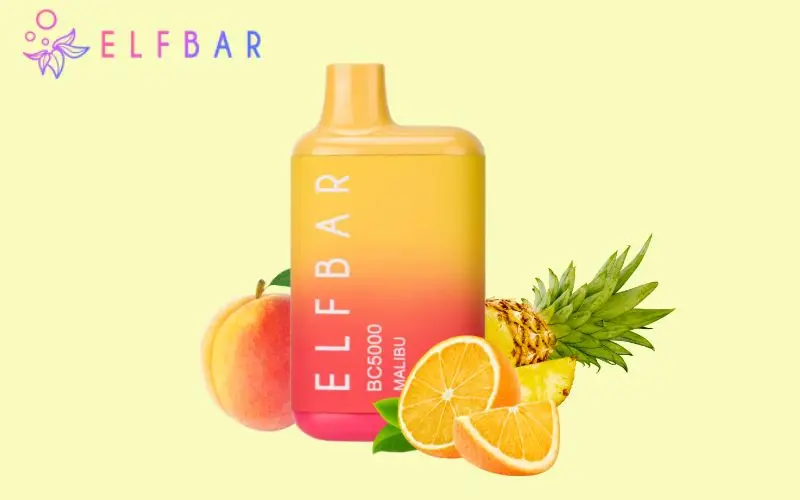 Malibu flavour is one of the best Elf Bar flavours BC5000. The sweetness and juiciness of peaches, the delightful tanginess of pineapples, and the rich orange flavour create a tropical fruit sensation.
Every inhales releases the smooth texture and sweetness of peaches. Pineapple's unique acidity and juicy texture bring forth the passion of tropical islands.
Oranges, with their sweet and tangy profile, harmoniously blend with other fruits, resulting in a multi-layered and delightful flavour.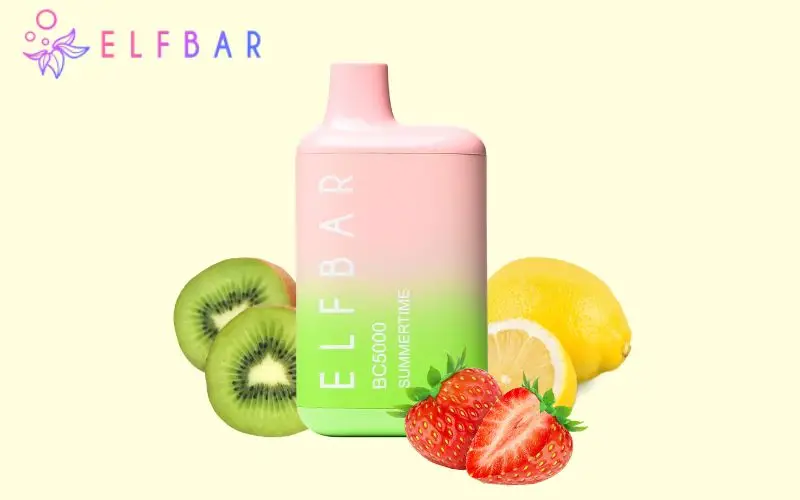 The blend of the sweetness of strawberries, the tanginess of kiwis, and the freshness of lemon creates a vibrant flavour experience.
Firstly, your palate will be immersed in strawberries' sweet and juicy flavour.
Then, you'll experience the unique texture and sweet-tart flavour of kiwis.
Finally, lemon water's acidity and refreshing sensation can also act as an invigorating pick-me-up.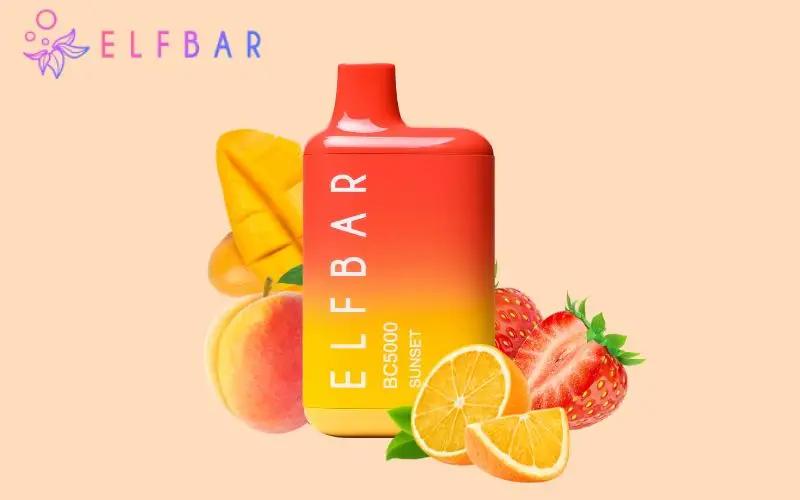 The combination of orange, mango, strawberry, and peach in this flavour is an absolute treat for fruit enthusiasts!
Oranges bring a natural sweet-tartness, while mango, often hailed as the queen of tropical fruits, adds its silky texture and rich flavour to the vapour.
When you take a puff, you can also sense the juiciness of strawberries and the utmost smoothness of peaches.
The vapour produced by this fusion of four fruits is truly irresistible!
Elf Bar TE6000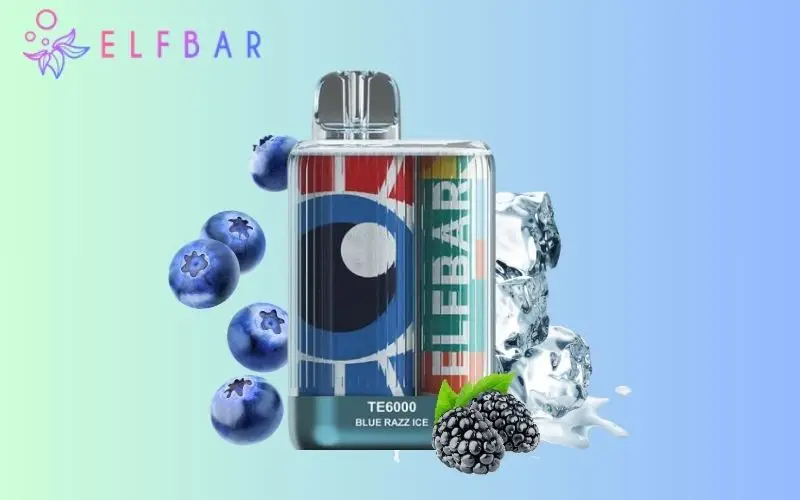 Blue Razz Elf Bar is one of the Elf Bar 6000 best flavours.
Blueberries' sweet, natural berry flavour, with a hint of subtle acidity, pairs perfectly with the sweet and tart notes of raspberries.
The presence of ice cubes adds a refreshing and icy touch to the overall mouthfeel, giving a sensation of feeling fresh and invigorated.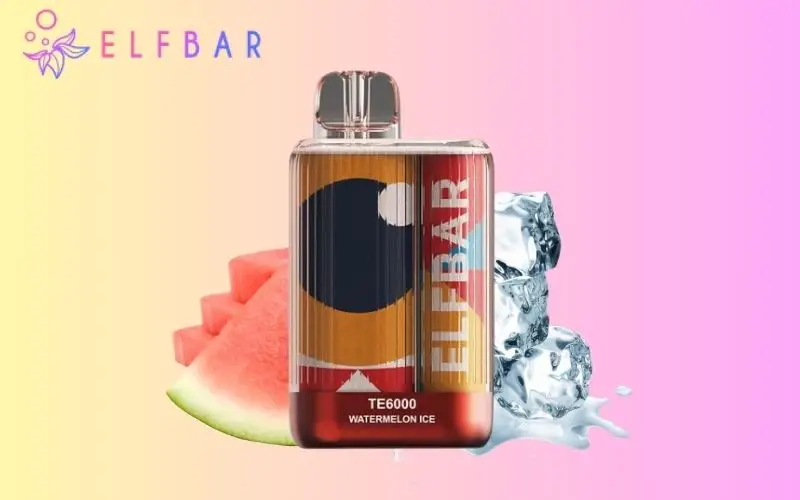 The sensation of Watermelon Ice Elf Bar is refreshing, juicy, light, sweet, and delightfully chilly.
The rich aroma of watermelon in the vapour harmonizes with its gentle sweetness.
With the presence of ice cubes, the overall mouthfeel carries a refreshing chill, offering a delightful cooling effect.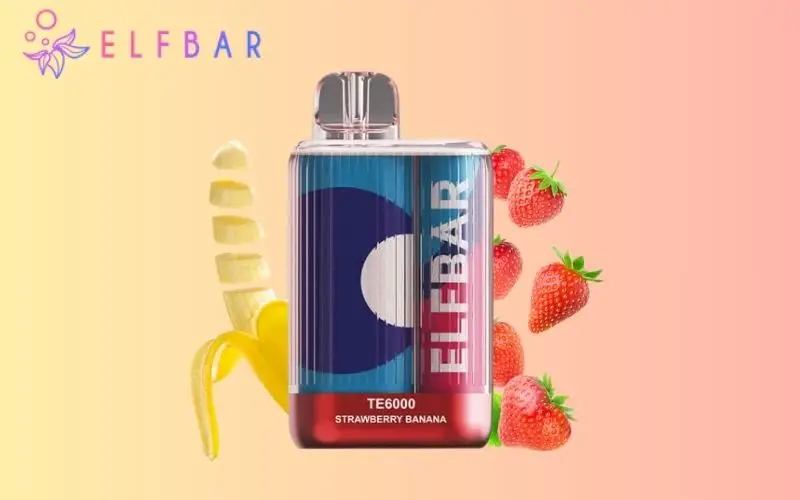 Strawberries bring a soft and juicy texture, while bananas have a silky and full-bodied mouthfeel, adding a smooth quality to this flavour.
It's a delightful combination that is juicy and smooth, with sweet and rich characteristics, offering your taste buds a delicious flavour experience.
You might notice that the Blue Razz Ice and Watermelon Ice flavours appear in two different models.
This is because they have received recognition from many vapers and are suitable for multiple models.
They are truly deserving of the title of best ElfBar flavours.
Notable Flavours
Although not reaching the top ranks, some flavours deserve recognition for their unique flavour or special appeal.
These flavours may not be the first choice for the masses, but they offer a distinct pleasure to those seeking novel experiences.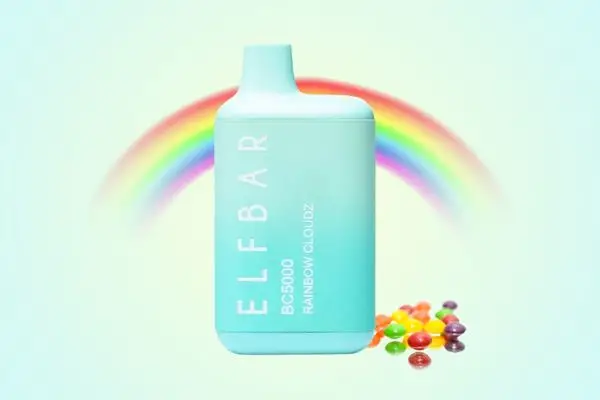 Rainbow Cloudz
Rainbow Cloudz Elf Bar is available in the Elf Bar BC5000 series. It's a deliciously sweet flavour, like rainbow candy, combining sweetness and freshness.
Furthermore, you'll feel vapour as soft as clouds.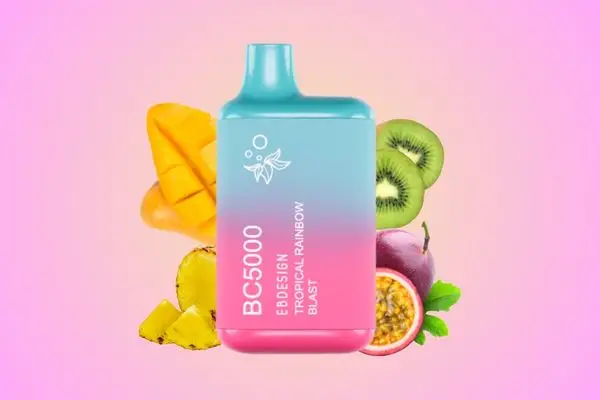 Tropical Rainbow Blast
The pineapple's sweetness and juiciness, passionfruit and kiwi's tangy goodness, and mango's silky smoothness – all in Tropical Rainbow Blast Elf Bar!
Fusing these four fruits creates an exhilarating flavour like a tropical storm.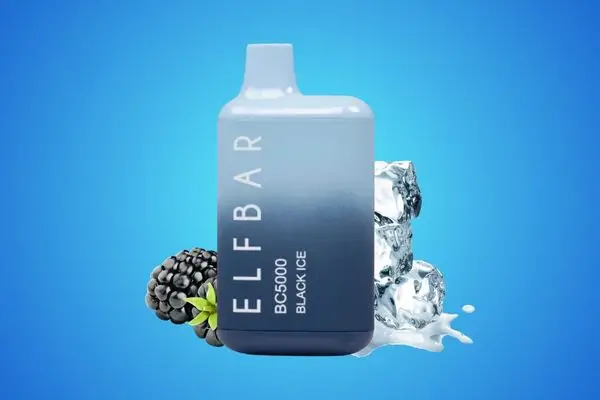 Black Ice
This flavour blends the aroma of blackberries and ice, delivering a refreshing and invigorating sensation.
The deep purple-blackberry fruits are bursting with mature sweetness and a hint of tartness, beautifully harmonized by the fresh chill of ice.
Flavour's Technical Guarantee
Regarding these impeccable flavours, we can't help but mention Elf Bars' QUAQ coil technology.
QUAQ cell has a reinforced structure that ensures excellent heat stability and reliability even under mechanical stress.
The QUAQ coil technology delivers consistent and stable output, guaranteeing a rich and pure flavour experience from the first puff to the last.
How We Choose These Flavours
You can select flavours according to the flavour parameters provided above, considering your preference for cooling, richness, and sweetness.
If you have a particular fondness for some fruit flavours, there's no need to hesitate – simply choose and try the corresponding fruit flavour.
If you have a wealth of buying experience, go ahead and select what you believe is the best flavour for you.
Of course, you can also refer to other customers' buying experiences and reviews.
If you find it challenging to decide, you can try the recommended flavours of Elf Bar vapes mentioned above.
These flavours have received enthusiastic approval from the majority of vapers.
Wrapping Up
Have you found a flavour that suits your preferences in this list of the best flavour Elf Bar?
If you have, you can head to VapePenZone to buy and enjoy a delightful vaping experience.
If not, you can continue exploring to discover the best Elf Bar flavours disposable vape that resonate with your needs.
We hope this article has been helpful to you, and we wish you a happy vaping experience!
FAQ
How much nicotine is in an Elf Bar 5000?
Elf Bar BC5000 nicotine content is available in three types: 0%/3%/5%.
What is the best elf bar flavour?
Blue Razz Ice and Watermelon Ice are the best Elf Bar flavours.
Which is the best flavour of Elf Bar 5000?
Malibu flavour is the best flavour of Elf Bar 5000.
Which flavour is best in Elf Bar TE6000?
Blue Razz Ice flavour is the best Elf Bar TE6000 flavour.