Uwell Caliburn G review – Which one should you choose?
Today we got a pod device – new Caliburn from Uwell called the Caliburn G. Caliburn is back some improvements on this one, they've done some improvements on here and we'll do a Caliburn G review here. In addition, we're gonna compare Caliburn vs Caliburn G to see exactly do they feel the same? The hit itself how it feels?
Related: 
UWELL Caliburn AK2 Review: Back To OG KOKO?
Caliburn A2 Review: Best Vape For 2022?
Uwell Caliburn – Vape Pens Winner
The MOST POPULAR VAPES of 2019
A Few Tips Every Uwell Caliburn Owner Should Know
Packaging
1pc Caliburn G pod system
1pc Caliburn G coil (pre-installed)
1pc Caliburn G coil
1pc Type-c charging cable
1pc User manual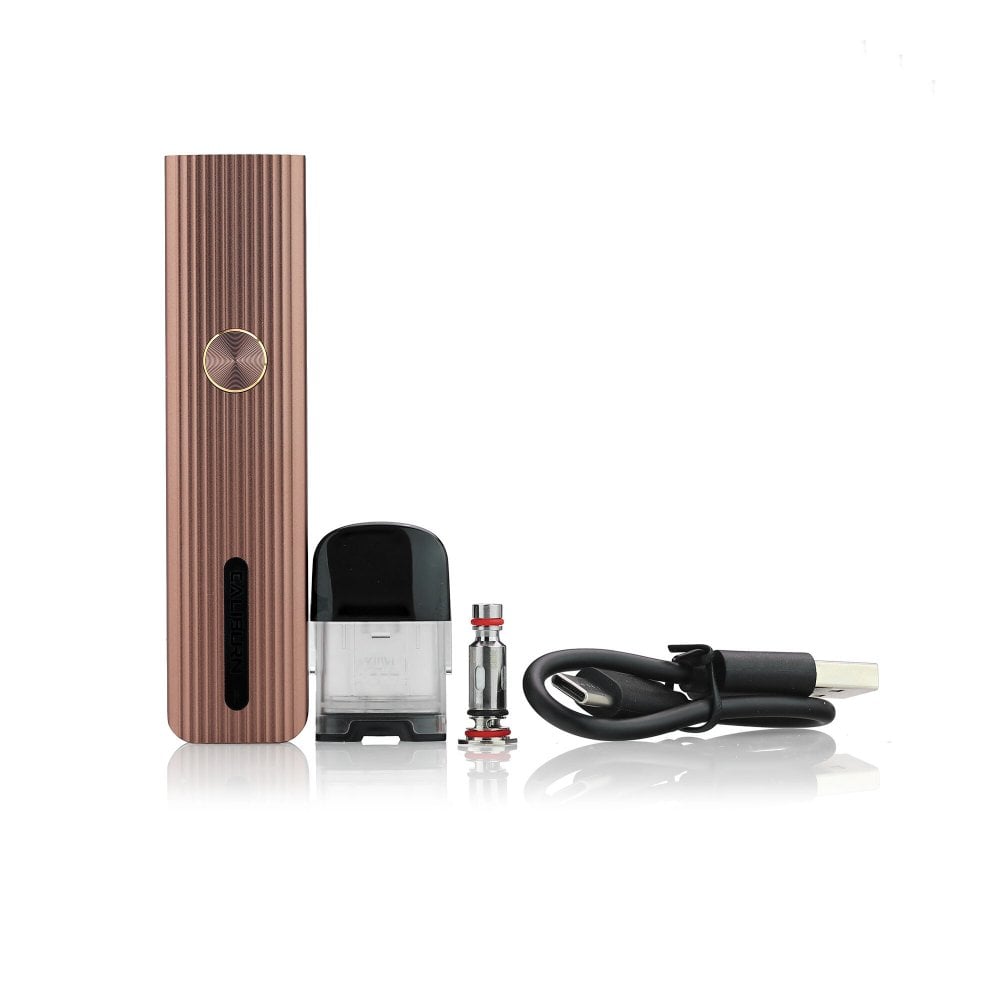 DEVICE
The body is aluminum. It's got ridges going all around. On the bottom, you will have your type c charge port, you also got two little venting holes going on there. The front has a fire button, some branding Caliburn. Nothing going on, just the design of it on the back. On the side. you do have an opening for airflow. Press 5 times the button to power the device off and power the device on with the same way. You could press the button and vape, or you don't have to press the button, It does have auto draw.
And when we do the Caliburn vs Caliburn G a little side by side, just to get a basic idea between the two the height. The Caliburn is a little bit shorter but it's a little bit thicker. The mouthpieces also are different on both of them. The Caliburn gets a taller mouth piece which gives it a little bit more capacity. But Caliburn G gets a nicer shape in my opinion.
Caliburn 6 colours: Black, Blue, Pink, Purple, Red and Silver
Caliburn G 5 colours: Blue, Rose Brown, Black, Green or Lime Green and Grey.
POD
It's got two different types of airflow depending on which way you put the pod in. You got a little opening on the side so you could kind of see your e-liquid. To fill the pod, you're gonna do a snap. Pop the black cap off and that's where you would fill from. To remove the pod, peel protective sticker off and you can see the coil in it.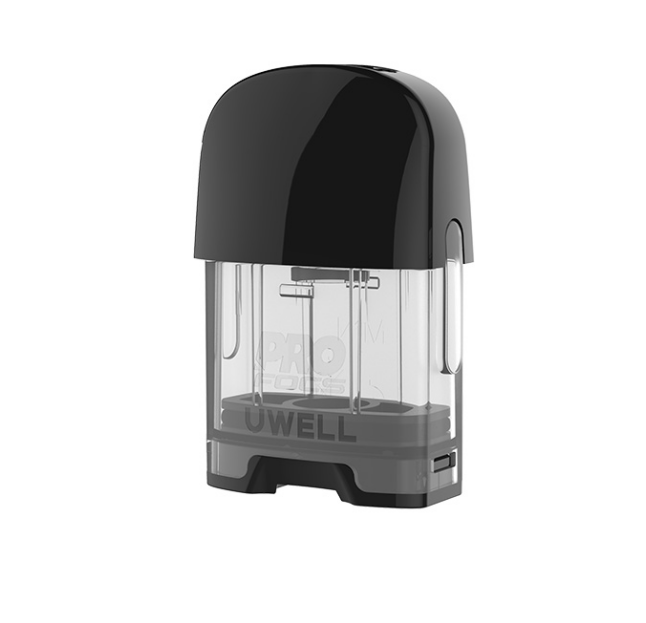 REPLACEABLE COIL
And it is a replaceable coil pod system, the coil is pre-installed in here, will gonna be 0.8Ω 13-18w. Basically both coils are the same.
There's only one way of putting the coil on. One side of the coil is flat and the rest of it is all rounded off, so you're going to look inside, there's a little arrow. That's your flat part, so this is the way it would go in. Push it down and it's all leveled off over. There will be a little opening there, that's for the airflow, and it's also a part of the draw activation.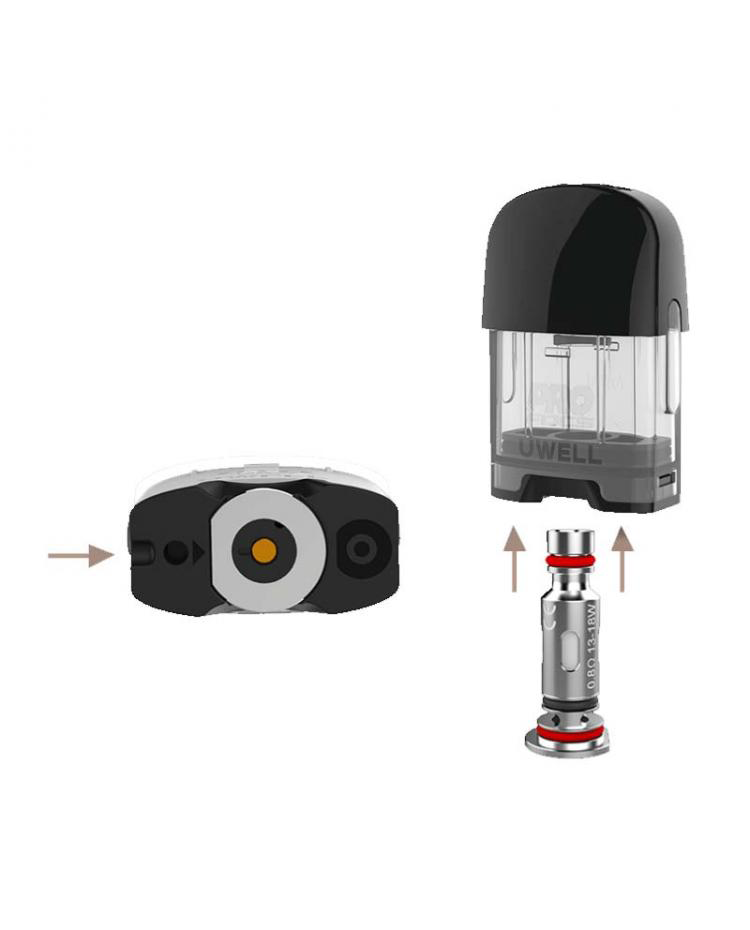 The little cutout on the corner of the cartridge this piece right there that's where it corresponds with when you put it in here that opening so when this is in right there you see how it lines up with that hole that's how you're going to get that extra airflow if you want a tighter pull flip the pot around that way and put it in so you want that opening to be on the other side where there is no hole right and that will give you a tighter pull
BATTERY
Battery capacity for Caliburn G is a 690mAh. The original Caliburn is a 520mAh capacity. Caliburn G has a 170 more mAh battery than the original Caliburn. The device has a fire button, it will light up if it is on. You will have different colors correspond with the battery life.
EXPERIENCE
Fire button with the same e-liquid
When it's for flavor, you're gonna get the same flavor in my opinion.
For airflow, you have difference obviously with Caliburn G, you could do two different types of airflow.
PRO
Replaceable coil. First pro we're going to start off with is going to have to be the biggest pro for this. No longer do you need to take the pod, all you got to do now is just take out the coil and throw away the coil and you keep your pod. In my opinion, that's a big pro.
Design. The way it feels in the hand, it's gonna have to get a pro i love that you know, the way of the little ridges, whatever you want to call them. I like that, and i also kind of like that touch. Around the fire button, it's just very subtle. It's got a little bit like a gold trim going around. And the type-c charging would be definitely better than before.
Power. Iit's 18 watts, you got a 0.8 coil, so basically you're it's a sub ohm pod system, right? For MTL. DL on this I just don't see it, this is a MTL vape.
The option for air flow. I kind of like that, it's simple. You have two different airflows whether it's gonna be just a little bit of a tighter pull, which is not bad. It's a nice pull, or that loose pull, that you remember, or that you're accustomed to from the original Caliburn.
CONS
The only thing that mouthpiece I kind of wish they would have stuck with the original Caliburn's mouthpieces. I think the mouthpiece on the Caliburn was just perfect. Caliburn G comes with a thicker round mouthpiece and not my jam to be. It will take some tine to get used to.
Caliburn vs Caliburn G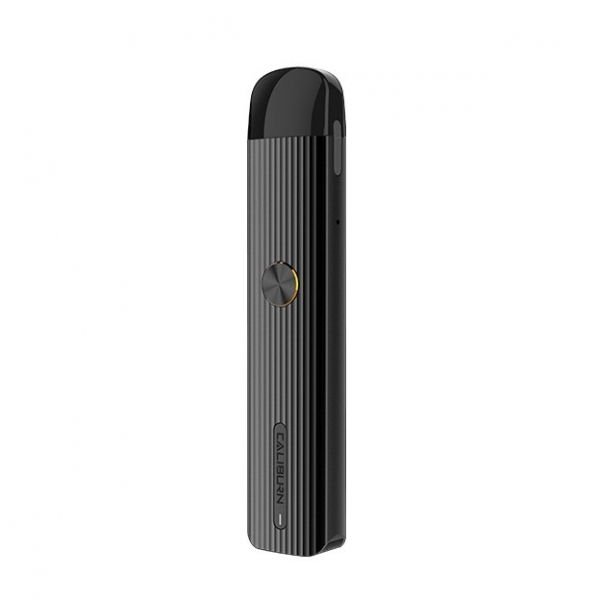 Size:
110 x 21.2 x 11.6(mm)
108.3*22.5*12.6(mm)
Material:
Aluminium-Alloy
zinc-alloy
Max Ouput:
11W
15W
Battery Capacity:
520 mAh
690 mAh
Tank Capacity:
2 ml
2 ml
Charging Port:
Micro Usb
Type-C
Resistance:
1.2ohm
0.8ohm
Replaceable Coil:
Not replaceable
Replaceable
Filling Method:
Top Filling
Top Filling
Colors Available:
Blue
Red
Black
Pink
Iris Purple
Grey
Grey
Blue
Red
Green
Black
Rosy Brown
CONCLUSION
That's all of the Caliburn G review. For a pod system right now, i think Caliburn is the king. The Caliburn G for me destroys everything that's out in the market right now. It vapes great! The hit is beautifu, the airflow is great, and the replaceable coils is more environmentally friendly.
Do you know more about the Caliburn G? And Caliburn vs Caliburn G, which one do you like? Please place your comment down below to let me know your choice! If you want to try the new version of Uwell Caliburn, please kindly get a discount special for you! Click HERE to get the code.
#uwell #caliburn #uwell caliburn #uwell caliburn g ##uwell caliburn