Hey, how's it going guys, this is Vapepenzone – Vapes Online Vape Store again,
Last time we have already reviewed the recent popular vape pens – Juul vs Relx. Today we're gonna be looking at some other products released throughout the year 2019 that really popular in vape market.
2019 proved to be quite the busy year in terms of new product releases, so I'm gonna go into each different category and announce kind of the best one and give a runner up.
POD SYSTEMS
So why don't we kick off this blog with what I would probably call the most popular category and that is pod systems.
Pod systems are great for anyone looking to start vaping, or for any vapors looking for a compact addition to their inventory. Most pod systems have an extremely compact footprint making transport a breeze, and they're generally much easier to use and say a box mod, and the most popular pod system of the year, goes to the Uwell Caliburn. Learn More About Uwell Caliburn ➡
This little device here is actually a bit of a mind-blower, and it's not solely due to just the vape performance but just how it stood the test of time. The vaping industry moves extremely quickly, new devices are being released almost every other day and what was once the best device on the market becomes absolutely in a matter of weeks. However, the Caliburn is just something different, this device was released all the way back in February, yet still holds the top spot for pod systems which is extremely impressive. Now going back to there being two different versions, but in terms of performance, they are pretty much exactly the same. All they did was changed the form factor and removed the fire button. So I would just go ahead and say it's kind of like a sibling to the regular Caliburn. This device supports 520mAh battery which is moderate, it's definitely not the biggest in the industry. A full charge should get you through most of the day with no issues. But the features that really stand out to me personally about the Caliburn are the performance and price if you can call that a feature and if you opt for the newer Caliburn & Koko you're dishing an extra $5-10. I don't know what Black-magic they're using here but the flavor you get from these pods to how the air hits the coils that all comes together and creates a great overall vaping experience.
However, it isn't all perfect, you don't have any sort of adjustable airflow in the Caliburn, so if you wanted a tighter or looser vape, you're pretty much Sol. Also personally, I do wish the device looked better, the overall design just seems kind of bland to me but that is very subjective. But overall I was and still am impressed with the Caliburn and even nine months down the line. Uwell Caliburn Review ➡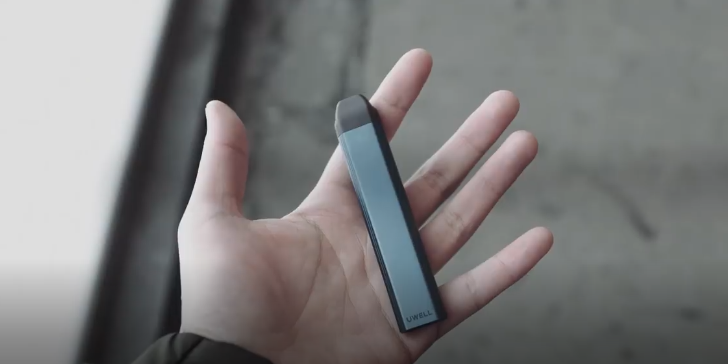 Now runner-up for the most popular pod system of vape 2019 it goes to the Voopoo Vinci.
Now the Vinci is a bit of a newer take on pod systems. Traditionally pod systems were compact all-in-one devices that outputted minimal vapor and work typically paired with higher strength Nicotine liquid. However, this new trend takes the overall ideology of a pod system and combines it with higher output coils, providing more vapour. This new addition to the industry is referred to as a pod mod and Voopoo is one of the first to do it with the Vinci. The overall design is only slightly bigger than your typical pod system but it's the performance of the coils that really impressed me. Vaping the vm10.3 ohm coils at 40 watts, this compact device can actually go toe-to-toe with other sub-ohm tanks on the market. The airflow is very smooth and the flavor is right there to back it up now. If you wanted to use this device for most along, you definitely can with other coil options that they have out there. But I definitely feel like that isn't what this device was typically made for. Also on a pretty cool note, you can actually get a 510 adapter that actually sits right where your pod goes. This adaptor effectively turns your group of Vinci from a pod system to a 40 watt 1,500mAh compact mod.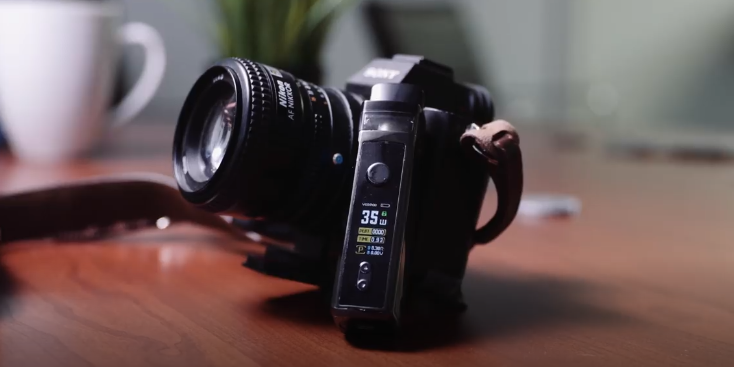 FULL BATTERY MODS
But speaking of mods let's start talking about full battery mods. Before the pod system craze, box mods were pretty much your only option. These devices typically feature a removable high out-put battery, which in turn lets the easier chief much higher power levels. From cheapest to build quality and everything in between, there's a lot that needs to go together to make a good box mod. And our pick for the most popular box mod of 2019 goes to the Vaporesso Gen. This device features great build quality and one of the most advanced chipsets in a mod. The build quality of this device feels great in the hand. The rounded corners and rubberized paint put the miles ahead of the almost plasticky filling devices that are out there, alongside the build quality the acts on a chipset that vapor uh so put in here gives the user a plethora of different features to really personalize the vape experience. If you're now in the market for a dual battery mod, this would be our number one recommendation.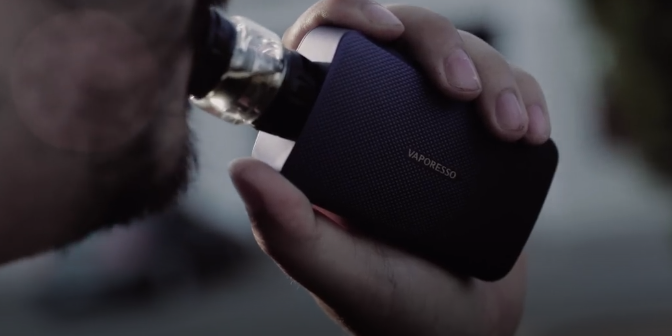 Now runner-up for the most popular mod of vape 2019 would have to go to the Topside Dual. This was a no-brainer for us as the original Topside took last year's top pick for the best advice. The reason why I decided to include this as a runner-up in this blog, is because of this kind of revolutionized squawky. Before the Topside Duel, all you really had for regulated squonk devices were single battery mods. I feel like this left many users itching for longer battery life and more power. But the Topside Duel takes both of those checkmarks. The innovative top fill system makes filling your squonk bottle a dream, and the added benefit of 2 1850 batteries, lets the user crank up their wattage to a whopping 200 watts, all while still being able to squonk. Yeah runner-up for best mod of 2019, definitely goes to the Topside Dual.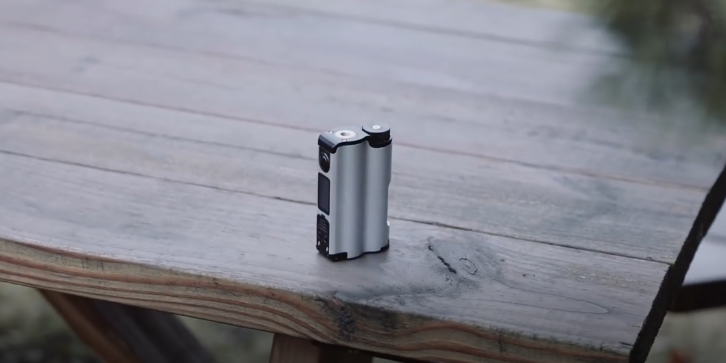 TANK
But a mod is useless without a tank. So now let's look at the most popular tank of 2019. These were a revolutionary change to the industry and took vaping to a whole new level, since the first sub-ohm tank back in 2014, companies introduced new features to further improve the experience, and the best tank of 2019 goes to the Horizon Tech Falcon 2. The Falcon 2 takes all of the aspects of the original Falcon lineup and modernized it. You now have a plug coil type system making coil changes a breeze, and the top fill has also been changed to a push fill mechanism for easy top-ups, however, I do miss the swivel action from the Falcon king. The coils are what pushed this tank up ahead of the competition though. The original Falcon provided one of the best vape experiences in a sub-ohm tank and the Falcon 2 is no exception. So if a new sub-ohm tank is on your shopping list I would definitely give the Falcon 2 a shot.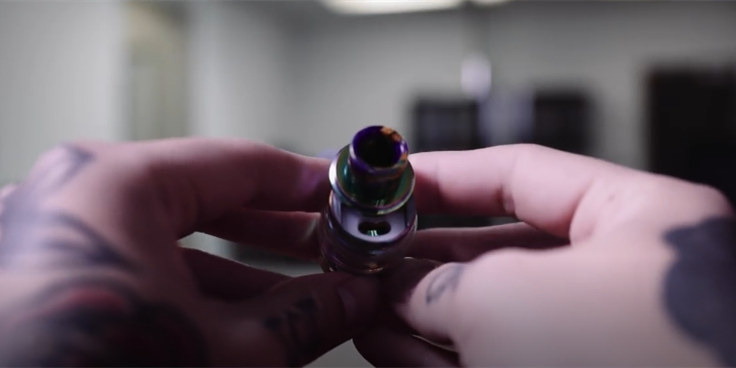 However, runner-up for the most popular tank of vape in 2019 that goes to the Aspire Odan. Now this tank kind of called me outta left field. I originally thought this was just gonna be any other average tank, but it actually pleasantly surprised me. And it wasn't the flavor or vapor production that wowed me which is still pretty good. It was the fact that you're able to achieve this kind of performance with only 40 watts, I still don't know how you can get a hit this full feeling from such a low wattage. The fact that you can get a hit this nice from such a low wattage opens up a whole new world for a single or built-in battery devices. So if you're running a lower wattage device, or you really cherish battery life, then I definitely give the Odan a shot.
REBUILDABLE
Next up we have the most popular rebuildable of 2019. Rebuildable definitely has its place in the industry from hobbyists to people looking for the most saturated flavor, rebuildable is probably the only way to completely customize your overall vape experience. We saw many different rebuildable get released throughout 2019, but our top pick goes to Dovpo & the Vaping Bogans Blotto RTA. The first thing that stood out to me a put the blotto RTA is the awesome design. The matte black finish gives it an extremely stealthy look which I love. The chamber is designed to flow air 242 degrees around your coils, giving you an incredibly full feeling vape with phenomenal flavor. On top of that, it's also very easy to build on with quad terminals meant for single or dual coils, giving you incredible versatility. So far this is definitely one of my favorite rebuildable tanks on the market, and I was very impressed.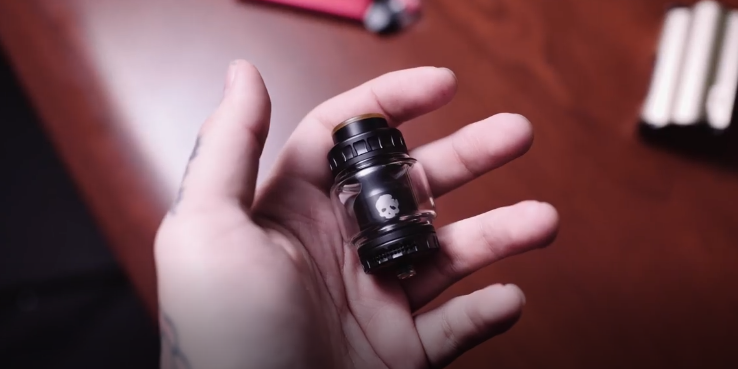 Now runner-up for most popular rebuildable of 2019 goes to the Watofo Profile 1.5. This is essentially an updated version of the original profile that we saw back in 2018, and they made some very welcomed additions to this new iteration, the slots for your mesh strips are now wider letting you install water mesh coils, in turn, this increases surface area improving flavor and vapor production. The juice balls are also now deeper and bigger, so more liquid can get whipped into the cotton. All in all, it's a modernized version of the original profile which was already a great rebuildable. So if you're in the market for a new squonk RDA, I've definitely given the Profile 1.5 a shot now.
Last up on our list we're gonna be talking about E-liquids. Now liquids are an extremely subjective topic. A flavor that I may love, you might hate. We also mentioned this in our Relx Pod Taste Reviews: Let's Share Your Flavor Reviews of Relx Pods! Relx Pods Taste Reviews 2
So for this category, we're gonna go based off of how many bottles sold and we're gonna pick the top 3. And the best-selling a liquid of 2019 goes to Cabana Punches Grappleberry Ice. Now this flavor is sold pretty much double compared to other flavors. Grappleberry Ice consists of a refreshing grape and strawberry followed by a cool apple. Now, this flavor doesn't quite have that menthol hit that you'd find in many other flavors out there, it's more or less a cool water. It's definitely a softer hint of mint which I personally like, as I find other menthols are a bit too overpowering. So if you're a fan of fruity flavors I would definitely give the best-selling E-liquid of 2019, a shot Grappleberry ice.
Now the next two runner ups right after Grappleberry Ice are Frosty Peach also by Cabana Punch and Sweet by Rad Vapor. Frosty Peach has hints of white peach apricots and berries which is also followed by that culatta exhale. If you're a peach lover this may be your new favorite. Now Sweet by Rad Vapor is a blue raspberry slushie and it really surprised me. I find that many other blue raspberry flavors out there tastes kind of artificial, that makes sense I guess blue raspberry is artificial, to begin with. I find some are overly chemically in terms of taste, but I actually really like sweet. If you're a fan of sweeter kind of candy a liquid and I would definitely give Sweet a shot.
That pretty much wraps up our best vape 2019 awards. And today's blog we really hope you enjoyed it. If you liked this review please be sure to hit that like button down below and hit subscribes to stay up to date through the latest news and products on our website.