RELX Pod Pro For Infinity
The most complete Infinity Review and RELX pod pro flavours guide: RELX Infinity Review & Pod Pro Flavours Guide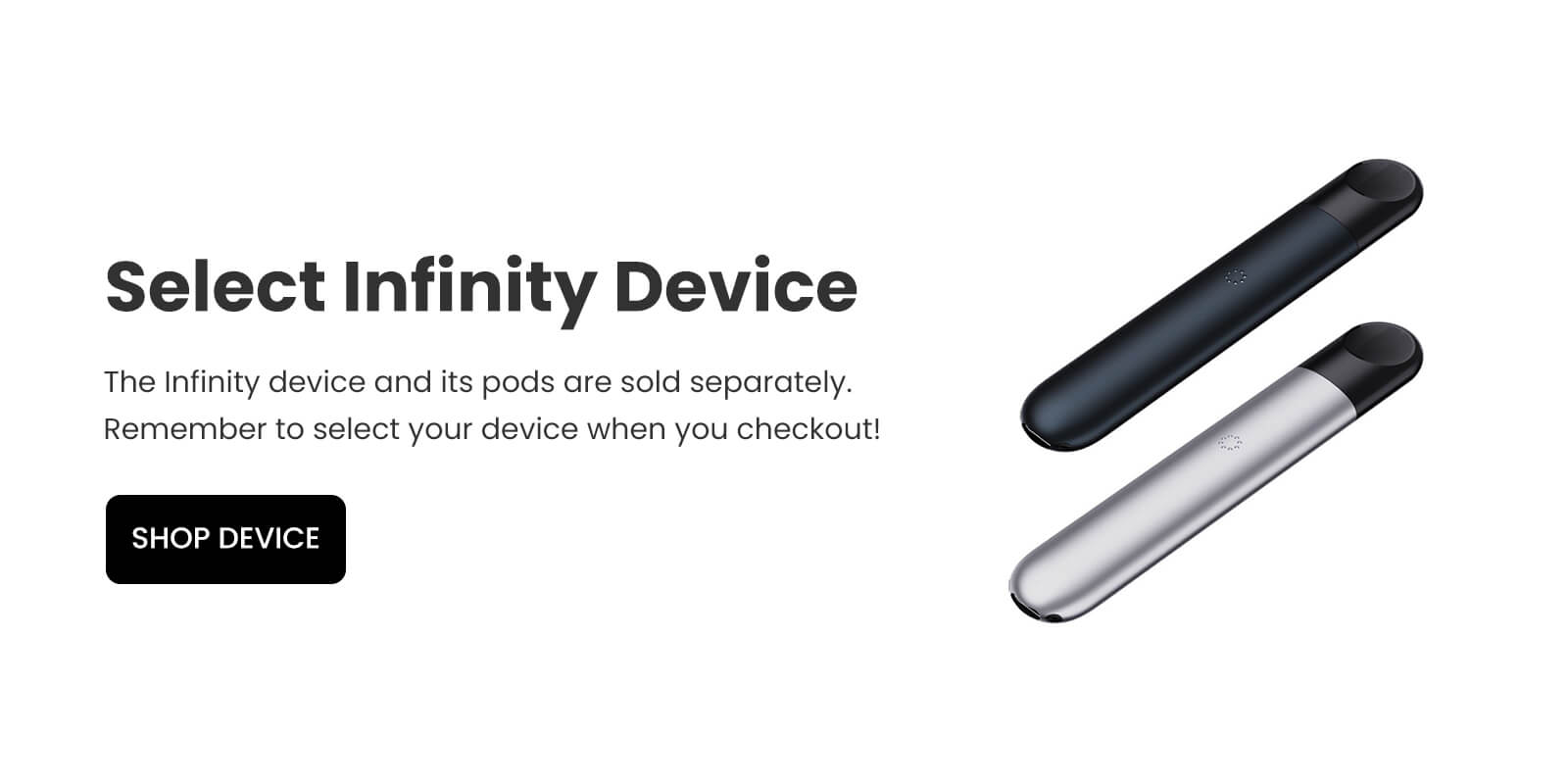 RELX Pod Pro Genuine Purchase In Vapepenzone
Package Content
1-2 × RELX Pod Pro
Specifications
For RELX Infinity and Essential
Genuine Guarantee
Nicotine Strength: 50mg/ml (5%), 30mg/ml (3%)
RELX Pod Pro E-liquid Capacity: 1.8-1.9 ml
Features
Super Smooth Performance:
Comfortable temperature – <55°C vapour temperature
Quiet use – <10db inhalation sound
Optimized draw resistance – ±0.4kPa tolerance
Rich vapour – 6-7.5mg total weight of each puff
Fast and sensitive activation – ≒0.2s to activate the atomizer
Made Possible By 2 Technologies:
Air Boost – Negative pressure always design
Active-Steam Pro – Constant and balanced atomizing
Leak-Resistant Maze:
Secure, even in flight – 11 structural layers help prevent internal leaks and condensation, for a more secure vaping experience.
Mouthpiece:
Shaped to fit your lips – It undertook rigorous consumer testing to eliminate air leakage and ensure a comfortable feeling when inhaling.
Dual Charging System:
Simply click your RELX infinity into place without the hassle of charging cables.
Plus, the dual charging system comes with an asymmetric USB-C port.
Other Features:
Rounded edges – comfortable to hold
Slim-fit charging case
Symmetrical pods
Smart pace vibrate alert
A+ Tritan™ plastic
CE-RoHS certification
LED light – color-coded
Short circuit protection
Aluminium unibody
Warranty
Thank you for your interest in the products and services of Vapepenzone. The warranty only applies to the products purchased from this site.
What does the warranty cover?
This Limited Warranty covers any defects in material or workmanship under normal use during the Warranty Period.
Within 30 days from the purchase, Vapepenzone will help you identify the damage of your product and directly replace it with a new one for free.
After 30 days, we will help you contact the partner brand for free repair or replacement of the product or product parts that have been proven to be defective due to improper materials or workmanship under normal use and maintenance. However, the relevant shipping costs incurred by the return and exchange of more than 30 days shall be borne by consumers.
How long does the coverage last?
If the product purchased from Vapepenzone is damaged under normal use, the replacement period is 30 days from the date of purchase, and the warranty period is 1 year.
Since it needs to be sent back to the brand's manufacturer for repair before send back to you, it may take about 1 month during this period.
What does this limited warranty not cover?
This limited warranty does not cover any problems caused by the following reasons:
The product was not purchased in this store
Condition, failure, or damage not caused by defects in materials or workmanship
If you have purchased a device from Vapepenzone but did not purchase the pods, then we will not be responsible for the device.
What do you have to do?
To obtain warranty service, you must first contact us to determine the problem and the best solution for you. Please follow the instructions to return the damaged product to our after-sales service center. We will confirm the damage and report it to the manufacturer.
Returns
We want you to be happy with your purchase and we apologize if it is not. For whatever reason that you are not satisfied, we would be most happy to provide exchanges and returns for all items purchased from us if the following conditions are met :
Your purchase is within 30 days
All items must be in their original packaging with product tags intact
All items must be unworn, unused, and in their original condition
Originals receipts would need to be included
All items would need to be purchased from Vapepenzone
If any of the products received is deemed defective or a wrong shipment, Vapepenzone will bear the cost of shipping. Read more about Refund Policy.
RELX Pod Pro Flavours Guide
Menthol Plus
#A Breath of Fresh Mountain Air
"The coolness of the very first puff is unforgettable. The fragrant aroma lasts long."
What's special
The cooler, stronger sensations of freshness, powered by menthol.
Ludou Ice
#Dive into an Asian Summer
"Very cooling and tasty, it reminds me of my last summer vacation in Taiwan."
What's special
By capturing the rich and earthy flavours of mung bean, this flavour is a masterful blend for lasting cooling. Complex notes come together to achieve a coordinating balance with each puff.
Fresh Red
#Mellow out for summer
"Very summerly and cooling, it feels like a bite of summer."
What's special
A cooling taste for the peak of summer. This is a simple yet flavoursome fusion with a welcome hint of menthol.
Tangy Purple
#Bursting with sophistication
"It feels cooling and slightly tangy, I especially love the sophisticated taste."
What's special
Its precise complexity delivers a fresh taste that unfolds slowly, with a lingering fragrance.
Dark Sparkle
#Quench Your Thirst
"It feels cooling and fizzy, just like the real thing."
What's special
Cooling and aromatic, this flavour is a good choice for sparkling moments.
Graden's Heart
#Taste the red romance
"Icey fresh and mildly cooling. It feels romantic."
What's special
So fresh, it's like it was picked straight from a garden. It all begins with a subtle milky note before the full-bodied flavour of Garden's Heart takes the lead.