RELX Infinity – RELX Vape Award Red Dot 2020
RELX is known for producing a range of e-cigarette devices, e-liquids, and accessories, which specializes in creating user-friendly, technologically advanced e-cigarette solutions.
The most complete Infinity Review and RELX Pod Pro Flavours Guide: RELX Flavours Review: Ultimate Guide To 41 Flavours.
What is RELX Infinity?
RELX Infinity redefines vaping with its comfortable vapor temperature, quiet operation, and quick activation, offering a seamless experience. Advanced Air Boost and Active-Steam Pro technologies ensure consistent atomization. Its leak-resistant design and comfortable mouthpiece add convenience.
Plus, it won the 2020 Red Dot award for its design, making it easy to charge and packed with safety features. Elevate your vaping journey with RELX Infinity.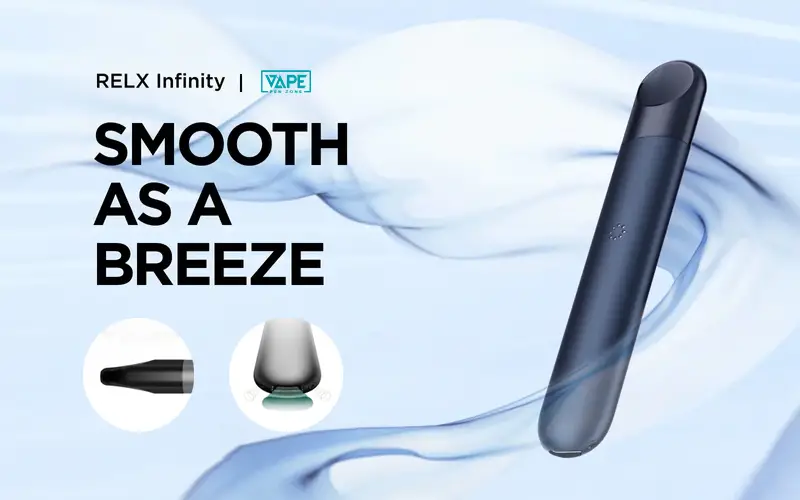 RELX Infinity Genuine Purchase In Vapepenzone
Package Content
1 x Infinity Single Device
1 x USB Type-C Cable
Specifications
Battery Capacity: 380mAh
Genuine Guarantee
Pods sold separately
Features
1. Super Smooth Performance:
Comfortable temperature – <55°C vapour temperature
Quiet use – <10db inhalation sound
Optimized draw resistance – ±0.4kPa tolerance
Rich vapour – 6-7.5mg total weight of each puff
Fast and sensitive activation – ≒0.2s to activate the atomizer
2. Made Possible By 2 Technologies:
Air Boost – Negative pressure is always design
Active-Steam Pro – Constant and balanced atomizing
3. Leak-Resistant Maze:
Secure, even in flight – 11 structural layers help prevent internal leaks and condensation, for a more secure vaping experience.
4. Mouthpiece:
Shaped to fit your lips – It undertook rigorous consumer testing to eliminate air leakage and ensure a comfortable feeling when inhaling.
5. Dual Charging System:
Simply click your RELX Vape Infinity into place without the hassle of charging cables.
Plus, the dual charging system comes with an asymmetric USB-C port.
Other Features:
Rounded edges – comfortable to hold
Slim-fit charging case
Symmetrical pods
Smart pace vibrate alert
A+ Tritan™ plastic
CE-RoHS certification
LED light – color-coded
Short circuit protection
Aluminium unibody
People Also Ask About Infinity Vape
How do I know when my RELX Infinity is fully charged?
You should see the indicator light up and stay on during the charging time and turn off when the battery is fully charged. It only takes 45-60 minutes to fully charge your RELX device, so it'll be ready to go before you know it. 3 ways to charge your RELX vapes.
Is RELX Infinity worth it?
The RELX Infinity is worth it for beginners and transitioning smokers due to its ease of use, nicotine options, and satisfying experience.
How long can RELX Infinity last?
The RELX Infinity can last 2-4 days or longer based on your usage. With 2ml e-liquid pods, delivering 300-600 puffs, at 100 puffs daily, it lasts 2-3 days.
Can you buy RELX in Australia?
Yes, RELX products, including e-cigarettes and devices, can be found in select areas of Australia. For the latest availability, check local e-cigarette shops, authorized retailers, or the official RELX website. Always adhere to local vaping laws and regulations.
How many puffs in a RELX Infinity Pod?
A RELX Infinity Pod offers 300 to 600 puffs based on e-liquid volume, user vaping habits, akin to 3 packs of cigarettes.
Frequently Asked Questions
For a more in-depth understanding of our shipping and return policies, visit our detailed guide at VapePenZone.
What Is The Expected Delivery Time For My Order?
For most Australian regions, delivery occurs within 2-5 business days. For remote areas, it may take an additional 2-3 days. Contact our support with your postal code for precise timings.
How Soon After Placing An Order Is It Dispatched?
Orders made from Monday to Friday are processed within 24 hours. A tracking number will be sent upon dispatch.
Is It Possible To Modify Shipping Details Or Order Items?
Changes to shipping details are possible prior to dispatch. Post-dispatch, use the tracking page for redirections. For assistance, contact us immediately.
Do I Need A Prescription For Nicotine Vape Products?
Any Implications Of Australia's New Vaping Policy?
Australia is vigilant about policy changes. Subscribe for the latest updates from us.
When Will Out-Of-Stock Products Be Available Again?
Typically, products are restocked within a week. For specific products, our support team can help reserve them for you upon restocking.
What If My Vape Product Is Defective?
A 30-day warranty is provided from the purchase date. Reach out with specifics, and relevant media, for swift resolution.
What Should I Do If My Order Is Incomplete Or Lost?
Contact us with parcel details for an immediate investigation. We'll ensure replacements for confirmed missing items.
Is My Parcel's Packaging Discreet?
Absolutely, we value your privacy and ensure discreet packaging.