What is Vuse? For many vapers who want to try out new products, Vuse Vape would be an attractive option due to its elegant design and practical features.
As a 5-year-experienced vaper, I would like to share my review of this vape brand and introduce some of its models.
Bridging the gap between innovation and experience, let's dive into our comprehensive guide on Vuse!
An Overview Of the Vuse Vape Brand
Here is a brief introduction to the Vuse brand and its significance in the vape industry.
Vuse is a prominent vape brand founded by R. J. Reynolds Vapour Company. At the same time, Vuse Australia is a subsidiary of it in Australia.
By offering a range of vapes and vaping products, massive vapers approve the Vuse for its creative features and commitment to providing a quality vaping experience.
Regarding market position, it has established itself as one of the leading players in the vaping industry. Over the past 3 years, this vape brand has maintained a consistent market share of 30% and 35% in the vape industry.
Regarding reputation, it is well-received for its commitment to ISO-certification-identified products, proving the safety and quality of its vape products.
What Is Vuse: The Genesis
What is Vuse? I want to start the introduction from its development road.
Vuse has experienced significant developments since its inception in 2013.
Although Vuse Vape has promoted disposable vapes like Go Vape, most freshly promoted Vuse vapes specialize in rechargeable and refillable pod vapes.
This brand tends to expand the pod vape market, focusing on competitive and collaborative strategies throughout its history.
For years, it has held a stable and dominant market share in competition with Juul. At the same time, it has established a reliable, active and socially minded brand image by collaborating with other brands, such as McLaren.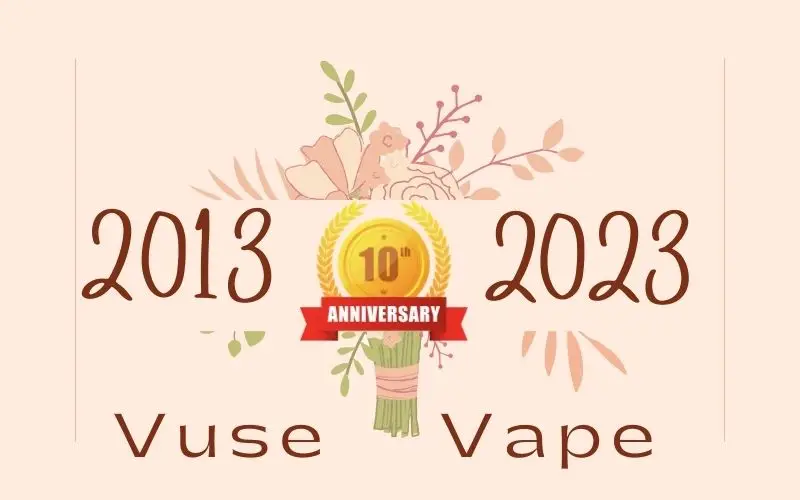 Introducing The Vuse Signature Product Line
When talking about "What is Vuse?" I can start with 6 main Vuse Vape models: Vuse ePen, Vuse ePod 2, Vuse Pro, Vuse Alto, Vuse eTank Mini and Vuse Go.
All of them except Vuse Go are refillable and rechargeable, allowing multiple uses.
Among the 6 models, the ePen, ePod 2 and Pro are iterative product series. ePen is first promoted and comes after the ePod 2 and Pro.
The Vuse Vapes features pioneering technology, including an LED light warning system, magnetic charging design, and easy-to-use pod-refill mechanics.
Here are short feature introductions to these 6 models.
Vuse ePen: equipped with automatic shutdown functions and a rugby-like appearance and LED light warning system with different colours
Vuse ePod 2: Rechargeable & Refillable, white LED light warning system, automatic-shutdown system to prevent short-circuits, automatic-shutdown function to prevent puffing too long.
Vuse Pro: Almost shares the same features as the ePod 2 Vape, but lighter and sleeker.
 Vuse Alto: This vap is known for its ergonomic mouthpiece design and long-lasting throat hits. However, it offers fewer flavour options, only available in tobacco and mint flavours.
Vuse eTank Mini: This vape features a top-refill system for easy pod and coil replacement.
Vuse Go: Some may ask, "What is Vuse disposable?" So, this Go vape shows the struggle of Vuse to explore disposable vapes. It offers ease and simplicity, eliminating the need for refilling or recharging.
The Palette Of Flavours: Vuse's Rich Spectrum
Next, let's delve into Vuse's diverse flavour offerings. The Vuse Flavour material is always transparent to customers by offering a material guide.
Its e-liquids contain nicotine and a few flavour ingredients, with a base of Propylene Glycerol (PG), Vegetable Glycerin (VG), and Benzoic Acid and Glycerol.
Vuse promises that their e-liquid is manufactured in an official factory and sold exclusively through their website or authorized agents.
Generally, there are 4 types of flavours in its vape products and pod replacement, showing a diverse dimension of its abundant flavours.
Fruity Delights: Most vapes attract customers with fruity flavours, and Vuse is no exception. The Blushed Mango, Crisp Watermelon, and Forest Blueberry flavours in the ePod 2 Vape series and the Dark Berry in eTank Mini are all excellent fruit options for users.
Dessert Inspirations: Sweet and dessert-like flavours are also specialty flavours in the promotion program, such as Creamy Mint in ePod 2 Vape.
Tobacco Classics: In the Alto series, this brand offers a cigarette-like experience with traditional tobacco flavours, such as Rich Tobacco and Golden Tobacco.
Exotic Mixes: ePod 2 Vape offers distinct flavour combinations such as Iced Mango flavour, Iced Pineapple Peach flavour, and Passionfruit Field flavour, setting this vape brand apart.
Vuse Vapes cater to various occasions, from refreshing morning starts and post-meal relaxations to evening wind-downs and social gatherings. Choose this brand and enjoy a whole week of relaxation!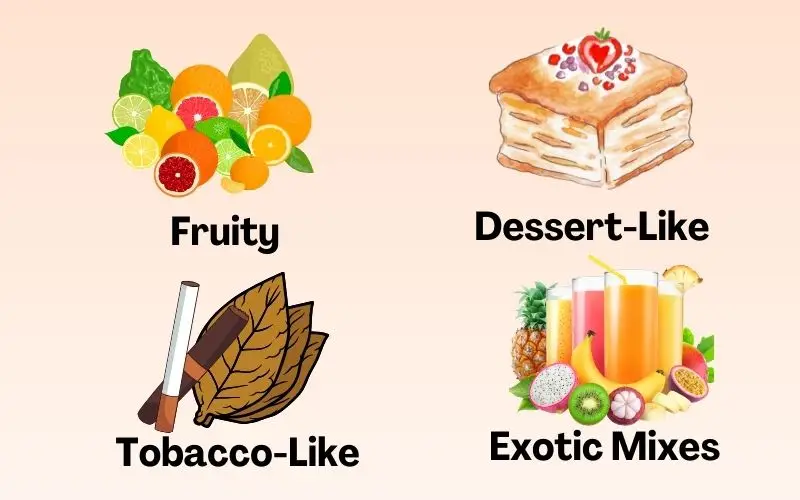 What Is Vuse: Ensuring The Best Vaping Experience
To ensure the vaping experience of customers, Vuse has designed ergonomic features for most of the Vuse Vape.
For instance, the product series, including ePen, ePod 2, and Pro, feature a curved mouthpiece design optimized for vaping convenience.
Most Vuse Vapes, such as ePen and ePod 2 come with an LED light warning system that indicates the battery level. This system helps vapers to charge and unplug the device on time.
In addition, Vuse always takes customer feedback into high consideration. Taking the ePen as an example, the original ePen pod had a strong plastic taste, failing to provide pure and sweet flavour.
However, after researching customer feedback on the original ePen, the brand has discovered the plastic taste and made improvements.
Notably, the recent ePen 3 pod offers an authentic vape flavour without any plastic aftertaste, underscoring the brand's commitment to customer satisfaction.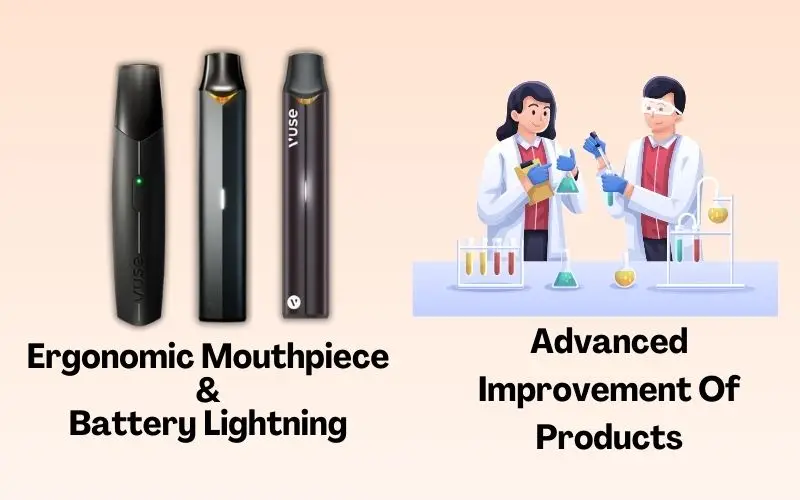 Safety And Standards: Vuse's Commitment
1. Manufacturing Quality Standard
Vuse uses ISO-certified materials and conducts extensive testing by scientists and R&D experts. The research team have set rigorous tests on all Vuse products before customer purchasing.
All their products undergo thousands of hours of testing by scientists and R&D experts before they reach consumers.
To ensure customers' health, Vuse guarantees that its e-liquids will not contain THC or Diacetyl, which can cause EVALI (e-cigarette or vaping use-associated lung injury).
2. Environmental Friendly
Vuse's Take Back program is the commitment to responsible waste management, showcasing the brand's admirable dedication to environmental sustainability.
This initiative is termed the "Vuse Take Back" program.
By offering a simple and convenient way for consumers to dispose of their used products, Vuse is demonstrating a conscientious approach to reducing its ecological footprint and promoting a greener future.
3. Socially Minded
Vuse Youth Access Prevention: Vuse pledges to youth access prevention in our communities, committing that only adults over 21 could buy Vuse products.
In addition, the Vuse promotes the growth of the art sector with co-brand McLaren by offering a platform for emerging artists.
The Community Speaks: User Testimonials
After receiving feedback from Vuse vapers, we have gathered user testimonials to showcase the Vuse user base.
Sazz
I've only just tried Vuse Epod 2 Devise and so far so good. Lightweight and easy to use and saves having to keep filling with liquid so no leakage! I just need to find the best flavour for me.
jisun l.
Stylish design, great quality. I will be placing additional orders soon.
Gail B.
Getting to be a regular user now got used to a good method of inhaling. The only downside is remembering to recharge with such use throughout the day!
Bizint
Lovely design and is very practical (and good value puffs) but the refills don't vape as smoothly as the disposables for some reason.
Our analysis reveals that most feedback emphasizes the high quality and convenience of Vuse products.
Some users have reported issues with feedback regarding the frequency of charging or the device not charging at all.
Additionally, there have been comments about a burnt or plastic taste. We recommend referring to the official Vuse guide for solutions to address these issues.
What Is Vuse: Vuse In Today's Vaping Landscape
Like many vape brands, Vuse's development has twinling competition and collaboration for years.
Here, two relevant brands are used as examples to provide an overview of the current landscape of Vuse.
1. Competitions With Juul
Vuse has always had a competitive relationship with Juul. Their relationship and market share are dynamic, waving up and down due to the existence of the competitors.
They have a similar sleek appearance and mainly focus on rechargeable pod vapes. However, the Vuse offers additional features.
The Vuse has a slim and sleek design similar to the Juul but offers a higher battery capacity, shorter charging time, smoother vapour and more e-liquid capacity.
Additionally, Vuse distinguishes itself with features like its magnetic charging device, LED light warning system, and diverse flavour range.
2. Cooperations With McLaren
In 2019, Vuse's parent company partnered with McLaren as part of its A Better Tomorrow campaign to promote Vuse.
The 2 brands later strengthened the partnership by collaborating with McLaren's IndyCar team.
In 2021 and 2022, Vuse has partnered with McLaren to feature one-off liveries at the Abu Dhabi Grand Prix.
These liveries will showcase the works of Egyptian-born, UAE-based artist Rabab Tantawy and Lebanese artist Anna Tangles, respectively.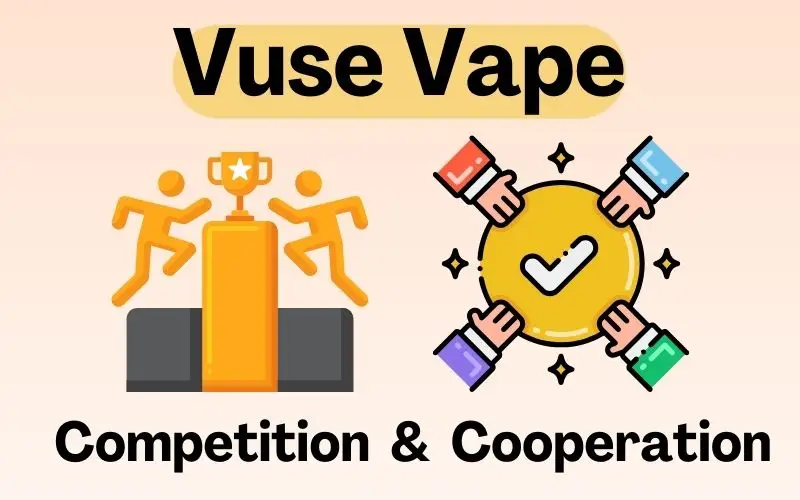 The Road Ahead: Vuse's Vision For The Future
Future innovations for Vuse are developing towards improving charging efficiency and flavour enhancement.
Regarding long-term development projects, Vuse Vapes aims to maintain the quality of its rechargeable and refillable pod vapes while exploring the development of high-capacity vapes in the future.
In social responsibility, Vuse would continue its Vuse Take Back environment protection program and support creators in various fields, including the arts.
Verdict
After reviewing all the details, it's clear that Vuse Vape is worth considering when choosing your first vape or a new vape.
If asked, "What is Vuse?" The Vuse distinguishes itself from other brands with its sleek design, useful features, and hassle-free replacement process.
If you want more information about this vape brand or other outstanding vapes, please visit our official Vapepenzone website.
FAQ About What Is Vuse
Why is Vuse being banned?
The US Food And Drug Administration denied marketing two menthol Vuse Vape products in January 2023 due to the potential risk of menthol flavours inducing teenagers to vape.
However, Vuse only provides vapes to adults over 21 and strictly follows vaping laws. All other Vuse Vapes, but these 2 menthol flavours are available now.
What type of vape is a Vuse?
Generally, most Vuse Vape features a slim, sleek design with rechargeable and refillable functions, a replaceable pod, and an LED light warning system.
All Vuse Vape contains nicotine, with a density ranging from 3% to 4%.
What are the side effects of vaping Vuse?
The primary side effect of using Vuse for vaping is excessive nicotine ingestion, which can cause dizziness and exacerbate lung and heart diseases.
Generally, the Vuse Vapes are all authorized by ISO certification, not resulting in harmful compounds.
All you need to do is control the vaping frequency and strength, which avoids most side effects of vaping Vuse.
Can you buy vuse in Australia?
Yes, you can buy Vuse in Australia. Vapepenzone store offers Vuse pods Australia to Australian adults over 21 years old.
Vuse is made in America and sold all over the world.