Elf Bar TE6000 is the upgraded version of Elf Bar TE5000. ElfBar TE5000 VS ElfBar TE6000, has the latter completely outshone the former? With 5 years of experience in vaping, let me provide you with the answers!
The main differences between these two vapes are primarily in:
Design and Aesthetics
Nicotine Strengths
Battery Life and Charging
E-Liquids
Popular Flavours
Price
Want to know more specific details? Then, let's dive right in together!
Introduction
Elf Bar Vape's TE series is known for its slogan "Born for Speed," aiming to provide vapers with a fast vaping experience. Many users have already deeply experienced this with Elf Bar TE5000. So, what advantages does the upgraded ElfBar TE6000 have over its predecessor?
This article will comprehensively analyze the differences and distinctions between them, helping you choose the vape that suits you best.
ElfBar TE5000 VS ElfBar TE6000: Overview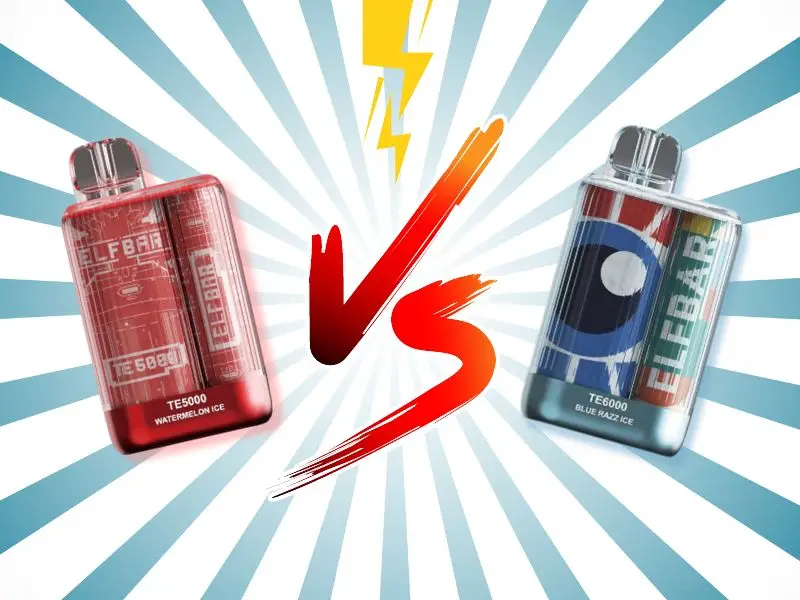 Elf Bar TE5000
The compact Elf Bar 5000 houses a rechargeable battery and an astonishing 13.5 millilitres of e-liquid capacity, providing you with 5000 puffs of vaping pleasure and an extended vaping experience.
The Elf Bar TE5000 incorporates innovative mesh coil technology, ensuring that each puff delivers a rich flavour and dense vapour.
Most importantly, the Elf Bar TE5000 features a silent airflow design that won't disturb those around you, allowing you to enjoy delightful, peaceful vaping moments.
Elf Bar TE6000
As an upgrade to the Elf Bar TE5000, the Elf Bar TE6000 continues its exceptional performance in draw-activated operation, silent design, rechargeable capability, and Quaq-enhanced mesh coil technology and makes significant strides in puff capacity.
It boasts an extra 1000 puffs, allowing you to enjoy a total of 6000 puffs of pure flavour.
Key Differences Between TE5000 And Elf Bar TE6000
Design And Aesthetics
Elf Bar TE5000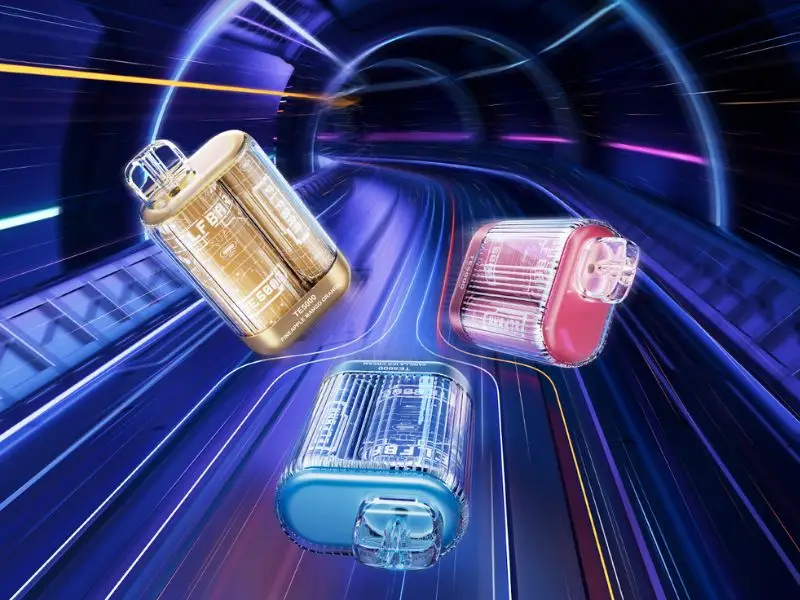 The Elf Bar TE5000 boasts a transparent casing paired with a metallic base, radiating a strong sense of modern technological beauty.
The Elf Vape Bar's innovative design with a transparent casing resembles finely crafted museum displays, making it aesthetically captivating.
The design employs a single colour to perfectly represent its standout flavour.
Through the casing, you can easily see the remaining battery level and e-liquid quantity, allowing you to easily check your battery and e-liquid levels.
Elf Bar TE6000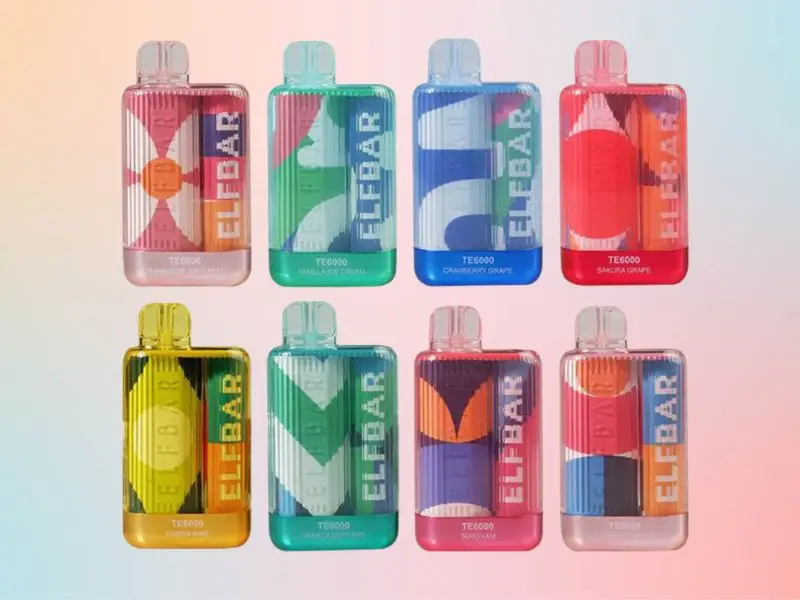 The transparent casing, the bright and elegant metallic base, and the bold artistic colour combinations make the design of Elfbar 6000 truly a work of art in the world of vapes.
Its ergonomic design ensures a comfortable grip, providing the utmost comfort during vaping.
Nicotine Strengths
Nicotine content is one of the key differences between these two vapes and an important consideration for vapers when choosing a vape.
The Elf Bar TE5000 contains 5% nicotine, while the Elf Bar TE 6000 has 4% nicotine. This means there is a difference in the throat hit between the two nicotine strengths.
Higher nicotine content translates to a stronger throat hit. Therefore, the Elf Bar 5000 Australia is better suited for vapers seeking a stronger throat hit.
On the other hand, for beginners, the 4% nicotine content in the Elf Bar TE6000 provides a milder option, allowing you to enjoy a gentler throat sensation.
Battery Life And Charging
Regarding battery capacity, the TE5000 and TE6000 have the same large capacity of 550 mAh, providing a long-lasting vaping experience.
However, regarding charging time, the upgraded 6000 puff ElfBar Australia clearly has the upper hand. The charging time for TE6000 is remarkably fast, typically taking about 30 minutes to fully charge the battery without waiting an extended period.
In comparison, as per experience, fully charging the battery of Elf Bar TE5000 typically takes around 1 hour, which is twice as long as the charging time of Elf Bar TE6000.
E-Liquids
Elf Bar Vape 5000 has an e-liquid capacity of 13.5ml, while Elf Bar TE6000 has an e-liquid capacity of 10.3ml. Despite the former's larger e-liquid capacity, the latter offers 1000 more puffs.
One of the most significant reasons for this is the comprehensive upgrade of TE6000's Quaq-enhanced mesh coil and internal e-liquid storage tank.
This results in higher efficiency in e-liquid vaporization, meaning that each drop of e-liquid can generate more puffs.
Popular Flavours
Both vapes offer a wide range of flavours; here are the most popular ones to consider:
It's quite interesting that the top 3 Elf Bar TE 6000 best flavours and Elf Bar TE5000 best flavours for both are the same. They are Watermelon Ice, Blue Razz Ice, and Strawberry Banana.
Watermelon Ice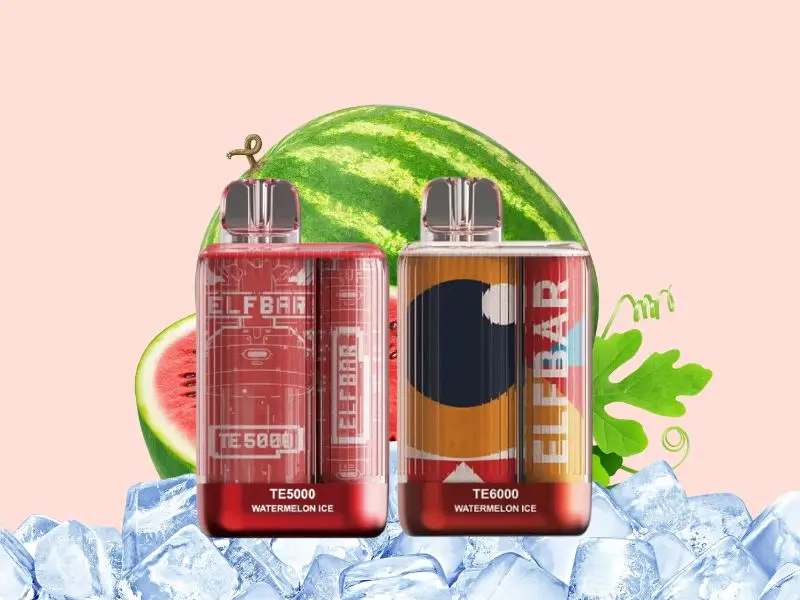 You will experience a refreshing sensation when you inhale Watermelon Ice flavour. The fresh watermelon flavour will fill your mouth as you inhale the mist, providing an energizing and fruity experience.
As the watermelon flavour fades, a cool, icy sensation will emerge, adding a sense of coolness to the overall flavour experience.
Blue Razz Ice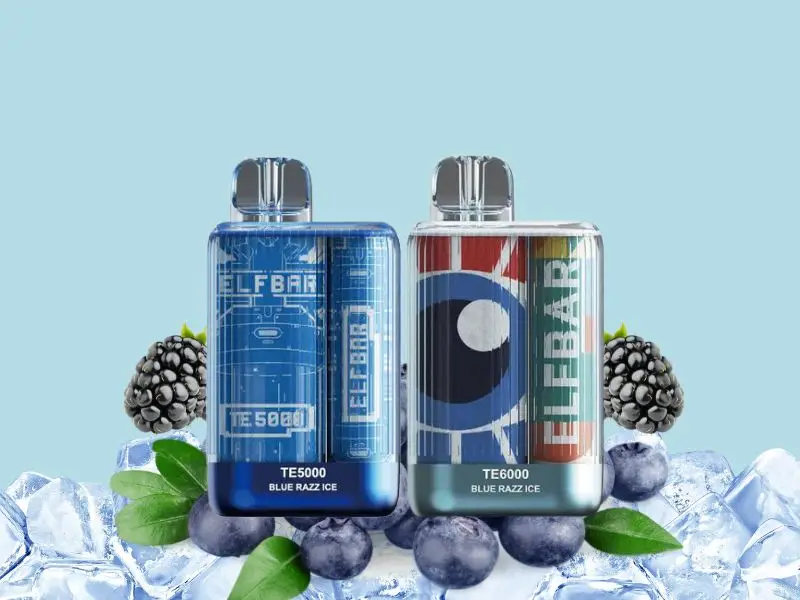 When vaping Blue Razz Ice flavours, you may experience the richness and juiciness of blueberries, which deliver a slightly tart, fruity flavour.
Then, the sweetness of raspberries will gradually emerge, creating an interesting flavour contrast with the acidity of the blueberries.
Strawberry Banana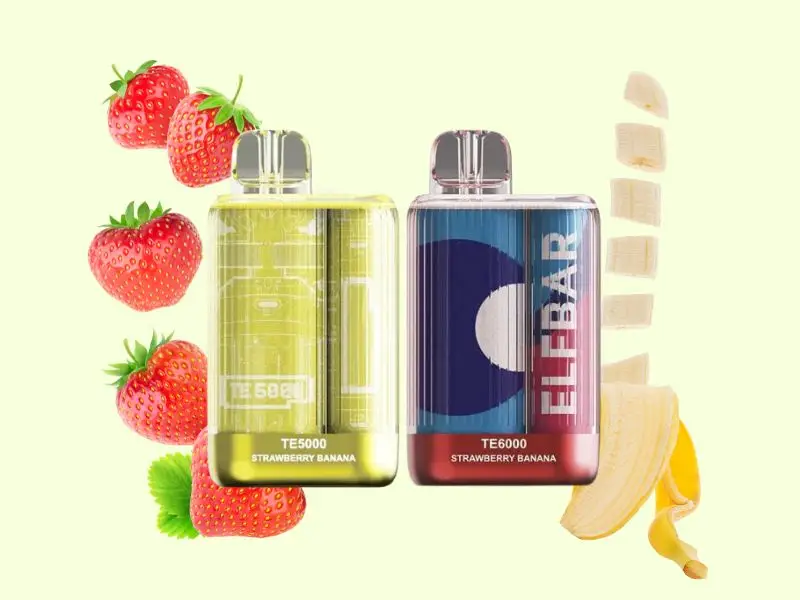 When vaping the Strawberry Banana flavour, you will experience a strong strawberry flavour, which is juicy, slightly sour and sweet.
As you vape, the banana flavour emerges, adding more layers to the flavour. The banana flavour usually has some creamy texture to it which adds to the flavour.
The Pricing And Value For Money
In terms of price, Elf Bar 5000 puffs are relatively cheaper, but in terms of value for money, Elf Bar 6000 clearly has the upper hand.
Elf Bar TE5000 is typically priced at around $34.98, while the Elf Bar TE 6000 price is around $39.5. For just a few extra euros, you can enjoy an upgraded version of the vape with an additional 1000 puffs.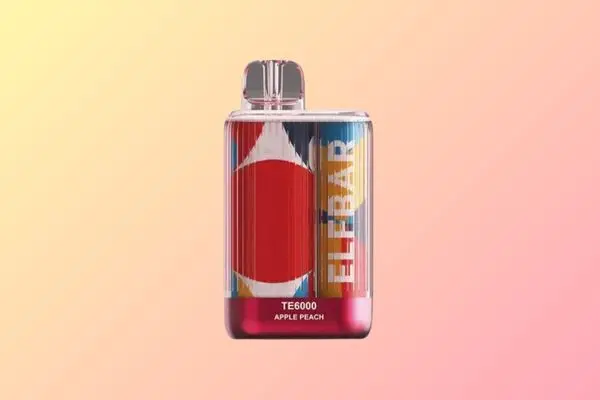 Elf Bar TE6000 Puffs (Rechargeable)
The revolutionary Elf Bar TE6000 is the ultimate vaping companion for today's on-the-go lifestyle! Experience the seamless upgrade from the popular TE5000, now with an impressive 6000 puffs to keep you satisfied longer.
Considering The Customer Reviews
Lauren
Will keep buying more of Elf Bar TE6000 for sure. Favourite flavor!
Leo K
Elf Bar TE6000 is a long-lasting, quick easy charge Elf Bar!
Bret W
Elf Bar TE5000 has a wide range of flavours.
Which Is Better?
Overall, Elf Bar 6000 is clearly superior to Elf Bar TE5000. Whether you look at charging time, vapour efficiency, puff count, or value for money, Elf Bar TE6000 is the undisputed winner, highlighting the advantages of the upgraded version.
Who Should Choose Elf Bar TE5000?
If you are interested in the following features, then you might consider choosing Elf Bar TE5000:
Who Should Choose Elf BarTE6000?
If you highly value the following features, then you might consider choosing TE 6000 Elf Bar:
If you want to know more about the ELFBAR TE6000, you can read the Elf Bar TE 6000 review for further information.
Final Thoughts
Elf Bar TE5000 and Elf Bar TE6000 are exceptional vapes featuring premium designs such as silent activation, rechargeability, Quaq-enhanced mesh coils, and more.
However, Elf Bar TE6000 outperforms Elf Bar TE5000 in overall performance. If you're considering the Elf Bar TE series, the upgraded Elf Bar TE6000 offers a superior vaping experience.
At VapePenZone, you can enjoy free shipping on orders over $100 and professional free after-sales service. It's a rare opportunity, so don't miss out!
FAQ
How much nicotine is in Elf Bar TE6000?
The Elf Bar TE6000 nicotine content is 4%.
How long do TE5000 elf bars last?
From experience, a disposable vape Elf Bar 5000 will last you around 12 to 16 days. But the exact vaping usage time varies from person to person, depending on how often you vape.
How long does Elf Bar 6000 last?
One Elf Bar TE6000 can typically last for about 15 to 20 days. However, the exact usage time will depend on your vaping frequency.
If you consume 500 Puffs a day, for instance, it will last you approximately 12 days, and so on.
Equipped with a rechargeable battery and high-capacity e-liquid, this fascinating vape from The Elf Bar TE5000 not only boasts a silent design and Quaq mesh coils but also offers a full 5,000 Puffs of vaping capacity.