Quick Guide
Are you still looking for the most detailed ElfBar Lowit 5500 review?
Drawing from my 5 years of vaping experience, I will thoroughly review the Elf Bar Lowit. In this article, you will gain the following useful information:
Pros / Cons
Device Design
Flavour
Performance
Battery life and charging
Price
User Experiences and Testimonials
If you want comprehensive information about the Elf Bar Lowit 5500, let's dive in and learn more!
Introduction
ELFBAR Lowit 5500, a highly acclaimed series within the Elf Bar lineup, boasts undeniable charm and performance.
However, a few short product descriptions may not satisfy the curiosity and thirst for knowledge of many new Elf Bar enthusiasts.
In this review, I will comprehensively delve into all the details of Lowit vape. I will cover all the essential details and features of the device.
Product Intro And Specs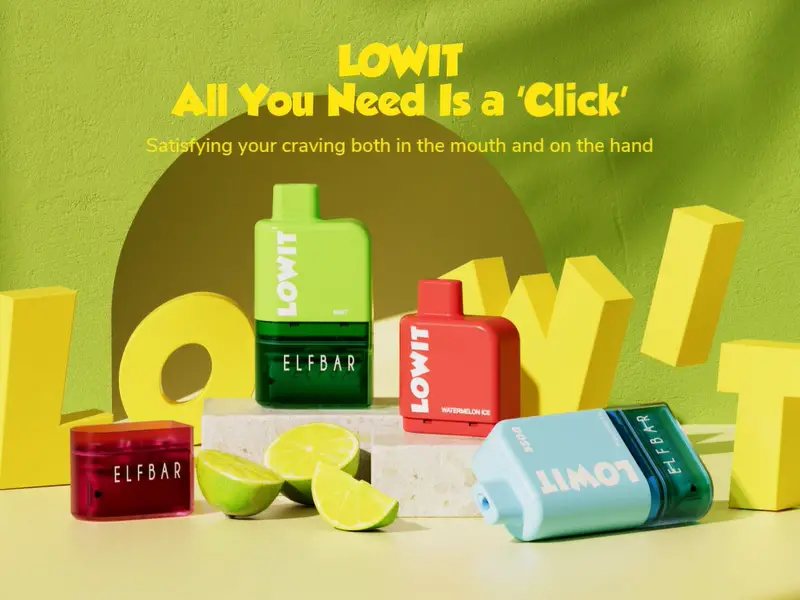 Elf Bar 5500 is a vape offered by the Elf Vape Bar brand, featuring a pre-filled e-liquid capacity of 14ml and innovatively utilizing detachable, interchangeable Elf Bar pre filled pods, providing 5500 puffs.
Elf Bar Lowit 5500 has garnered a substantial following due to its attractive design and robust performance.
The Elf Bar Lowit 5500 aims to address common vaping concerns by being efficient, stylish, and cost-effective.
Specification
Size: 30mm*40mm*20mm
Nicotine Strength: 5%
Battery Capacity: 500mAh
E-liquid Capacity: 14ml
Puffs: 5500
Flavour: 11+
Pros / Cons – ElfBar Lowit 5500 Review
POSITIVES
Stylish design

Rechargeable

Easy to carry

Pods can be replaced

Low vaping cost (in the long run)

Substantial vapour production
Device Design And Ergonomics – ElfBar Lowit 5500 Review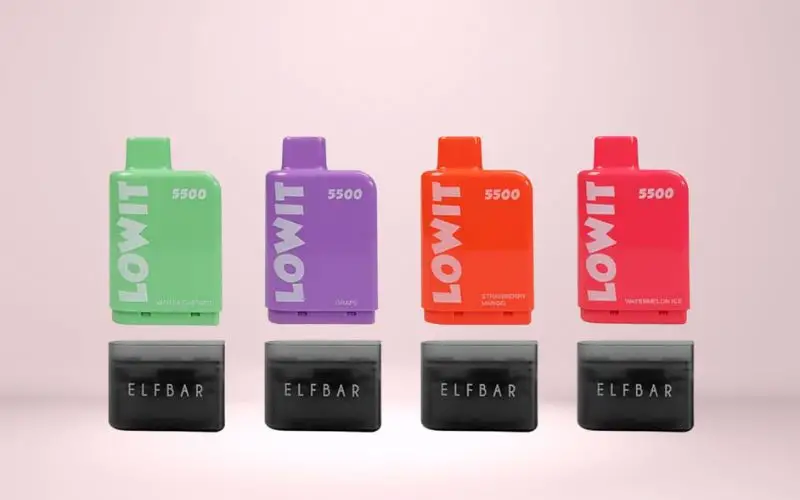 The Elf Bar Lowit 5500 consists of two parts: a reusable Elfbar Lowit device and a replaceable Elf Bar refillable pods, which are tightly connected through a magnetic connection.
This combination means that after using one flavour of Elf Bar pods, you can replace it with another flavour of Elf Bar vape pod without needing to change the entire Elf Bar Lowit device.
The overall design of the elfbar 5500 resembles a wine pot, with a smooth surface and vibrant colours that catch the eye. Additionally, its curved side design is ergonomic, providing a comfortable grip.
What's even more interesting is that you can buy different coloured Lowit Devices and various flavoured prefilled elfbar pods separately to create a personalized combination.
This customization is a unique feature not found in many other Elf Bar series.
Flavour And Vapour Performance – ElfBar Lowit 5500 Review
Flavour
The Elf Bar Lowit 5500 offers a selection of over 11 different elf bar pod device flavours.
As long as your Lowit device is not damaged, you can buy a new Elf Bar prefilled pod with different Elf Bar Lowit flavours to continue your delightful vaping experience.
Given the diverse range of prefilled pod flavours, I've highlighted the top 3 choices for the Elf Bar 5500 Lowit that are popular among users.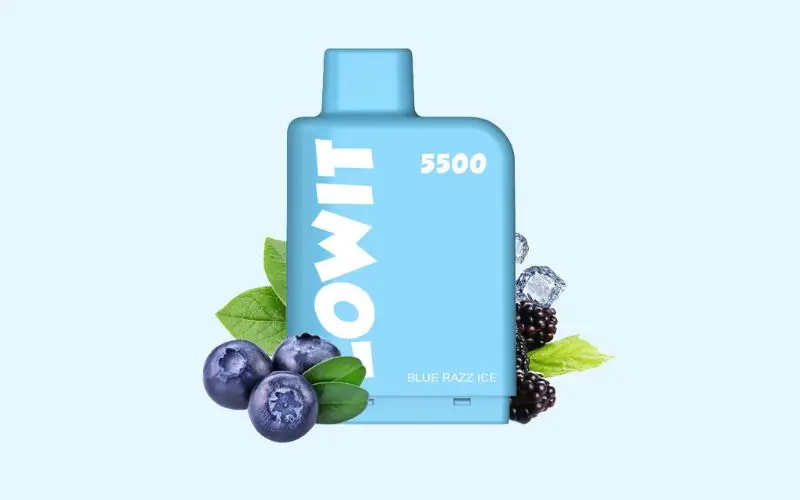 The Blue Razz Ice flavour features a blend of blueberry and raspberry with a hint of icy coolness.
When you take a puff, you'll first experience the sweetness and tartness of the blueberry and raspberry, followed by a refreshing cool sensation, as if you're enjoying a chilled fruit beverage.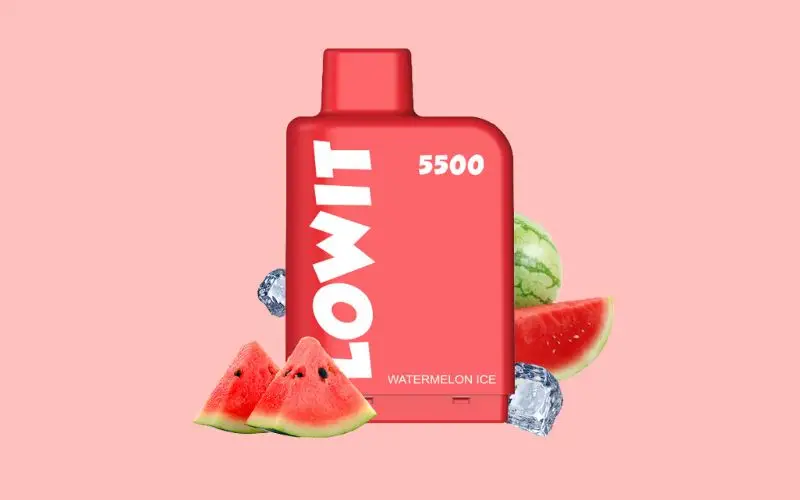 The Watermelon Ice flavour combines the refreshing, ripe flavour of fresh watermelon with a cooling element, making it a popular choice among those who enjoy fresh and fruity flavours.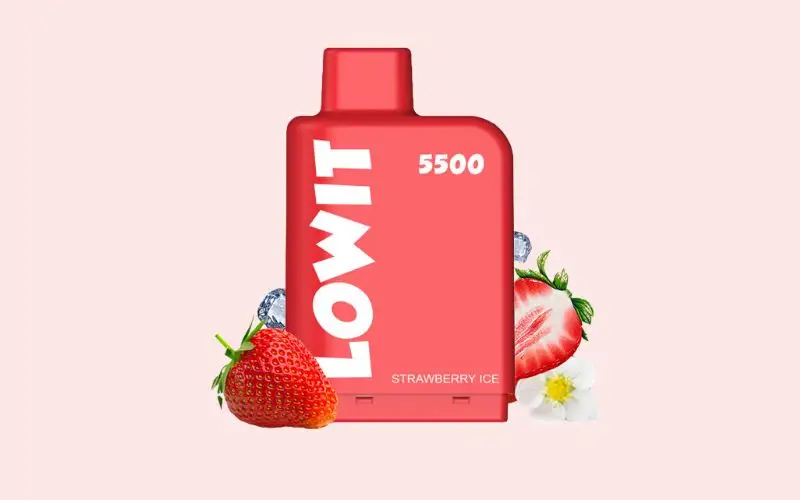 When you vape it, the sweet and rich flavour of ripe strawberries is complemented by a refreshing cold element. It's like enjoying a cool strawberry smoothie on a scorching summer day!
Vapour Performance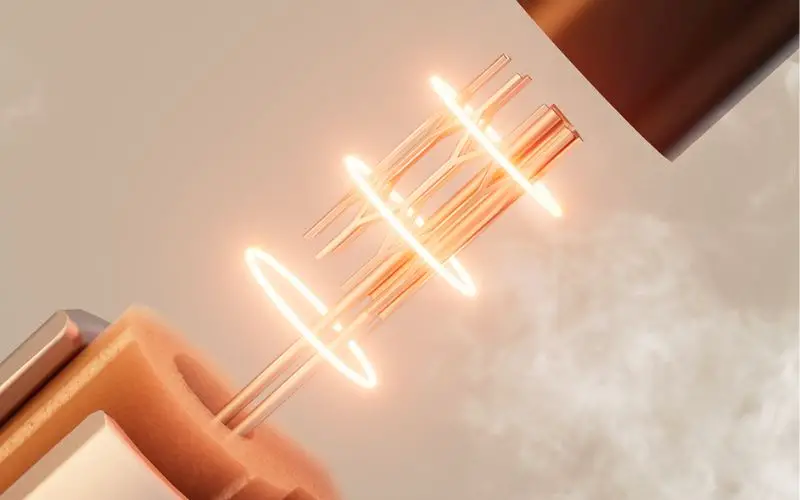 Additionally, thanks to its innovative mesh coil, the Elf Bar kit offers an impressive range of flavours and consistent flavour from start to finish.
With just a gentle puff, users can experience an explosion of rich aroma and a satisfying burst of vapour clouds within seconds, reaching the peak of satisfaction.
Battery Life And Charging – ElfBar Lowit 5500 Review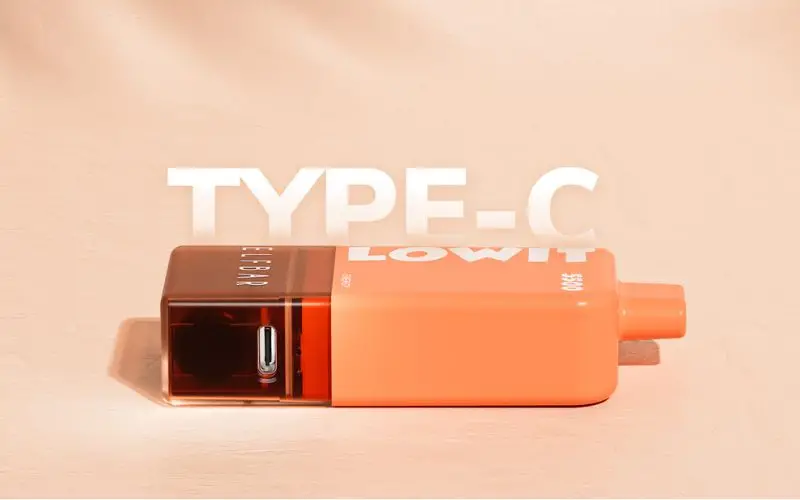 The Elf Bar Lowit 5500 features a 500mAh battery capacity, which is similar to many other Elf Bar models. However, the lower part of the Elf Bar starter kit, known as the ELF BAR Lowit device, is rechargeable.
Vapers can use a Type-C charging cable to recharge it multiple times, ensuring they make the most of every drop of e-liquid.
The charging port for the Lowit device is located on the side, which is more convenient than a bottom port, making it a small but welcome upgrade.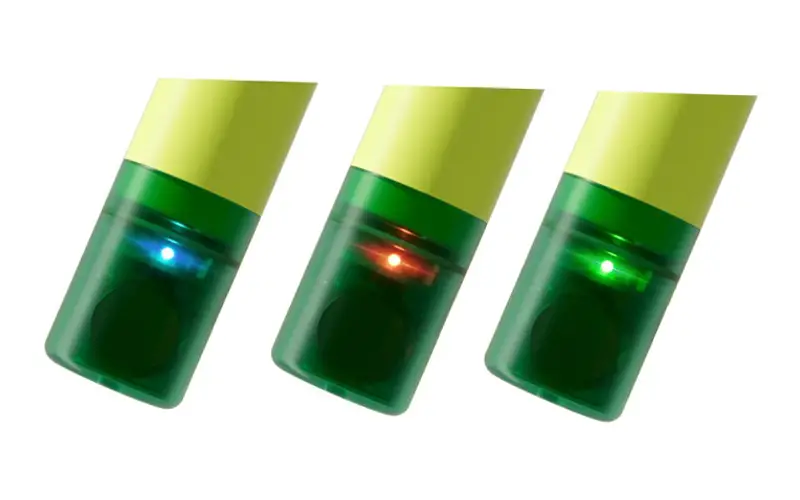 The thoughtful design of the Elf Bar Lowit 5500 truly caters to consumers, as its LED light can actually display the Elf Bar Lowit battery level.
It's essential to highlight this feature as there are many products on the market that don't live up to their claims.
Three different colours of lights represent different battery levels:
Green light: 70%-100%
Blue light: 29%-69%
Red light: Less than 29%
The ability for vapers to determine the Lowit Elf Bar's battery level solely through the indicator light's colour is quite convenient.
As a result, vapers can promptly charge the ElfBar Lowit device without worrying about unexpectedly running out of power while vaping outdoors or on the go.
Price – ElfBar Lowit 5500 Review
Since the Elf Bar vape kit consists of two different parts, you can buy the Elfbar Lowit device and the prefilled pod ElfBar Australia separately or a combination of both.
Here are the reference Elf Bar Lowit prices: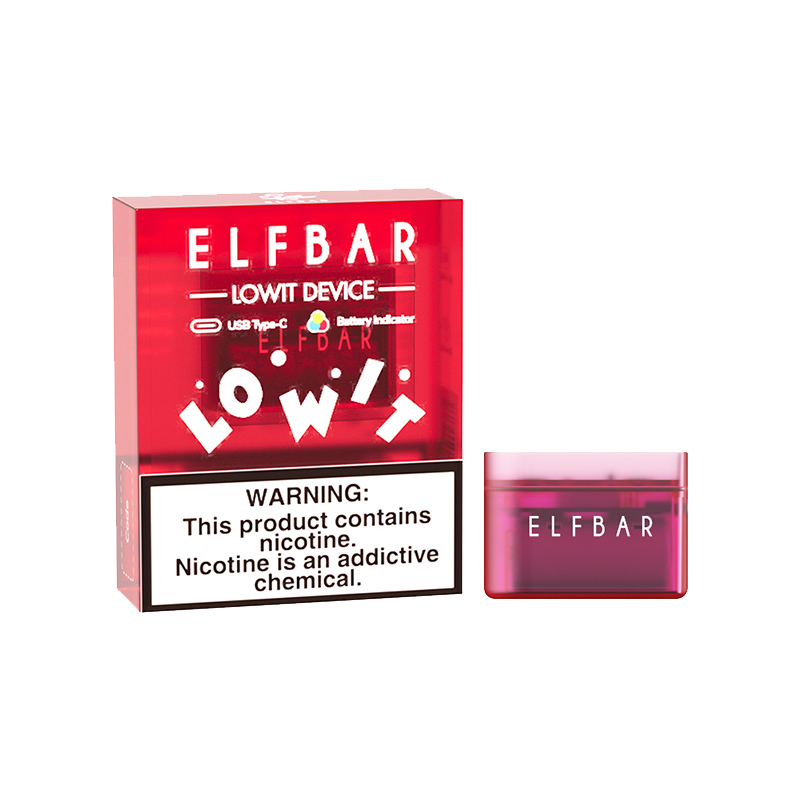 ELFBAR Lowit Device
The ELF Bar Lowit offers a satisfying vaping experience both in terms of flavour and ergonomics.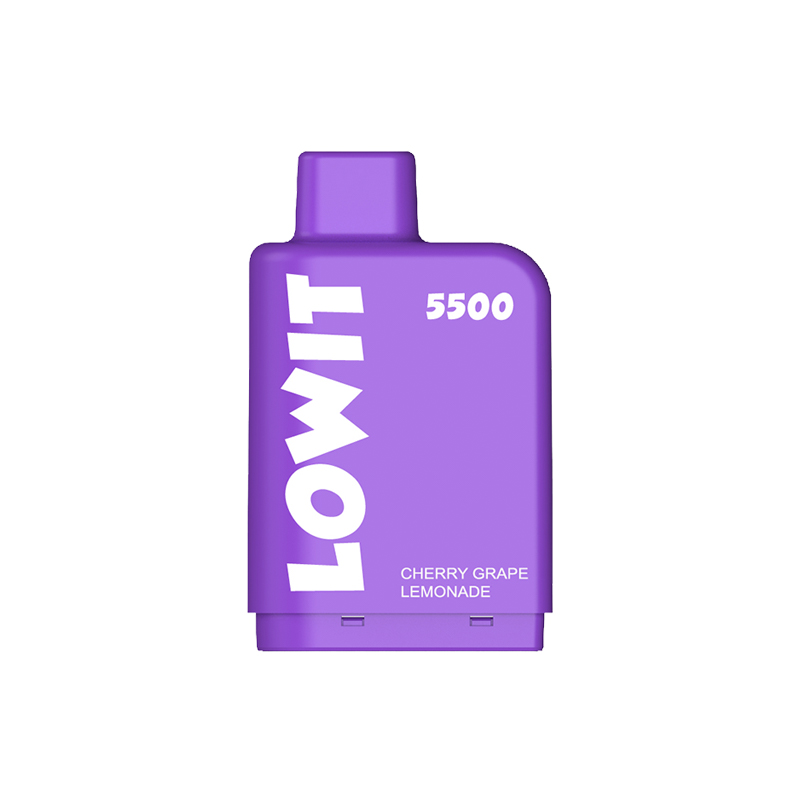 ELFBAR Lowit 5500 Prefilled Pod
E-liquid Capacity: 14ml
Nicotine Strength: 50mg/ml (5%)
Puffs: Up to 5500 Puffs
User Experiences And Testimonials
Kate
Good taste, smooth to vape!
Greg
Long battery life. Approximately 3 days.
Olive
The device lasted me almost twelve days, which was pleasantly surprising.
Verdict
For those in search of a high-performance, rechargeable, and cost-effective vape for long-term use, the Lowit Elf Bar stands out as a top contender.
If you wish to learn more about the Elf Bar Lowit 5500, you can visit VapePenZone for extensive information.
Visit VapePenZone for a comprehensive database of vape flavours and in-depth vaping insights.
FAQ
How much nicotine is in the Elfbar Lowit 5500?
The ElfBar Lowit 5500 nicotine content is 5%.
What is the difference between Elf Bar and Elfbar Lowit?
The Elfbar Lowit is one of the models of Elf Bar vape that are popular among vapers.
The Elfbar Lowit consists of a replaceable pod with 14ml of pre-filled e-liquid and a reusable Elfbar Lowit device, providing vapers with 5,500 puffs.
Does Elf Bar really last 5000 puffs?
The number of puffs it has varies from model to model of Elf Bar. You can check if the Elf Bar has 5000puffs according to its product description.
As Elf Bar is constantly updating and improving the design, performance and technology of its products, the quality of its products has indeed gained positive feedback from vapers.