Need help selecting from the vast range of top Vuse pod flavours? Don't worry! We've provided a detailed guide to the best Vuse Pods Flavours!
With over 5 years of experience using Vuse Vape and exploring various flavours, our team is well-equipped to guide you in selecting the ideal Vuse Pods to match your preferences.
Let's delve deeper and discover the perfect flavours suited for you.
Introduction
Vuse is a prestigious vape brand that primarily sells rechargeable pod vapes. This brand is also known for its elegant design and intelligent features.
It is a mainstream vape brand in the vaping market, consistently holding a dominant market share of 30% to 35%. In addition, Vuse Australia is a subsidiary of it in Australia.
The main products of this brand consist of the pod-based vaping system. It also requires frequent charging and pod replacing, allowing frequent flavour changes.
Due to the multiple replacement of pods, vapers could try out the different e-liquids of different flavours. As a result, choosing the best Vuse Pods flavours becomes an essential thing.
So, how to choose the best pods to optimal your vaping experience? Let's delve into the best Vuse Pods flavours!
The Evolution Of Vuse Pods Over Time
The product evolution of Vuse can start with 5 main pod vape models: Vuse Alto, Vuse eTank Mini, Vuse ePen, Vuse ePod 2 and Vuse Pro.
Vaping system: It has changed from disposable vapes based on a cigar-like system to rechargeable vapes based on a pod system. The 5 vapes mentioned above are all rechargeable pod vapes.
Size and weight: Vuse continuously improves its lightweight and sleek design, aiming to provide portable devices to business people or travellers, such as the lighter Pro Vape compared to the ePod 2 Vape.
Flavours: Vuse offers a variety of flavours, including fruit, dessert-like and tobacco-like options, providing a diverse and layered experience. 

In addition, this brand eliminated the unpleasant smell while vaping. For example, the ePen 3 Pod removes the plastic taste found in the original ePen Pod.

Pod design: Sub-transparent tanks are gradually adopted to clearly show the remaining e-liquid level, specifically shown in the top-refill system of eTank Mini.
Compatibility: Vuse has implemented a new feature that improves pod compatibility between its vape products. Specifically, the pod of ePod 2 Vape pod can now be used with Pro Vape, enhancing the overall user experience.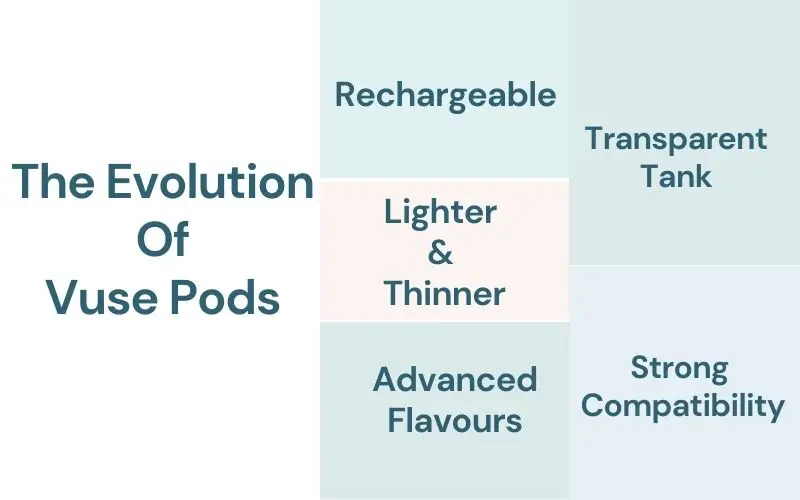 During the evolution of these 5 models, this brand has progressed from cigar-like devices to advanced pod systems with various pod options, increasing popularity among vaping enthusiasts.
Among all the factors influencing the popularity, flavours played an essential role. Most of the increase in Pod sales comes from people who want to try various flavours.
Now, let's further discuss how different flavours enhance the vaping experience.
Criteria For Evaluating Flavours
For most vapers, the vape's flavours are the vaping experience's core. The sweetness, intensity, longevity and feedback about pod have always been important criteria of the pod vaping experience.
To analyze the best Vuse Pods flavours, we need to understand the criteria for ranking flavours. Here are the main 4 criteria based on my Vuse vaping experience.
Flavour authenticity: How close it comes to the real thing, such as how a Mango pod is close to the real juicy Mango without any other poor-quality materials.
Flavour intensity: It should be neither too overpowering nor too subtle.
Flavour Longevity: Long-lasting flavours could give the vapers a deeper impression and avoid dull aftertaste.
Feedback and reviews: It is mainly from the comments of vaping stores or some famous vaping community. Authentic feedback such as the "Vuse pods flavours Reddit" would influence the impression of mass people.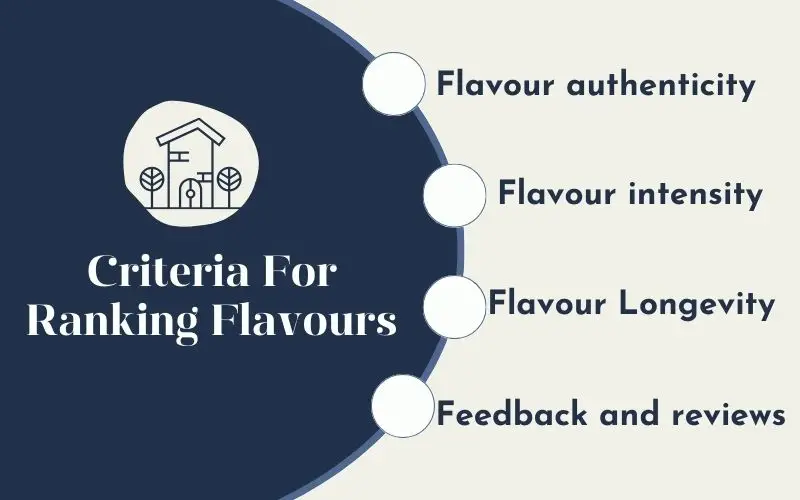 Top-Rated Vuse Pods Flavours
Here comes the most intriguing part of unveiling the best Vuse Pods flavours!
We've divided the wide range of flavours into 4 parts: Fruity ones, Dessert-like ones, Tobacco-like ones and Exotic Mixes, which cater to various preferences and satisfy vapers' cravings.
For optimal compatibility, we recommend the ePod 2 Vape. Products compatible with the ePod 2 can also be used with the Pro Vape pod, offering cost efficiency.
The Vuse ePod 2 Vape is compatible with 19 flavours, including the popular Crisp Watermelon, Classic Peach, Forest Blueberry and Original Strawberry, which performs better than other Vuse Vapes.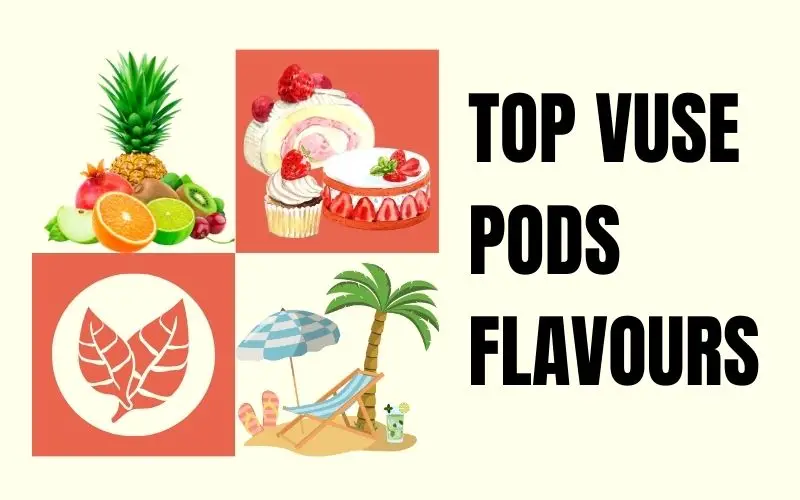 1. Fruity Delights
The refreshing taste of Crisp Watermelon, Classic Peach, and Original Strawberry pods are popular choices among Vuse Vaper users.
Whether you need to cool off during the summer or raise your spirits to ward off winter blues, this flavour is perfect.
2. Dessert Inspirations
The Creamy Mint is surely a great desserts-like Vuse Pod!
Vuse ePod 2 Vape Creamy Mint flavour combines creamy nuances with minty freshness for a refreshing vaping experience.
If you're looking for a refreshing and minty twist to your vaping experience, this flavour is perfect. It's an excellent choice for those who prefer menthol or mint. You can enjoy the Creamy Mint flavour after a meal, during relaxation time, or when you want a burst of coolness.
3. Tobacco Classics
Individuals who prefer traditional smoking may find satisfaction in the tobacco-like flavour provided by traditional tobacco vape options.
Here, I would like to recommend some tobacco-like flavours in Vuse Pods.
Vuse Alto Rich Tobacco: A simple and direct throat hit from tobacco flavours.
Vuse ePod Golden Tobacco: Spicy notes of Burley tobacco with hints of cream and smooth coconut.
Vuse ePod Creamy Tobacco: A smooth blend of creamy tobacco with notes of caramel and vanilla. Perfect for those who prefer a milder taste but still crave a satisfying throat hit.
4. Exotic Mixes
People often regard Exotic Mixes as tropical fruit flavours, the captivating options Vuse Vapes provides.
Experience paradise with each inhale of our fruity and refreshing blend, and delight in its tart and tropical notes for a satisfying vaping experience.
eTank Mini Tropical Punch: The Vuse eTank Mini in Tropical Punch is to encapsulate the essence of a tropical adventure. A blend of pineapple, mango and passionfruit flavours would bring you to a sunny beach destination at once.
ePod Blushed Mango: A mellow and tart Mango feeling could ward off the winter blues and bring you to the passionate summer at once!
ePod Iced Pineapple Peach: You'll love the delightful combination of a minty throat sensation followed by the juicy taste of tropical pineapple and sweet peach. It's a perfect blend to satisfy your cravings!
Matching Flavours To Different Occasions
In addition to the best Vuse Pods flavours list, we also collect a guide about pairing pods with occasions.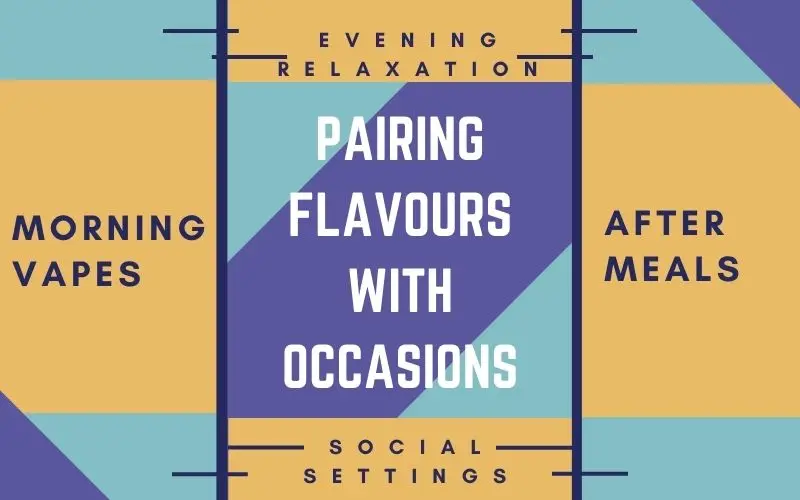 1. Morning vapes
Crisp Watermelon, Original Strawberry and Forest Blueberry of Vuse ePod 2 Vape can provide you with a refreshing start at the beginning of the day.
The fruity flavours won't leave a tobacco smell that brings you any embarrassment, which helps you start a fresh day!
2. After meals
The Mint Pod Vape is so refreshing! It gives you a nice throat hit and leaves a yummy dessert-like taste in your mouth.
Creamy Mint flavour in Vuse ePod 2 Vape would be a good choice for those chasing dessert flavour as well as a strong throat hit at the same time.
3. Evening relaxation
Blushed Mango and Mandarin Cinnamon flavours offer you a super smooth and mellow taste and help your body relax when you are about to sleep.
If you like to wind down with a glass of wine or Whisky at night, have you ever tried the Vuse eTank Mini smoked whiskey flavour?
It's a budget-friendly option that tastes close to the real Whiskey but won't cost much. Worth checking out if you're looking for something new to try!
4. Social settings
If you prefer Vuse Vaping and often enjoy it in social settings, fruity flavours can offer a balanced experience. All the Vuse fruity pods are crowd-pleasing, allowing you to vape publicly without being noticed.
For public settings, we suggest refraining from tobacco-like options to ensure the aroma is not intrusive to others—for example, non-vapers, non-smokers, pregnant women, children and older people.
Storage And Maintenance For Optimal Flavour
1. Proper Storage
Avoid heat sources or direct sunlight: Keep it dry and cool. Otherwise, it would accelerate the breakdown of chemicals in the e-liquid, resulting in a loss of flavour
Avoid extreme temperatures: Taking Vuse ePod 2 Vape as an example, 20-25℃ would be the best storage temperature. 

High temperatures would damage the pod system and lessen the flavours, and extremely cold temperatures would freeze the e-liquid, resulting in vaping difficulty.

Vaping it as soon as possible after opening: If you've unpacked the item for 6-8 weeks, the pod may slightly diminish.
2. Best Practices While Using
Don't vape too frequently: Excessive vaping can make it hard to distinguish flavours between puffs.
Don't hang the vape upside down: It would cause pod e-liquid to leak, which quickly runs out your e-liquid and increases your pod replacement cost.
3. Signals That The Pod Past Its Prime
Lack of aroma: If you notice a weaker aroma when you open your pod, it may be past its prime.
Deeper colour: If the colour of the pod looks off or has darkened significantly, it could indicate spoilage or loss of flavour.
Bitter or unpleasant taste: If the pod leaves a bitter or unpleasant aftertaste, it's a sign that the e-liquid might not be as fresh as it should be.
TheJuul vs. The Vuse: A Flavour Comparison
Vuse has always been competing with another vape brand called Juul these years. They have similar sleek appearance but show different features.
Taking Vuse ePod 2 Vape and Juul 2 Vape for comparison, let's find out the flavour differences between them.
Vuse ePod 2 vs Juul 2
Comparative Analysis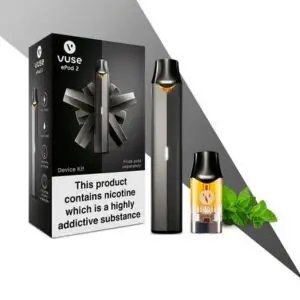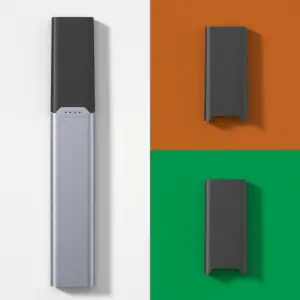 Fruity
Dessert-like
Tobacco-like
Exotic Mixes
Fruit Menthol
Tobacco
Tobacco Fruit
Menthol
Occasion suitability
All Occasions VS Private Only
E-liquid Capacity
1.9ml VS 0.7ml
Vapour Amount
Bigger Cloud VS Moderate Cloud
Regarding the vapour amount, Juul temperature control functions limit its vaporization efficiency, resulting in a much less Juul vapour amount than the Vuse.
The Vuse Pod Vapes offers more abundant variety and options, a larger occasion suitability and a higher pod capacity.
The only area that Juul wins in the comparison is the high-quality tobacco flavour catering to those accustomed to traditional smoking.
As a result, vape beginners transformed from traditional smokers could try Juul 2. And if you want to try more diverse flavours and don't want to interrupt others, Vuse Vapes would be your best choice.
Verdict
By showing all Vuse Pods reviews, have you found out what are your best Vuse Pods flavours? Abundant options and diverse variety are the best competitiveness of Vuse Pods.
Why not take a Vuse Pod Vape as the first attempt and try out all your personal best Vuse Pods flavours by replacing pods?
Do you want to know information such as the Vuse ePod 2 flavours review or share your Vuse Pods flavours review? Welcome to visit the official website of Vapenzone.
FAQ About The Best Vuse Pods Flavours
How much nicotine is in the Vuse Vapes?
Taking Vuse ePod 2 Vape as an example, it contains 34 mg or 47 mg nicotine in each ml of e-liquid.
What is the best flavour of Vuse pods?
The 10 best Vuse Pods flavours are the following:
ePod 2 Crisp Watermelon
ePod 2 Classic Peach
ePod 2 Original Strawberry
ePod 2 Creamy Mint
Vuse Alto Rich Tobacco
Vuse ePod 2 Golden Tobacco
Vuse ePod 2 Creamy Tobacco
eTank Mini Tropical Punch
ePod 2 Blushed Mango
ePod 2 Iced Pineapple Peach
What are the 4 Vuse pods flavours?
The 4 best Vuse Pods Flavours from different categories are the following:
Vuse ePod 2 Crisp Watermelon
Vuse Alto Rich Tobacco
Vuse ePod 2 Golden Tobacco
Vuse eTank Mini Tropical Punch
Are flavoured Vuse pods real?
Yes, all flavoured Vuse Pods from Vapenzone stores are authentic, ISO-certified and inspected by R&D experts for thousands of hours. You can buy and use these flavoured pods in a relief.
Are there different flavours of Vuse pods?
Yes, Vuse Pods offers 4 types of different flavours in total: fruity flavour, dessert-like flavours, tobacco-like flavours and exotic mixed flavours.
You could buy Vuse pods from the Vapepenzone online store.