What Is RELX Infinity 2 Vape?
The RELX Infinity 2 Vape, as the esteemed 6th generation device from the RELX lineage, seamlessly integrates pioneering advancements with an elegant aesthetic.
Notably versatile, it is designed to be compatible with both the Infinity Pod and the new Infinity 2 Pod, ensuring users can enjoy a tailored vaping experience. With improved battery technology, multiple power modes, and a broad colour palette, it stands as a testament to RELX's commitment to innovation and user satisfaction.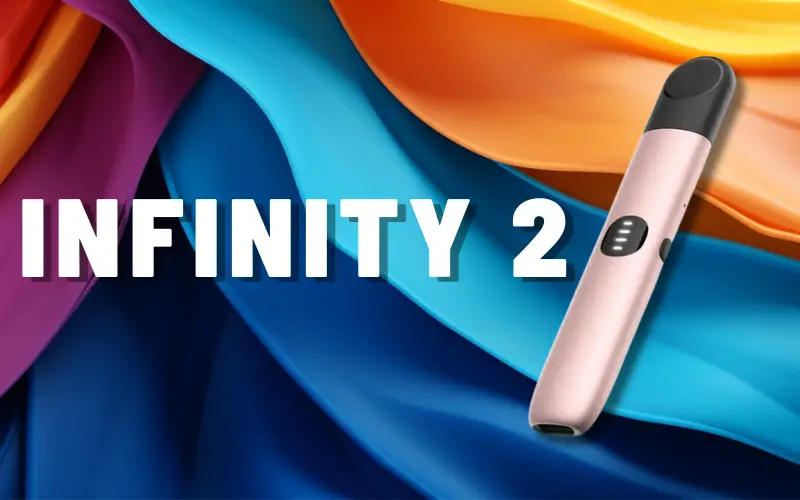 Why Choose RELX Infinity 2 Device?
Elevate your vaping journey with the RELX Infinity 2 Vape Device, the epitome of refined craftsmanship and technological innovation. As the distinguished 6th generation offering from RELX, the Infinity 2 stands out with its unparalleled versatility, being seamlessly compatible with both the Infinity Pod and the Infinity 2 Pod.
Beyond its adaptability, users will marvel at its enhanced battery technology, ensuring prolonged sessions without frequent recharges. Toggle effortlessly through its three power modes – Eco, Smooth, and Boost – to personalize your vaping intensity. Its rapid charging capability, clocking in at a mere 27 minutes, makes it a game-changer for those on the go.
And with its array of exquisite colours, ranging from Green Navy to Obsidian Black, it complements every style. Opt for the RELX Infinity 2 Device: where state-of-the-art performance meets sophisticated design.
Package Content
Specifications
Battery Capacity: 440mAh
Genuine Guarantee
Pods sold separately
Features
Versatile Compatibility: Suits both Infinity Pods and Infinity 2 Pods.
440mAh Battery: For longer vape sessions.
Three Power Modes: Eco, Smooth, and Boost for tailored vaping.
Quick 27-min Charging: Minimizes wait time.
Elegant Color Choices: Ranging from Green Navy to Obsidian Black.
Battery Indicator: Stay informed of your power level.
Easy Mode Switch: Distinguishable by LED light colors.
SmartPace: Ensures a safer vaping experience.
Comparing RELX Infinity 2 Device And Infinity Device
| | | |
| --- | --- | --- |
| Features & Specs | Infinity 2 | Infinity |
| Pod Capacity | 1.9mL | 1.9mL |
| Atomizer | Cotton/Ceramic | Cotton/Ceramic |
| SmartPace Functionality | Yes | Yes |
| Charging Duration | 27min | 45min |
| Battery Capacity | 440mAh | 380mAh |
| Charger Type | USB Type C | USB Type C |
| Battery Indicator | Yes | No |
| Power Adjustable | Yes (Green-Eco, Blue-Smooth, Purple-Boost) | No |
FAQ About The RELX Infinity 2 Vape
Here are some frequently asked questions about the Infinity 2 RELX Vape
How do you use RELX Infinity 2?
Using the RELX Infinity 2 vape is straightforward. First, fully charge the device with the included USB Type-C charger. Insert your preferred RELX Pod, either Pod Pro or Pro Pod 2, into the device. The device activates upon inhaling, with options to cycle between Eco, Smooth, and Boost power modes.
Monitor the battery indicator and recharge when low. Replace the pod when flavor or vapor diminishes. Always refer to the user manual for detailed guidance.
What is the newest version of RELX?
The newest version of RELX vape is the RELX Infinity 2, representing the 6th generation in the RELX product lineup.
What is the difference between RELX Infinity and RELX Infinity 2?
The RELX Infinity 2 vape boasts an enhanced battery, quicker charging, a battery indicator, and adjustable power settings, features not present in the original RELX Infinity.
Frequently Asked Questions
For a more in-depth understanding of our shipping and return policies, visit our detailed guide at VapePenZone.
What Is The Expected Delivery Time For My Order?
For most Australian regions, delivery occurs within 2-5 business days. For remote areas, it may take an additional 2-3 days. Contact our support with your postal code for precise timings.
How Soon After Placing An Order Is It Dispatched?
Orders made from Monday to Friday are processed within 24 hours. A tracking number will be sent upon dispatch.
Is It Possible To Modify Shipping Details Or Order Items?
Changes to shipping details are possible prior to dispatch. Post-dispatch, use the tracking page for redirections. For assistance, contact us immediately.
Do I Need A Prescription For Nicotine Vape Products?
Any Implications Of Australia's New Vaping Policy?
Australia is vigilant about policy changes. Subscribe for the latest updates from us.
When Will Out-Of-Stock Products Be Available Again?
Typically, products are restocked within a week. For specific products, our support team can help reserve them for you upon restocking.
What If My Vape Product Is Defective?
A 30-day warranty is provided from the purchase date. Reach out with specifics, and relevant media, for swift resolution.
What Should I Do If My Order Is Incomplete Or Lost?
Contact us with parcel details for an immediate investigation. We'll ensure replacements for confirmed missing items.
Is My Parcel's Packaging Discreet?
Absolutely, we value your privacy and ensure discreet packaging.