What Is Elf Bar CR5000?
The CR5000 is a high-performance, disposable, rechargeable vape with a standout design.
The unique macaron colour and smooth, elegant, clear, crystal-like casing provide visual and tactile enjoyment.
The rechargeable feature and 650mAh battery capacity provide strong battery life and up to 5000 Puffs of vaping numbers.
The mesh coil heats up 10 selected flavours quickly, bringing a new vaping experience to your taste buds.
Why Choose Elf Bar CR5000?
The EB CR5000 has rechargeable features and a 650mAh battery capacity to provide vapers with a smooth vaping experience that lasts.
The mesh coils heat more than 10 flavours of e-liquids at high speeds and evenly, so you can enjoy plenty of rich and consistent vapour.
The Elf Bar CR5000 belongs to the high-performance vape series but is relatively affordable and cost-effective.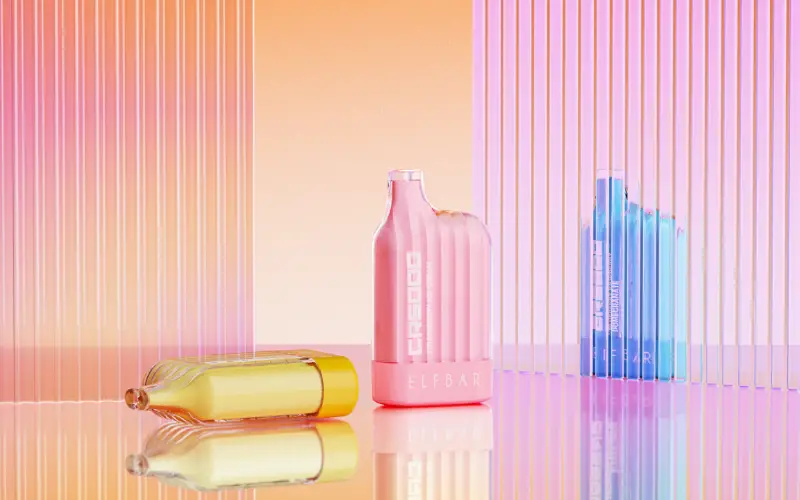 Package Content
1 × EBDesign CR5000 vape
Specifications
Size: 44mm*21.3mm*81.66mm
Nicotine: 5% (50mg/ml)
E-liquid: 13ml juice
Battery: 650mAh
Puffs: 5000
Flavour: 10+
Charging Method: Type-C Rechargeable
Main Features Of Elf Bar CR5000
Mesh Coil: Rich and consistent vapour
Rechargeability: Long-lasting vaping experience
Variety of flavours: More than 10 selected flavours
Affordable price: Easy access to products
FAQ About Raspberry Watermelon Elf Bar CR5000 Puffs
Have Watermelon Elf Bars been discontinued?
Watermelon flavour continues to be a popular choice among vapers, and it's readily available for buying, allowing you to enjoy its delightful flavour.
What is the difference between Elf Bar BC5000 and CR5000?
Here are the main differences between the Elf BC5000 and the ElfBar CR5000:
| Feature | Elf BC5000 | Elf Bar CR5000 |
| --- | --- | --- |
| Size | 79 mm*41 mm*19 mm | 44 mm*21.3 mm*81.66 mm |
| Coil | Dual coil | Mesh coil |
| Flavour | 45+ | 10+ |
| Nicotine content | 5%/3%/0% | 5% |
Do Elf Bars really have 1500 puffs?
The number of Puffs in Elf Bars roughly corresponds to the number of Puffs indicated in their product information. However, the number of Puffs may vary depending on the model.
Elf Bar 1500 Vape – 1500 Puffs
Elf Bar BC3000 Puffs – 3000 Puffs
ELFBAR Lowit 5500 – 5500 Puffs
Elf Bar TE6000 Puffs – 6000 Puffs
Can you buy Elfbar in Australia?
Yes, you can buy the latest and greatest flavours of Elf Bar from our website.
We proudly serve customers across Australia, ensuring fast delivery to major cities within 3-5 business days.
We offer the widest selection of vapes at affordable prices and free shipping over $100.
Frequently Asked Questions
For a more in-depth understanding of our shipping and return policies, visit our detailed guide at Vapepenzone.
What Is The Expected Delivery Time For My Order?
For most Australian regions, delivery occurs within 2-5 business days. For remote areas, it may take an additional 2-3 days. Contact our support with your postal code for precise timings.
How Soon After Placing An Order Is It Dispatched?
Orders made from Monday to Friday are processed within 24 hours. A tracking number will be sent upon dispatch.
Is It Possible To Modify Shipping Details Or Order Items?
Changes to shipping details are possible prior to dispatch. Post-dispatch, use the tracking page for redirections. For assistance, contact us immediately.
Do I Need A Prescription For Nicotine Vape Products?
Any Implications Of Australia's New Vaping Policy?
Australia is vigilant about policy changes. Subscribe for the latest updates from us.
When Will Out-Of-Stock Products Be Available Again?
Typically, products are restocked within a week. For specific products, our support team can help reserve them for you upon restocking.
What If My Vape Product Is Defective?
A 30-day warranty is provided from the purchase date. Reach out with specifics, and relevant media, for swift resolution.
What Should I Do If My Order Is Incomplete Or Lost?
Contact us with parcel details for an immediate investigation. We'll ensure replacements for confirmed missing items.
Is My Parcel's Packaging Discreet?
Absolutely, we value your privacy and ensure discreet packaging.