You've never had a simpler time using a digital cigarette in your life. Buying a Puff Bar, all you needed to do was remove the product packaging and also take a puff! But all of a sudden you realize your Puff Bar not hitting. The light may blink blue but it does not evaporate anything. What's going on? How do you repair a Puff Bar that won't hit?
Puff Bar Review
Puff Bar Disposable Vape Review
Before we learn about the troublesome, we need to take a look at the Puff Bar. Like the popular disposable vape pen, Puff Bar has a more young-appealing flavour and compact size, which is easier for vapers to try in their daily vaping life. It is small enough to fit in a pocket, resembles a USB flash drive and heats up a cartridge containing e-liquid to create a vapour. Each pod device is pre-charged and pre-filled. Once the vapour runs out, it cannot be recharged or refilled – standing apart from JUUL with its one-time use.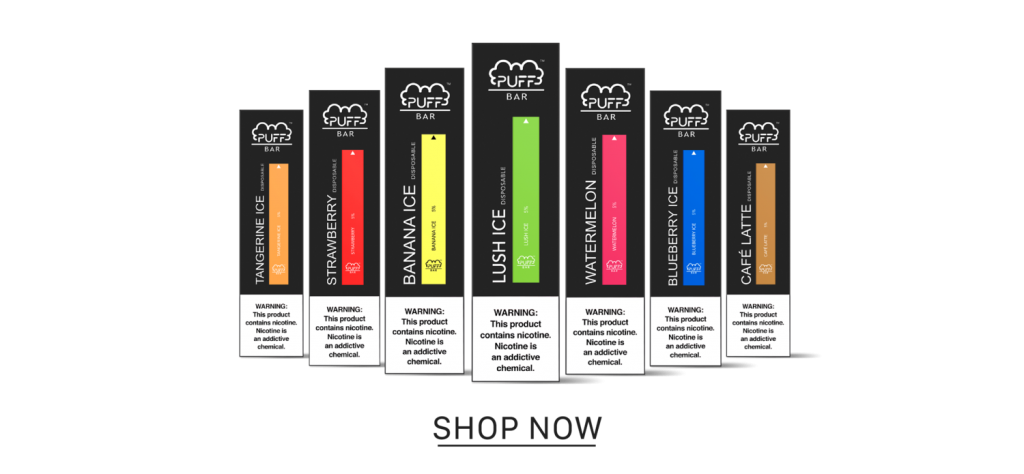 Puff Bar Is It Safe?
We can say that the puff bar is safe if compared with smoking. This disposable vape product puts the health of vapers in the first. Therefore it takes the health and safety material to make. What's more, this disposable vape pen continues to refresh the vaping experience of vapers based on adhering to a healthy formula.
Meanwhile, if you want to switch from smoking to vaping or quit smoking, it is better to choose Puff Bar as your first vaping products. Most of the vapers agree that this small vape pen is the best cigarette alternative.
Therefore, although inhaling addictive substance largely not good for the body, people still can choose to reduce this harm to the lowest level. This is why the Puff Bar come out. It brings a new and safe vaping way for vapers.
How Many Hits/Puffs Does a Puff Bar Have?
| | Prefilled E-liquid | Battery | Puffs |
| --- | --- | --- | --- |
| Puff Bar | 1.3mL | 280 mAh | 300 puffs |
| Puff Bar Glow | 1.3mL | 280mAh | 300 Puffs |
| Puff Bar Plus | 3.2mL | 550 mAh | 800 puffs |
| Puff Bar XXL | 4mL | 1200 mAh | 1600 puffs |
| Puff Bar Flow | 4mL | 600mAh | 1000 puffs |
How Long Does a Puff Bar Last?
300 puffs Puff Bar is equivalent to around 1 pack of cigarettes, generally can last 1-3 days. But the duration depends on the usage habits and frequency of different people. If you are a heavy smoker, it will end earlier. If your Puff Bar not hitting soon, please continue reading and you will get the answer soon.
How Much Nicotine Is In a Puff Bar? How Many Mg Of Nicotine In a Puff Bar?
Nicotine strength can be as high as 5% in Puff Bars, 5% is equivalent to about 5%.
How Many Cigarettes Are In a Puff Bar?
| | Equivalent To (about) |
| --- | --- |
| Puff Bar | 20 cigarettes per pack |
| Puff Bar Glow | 20 cigarettes per pack |
| Puff Bar Plus | 2 packs of cigarettes |
| Puff Bar XXL | 3 packs of cigarettes |
| Puff Bar Flow | 3 packs of cigarettes |
Can You Charge a Puff Bar? How To Charge a Puff Bar?
Puff Bars are disposable vape devices meant to be used a single time then disposed of once you're done with them. If you are asking then you can't because they are disposables. Recharging would virtually be meaningless as the puff bar would die when there is no more juice.
How Do You Know When a Puff Bar Is Almost Out Or Empty?
When you notice a decline in the amount of vapor produced after each puff, and the blue light at the tip no longer illuminates when you puff, then it's time to throw away the disposable vape.
Can You Bring a Puff Bar On a Plane?
Battery-powered E-cigarettes, vaporizers, vape pens, atomizers, and electronic Nicotine delivery systems may only be carried in the aircraft cabin (in carry-on baggage or on your person). … Remove all electronic cigarette and vaping devices from carry-on bags if checked at the gate or planeside.
According to the TSA, the items with batteries can only be placed in carry-on bags, not in the checked bag. Therefore, you can bring a Puff Bar on a plane.
---
Authenticity a Puff Bar
Puff Bar Kado
Puff's latest batch of authentic vapes has 'Kado' printed on every bar and wrapper. This is a guaranteed way to know whether you're vaping the real thing or puffing on an imposter. If your Puff device is missing the Kado imprint, do not automatically assume that it's a fake. Any puffs that were produced before these newly released batches do not include the Kado imprint. With that being said, many factories are now scrambling to imitate this new design development. For the time being, any Puff Bar with the Kado imprint should be considered authentic, at least until other factories have enough time to imitate them. Fakes with the Kado imprint should be hitting the market soon, so always verify your Puff by scratching off the label and inputting the code.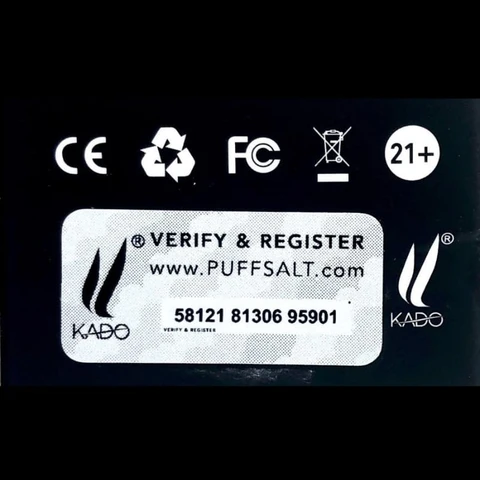 Verify Your Product Authenticity
The best way to verify is simply scratch off the label on the back of the pack and enter your verification code into the official Puff Bar Website authentication system here.
---
Puff Bar Vs Other vapes
Hyppe Bar Vs Puff Bar
On paper, the Hyppe Bar and Puff Bar are virtually identical. Both are stick style disposables less than 4 inches in length. Both contain 1.3ml of e-juice and are powered by a 280mAh battery. Puff Bar is available in a lower Nicotine option, check out our feature on the best lower Nicotine disposable vapes, but at the high end, both have a nic strength of 5%.
Underneath the hood, stick style disposables invariably rely on a soaked cotton polyfill in the e-juice reservoir and a series of stoppers to prevent splashback. The draw is relatively tight and this design is excellent for extracting pure flavours from the nicotine Eliquid.
The lack of vapour production from a stick style disposable is not an issue for most users and is in fact an asset. The nicotine formulas used to allow the Hyppe Bar and Puff Bar to provide a satisfying and flavorful vaping experience. No filling is required. No charging. Not even a fire button. Just open the box and vape. This is the type of easy experience that adult vapers have increasingly gravitated towards and make disposable vapes a great Juul alternative. Compared with the Puff Bar, the hyppe bar is basically the same in appearance, but the taste is slightly different.
JUUL
PUFF BAR
Price
Device $75
Pod $35
$10-$25
Flavour
8
More than 20
Pod
0.7mL/pod*4=2.8 ml/pack
1.3mL
Puffs
200 puffs/pod*4=800 puffs
300+ puffs
Pros
Super easy to use
Like a cigarette
It's tiny and also very discreet
Easy to use
A broad series of flavours and also colours
No previous e-smoking experience is needed
The clouds of puff is much bigger
The Nic E-liquid concentration is high.
Much More Affordable
Takeaway
Cons
Restricted Nicotine options
Limited taste and also shades
Limited schedule outside the USA
It is vital to take care of when obtaining vaping items online
Not environmentally friendly
Read more abut
STIG
PUFF BAR
Battery ability
250 mAh
280 mAh
E-liquid Capacity
1.2 ml
1.3 ml
Puff
250-300
270
Nicotine
6%
5%
Flavour Options
5
20+
Price
$10.5-13
$10-15
Pros
Hassle-free
Simple
Excellent MTL vape
Decent taste selection
User friendly
Many flavour options
Good throat hit
Long battery life
Cons
The pure Nicotine material is too expensive
Makes too much waste
Few Flavor options
Some tastes make it harder to adjust
There are numerous counterfeits in the marketplace
Read more abou
HQD vape devices are closed disposable pod devices. By their appearance and sizes, they resemble an ordinary lighter, come in blister packs intended for three devices. The package specifies the flavor, ingredients, Nicotine concentration, and has an original sticker from the manufacturer.
Depending on flavor traits, the color of devices may differ. Cuvie has very small sizes and fits well in the pocket. At the same time, the device does not require extra maintenance or accessories. The device is bright, sleek, has a hole for vaping on top and a diode on the bottom, which lightens during vaping.
| | HQD CUVIE | PUFF BAR |
| --- | --- | --- |
| Sizes | 80×20×12mg | 96×15×6mg |
| Weight | 12g | |
| Battery Capacity | 280mAh | 280mAh |
| Liquid Capacity | 1.25ml | 1.3ml |
| Nicotine | 5% | 5% |
| Price | $20-25 | $15-20 |
| Flavours | 12 | 20+ |
| | IGET VAPE | PUFF BAR |
| --- | --- | --- |
| Material | 304 Stainless Steel | |
| Puff | 600 puffs | 300 puffs |
| Nicotine | 6% | 5% |
| Flavour | 17 | 20+ |
| Liquid Capacity | 2.4ml | 1.3ml |
| Battery Capacity | 400mAh | 280mAh |
Oral melatonin supplements are the most popular form of ingestion and are widely available over the counter. Yet as the demand for melatonin continues to grow, there are now several melatonin vaporizers designed to cut the absorption period down to mere seconds. If melatonin vaporizers work, that would make them the fastest-acting over-the-counter sleep aid on the market.
When concentrated melatonin is inhaled, in theory, it is instantly absorbed by alveoli in the lungs and enters the bloodstream, instead of being metabolized by the liver, as would a tablet. Only a small amount of melatonin, then, is required to create a physiological effect.
At present, melatonin has not been put in the Puff Bar, but as the demand increases, melatonin vaping is already under the study, it will be available soon.
---
Puff Bar Burnt Tastes
Why Does My Puff Bar Taste Burnt? Why Is My Puff Bar Burnt?
Sometimes there are few points even worse than a surprise completely dry hit. That hot, dry, burnt taste coats your mouth and constantly seems to remain for much longer than essential.
Your Puff Bar tastes burnt when the cotton wicking system in your device dries out. This may seem challenging if you don't understand just how electric cigarette jobs however it's actually quite uncomplicated. As discussed over, the operating concept is really the same.
All vape devices utilize the combination of a heating element (typically a coil), a wicking system (primarily cotton), and also e-liquid. To place it just, the burner warms the e-liquid that saturates the wicking system till it reaches the point of a vapour. What you're breathing in when you utilize your e-cig is the evaporated item made from this process.
Issues emerge when the burner warms a wicking system that is no more soaked in e-liquid. It attempts to evaporate a liquid that isn't there which means it just heats up the cotton. The coil sheds the completely dry cotton which causes that terrible, scorching dry hit you experienced.
Why does your Puff Bar taste burnt? You obtained a hit where the cotton in your device had not been saturated appropriately so you got a taste of scorched wick. Don't toss your device away yet! There are a few things you can attempt first.
Wait a few minutes before trying to take another puff. Slow Down, Take a Breath – Chain Vaping Kills Coils.
Tilt Your Device Upside Down To Re-Soak The Cotton. After you provide the cotton time to saturate up some even more e-liquid, see if you're still obtaining a burnt taste from your Puff Bar.
Let Your Puff Bar Sit For Longer. Sometimes it takes longer for the wicking system to take in any type of e-juice that's left in your device.
Keep Your Eye On The Juice In Your Puff Bar.
The best suggestions I can provide you for that is to count how many puffs you make use of, normally it supports 250-300 puffs. Yet according to different smoking routines, there may be more or less. When you approach this value as well as begin to taste burnt, you ought to take note. Quit hitting if you taste burnt. This suggests that the juice in the container has been eaten. How To Make Your Puff Bar Last Longer?
Learn more about fixing Puff Bar burnt tastes
---
Puff Bar Light Blinking Blue
The Component Mic Is Damaged. Internal damage to electronic products is very common. Just like your cell phone, computer, etc., if the Puff Bar gets water, falls on the ground, or suffers a heavy blow, it is undoubtedly fatal to it. As a closed system, once the internal parts are damaged, the Puff Bar will start flashing blue, and most people don't know how to repair it. And there are no parts that can be replaced or repaired on the market.
Does Not Have E-liquid. Sometimes, before the battery runs out, your device will run out of liquid. The blue light flashes to remind you that the e-liquid in the Puff Bar is ready to use or has been used up.
The Battery Is Low Or Dead. The design of Puff Bar's battery and e-liquid is proportional, and it has been tested many times, enough to meet the needs of most users for several days at the same time. But once the blue indicator light at the bottom of the Puff Bar starts to flash, you will know that the battery may be exhausted.
How to do if your Puff Bar blinks blue?
Puff Bar Blue Light Blinks 10 Times
However, I know that many customers will also find that the brand new Puff Bar that has just been opened, starts to flash blue before using it. Why?
Although it has been rigorously tested, changes in the altitude of aircraft transportation will cause changes in pressure. As a closed and instant-activated system, pressure changes can easily cause leakage or premature battery discharge. So it can no longer be used before you disassemble it.
Of course, although there will be such a situation, it is only a small part. Most Puff Bars can still be used smoothly. If you have purchased a Puff Bar in our store and encountered such a rare situation, please contact us. As long as it is a customer of our shop, we are willing to serve you and be responsible for our products.
In summary, the function of the flashing blue light is to remind you to replace it with a new one. No matter what the reason is, the e-liquid is used up, the battery is used up or damaged, the smart Puff Bar will flash blue light to inform you that you should change to a new flavor!
---
Puff Bar Not Hitting
Why My Puff Bar Wont Hit?
There are many reasons that will cause the disposable vaping pen Puff Bar not hitting. Here we will list the main reasons.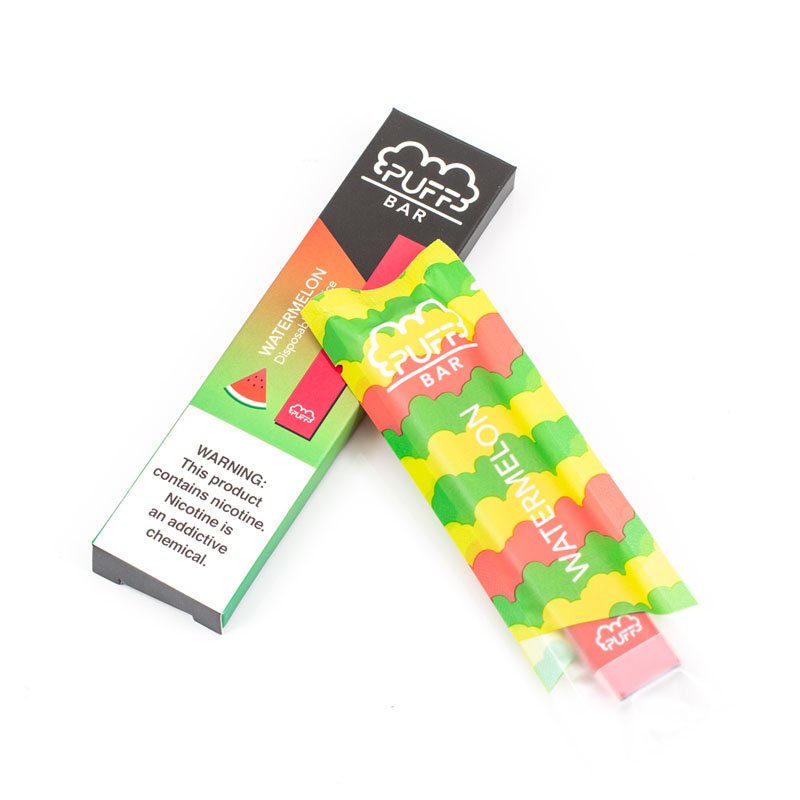 Whether Your Puff Bar Is Fake?
As we mentioned above, there are many similar Puff Bar in the market. Some of these products are fake. Most of the fake problems have serious quality problems. This is the main reason for the Puff Bar not hitting.
What's worse, the fake products not only give you an unhappy vaping experience but also waste your money. Therefore, let's go to check the authenticity of your disposable vape pen.
Improper Using
Do you feel your Puff Bar taste brunt? Do you use your disposable vaping device for a long time at a time? Have you placed your vape pen casually? Have you opened your device without based on professional guidance?
Sometime, your vaping tool will tell you they have a problem before they stop to work. For example, whether you will think about why the Puff Bar brunt-tasting? How to fix when it taste brunt?
What's more, vapers think that their small pens don't need to carefully use. It is the wrong concept during vaping.
Leaking
Puff bar take some measures to prevent leaking the E-juice. However, it still leaks, for the following reasons:
Strong air pressure changes. When the air pressure happen strong changes suddenly, the accessory, called MIC, in Puff Bar will work in advance. And then when air pressure returns to a normal level, there is a pressure difference inside the object, which forces the liquid to come out
Strong collision. When the Puff Bar is hit strongly, its e-liquid may leak and then the e-liquid will immerse the battery to cause the damage of the battery.
When the device is stored at high temperature for a long time, the Puff Bar may expand and eventually leak.
Bad Battery
Weather and long-term storage will affect the normal operation of the battery. Your disposable vape pen should be charged and ready to use. However, even an unused battery cannot maintain its charge forever. Storing the battery in a cold environment will deplete the battery faster.
Old or expired batteries will eventually lose charge, but this takes a lot of time. For example, a lithium-ion vape battery may take months to lose charge.

Out Of E-juice
This seems ridiculous. Due to closed design, the vapers can't see the quantity of E-juice. For the heavy vapers, the Puff bar may last for 1-2 days. However, many vapers believe that their disposable tool can use for one week.
There are not accurate figures to show how long the Puff Bar last. The vaping habit is the main factor to decide the lasting of the vape pen. Of course, there are some tips to let your disposable pen last longer.
How To Fix a Puff Bar That's Not Hitting? How To Make a Puff Bar Work Again?
Inspect The Cotton Underneath The Mouthpiece
If you're having difficulty with your Puff Bar not hitting, examine the cotton under the black mouthpiece. Despite our top quality control criteria often things still slip under the radar. Try this quick fix when you're wondering just how do you deal with a Puff Bar that won't fit.
Tear the black cover from the mouthpiece utilizing tweezers and look beneath. You should see a tiny item of cotton with a round tube via the centre of it. In some cases, the cotton is somewhat stuffed up which avoids air from moving correctly when you're trying to take a puff from your gadget.
Using the tweezers, shift the cotton around to change it and allow it room to take a breath. Put the black mouthpiece back in the area and attempt to take a hit from your Puff Bar.
Offer It a Few Minutes
Due to the change of four seasons, the temperature will largely affect the vaping pen Puff Bar not hitting. Meanwhile, some vapers continually use their Puff Bar, which causes battery overload using. In this time, pls put down your Puff bar for a minute and then you do other things else, then come back to check on it. Take a puff as well as see if it begins hitting. Give some time for your Puff Bar just for better vaping operation.
Good Temperature
The good temperature to store your disposable pens is between 10˚-25˚C (50˚-77˚F). Good temperature not only avoid the leakage of E-juice but also keep the good taste of the flavour.
Keep Dry
Keep your Puff Bar in a dry environment. It is very important for protecting it. Because many vapers are easy to leave their disposable pen in the bathroom or outside. If water vapour enters the inside, it will affect the battery. How to maintain and store your vapes?
Contact Your After-Sales Team
We don't suggest the vapers repair the not working Puff Bar without professional guidance. It is easier to damage the disposable pen. Therefore, the better ways to deal with your not hitting Puff Bar is by calling your after-sales team. If you bought the Puff Bar from Vapepenzone, please feel free to contact us for the after-sales service!
Choosing Reliable Puff Bar
Puff bar manufacturer with good quality assurance processes reduces the risk of Puff Bar not hitting. It is harder for this disposable vape pen to loosen, or for vapers to unscrew the caps by hand. It also reduces the possibility of the leakage of E-juice. Puff Bar in Vapepenzone uses gland technology to ensure proper pressure and sealing to reduce the risk of not hitting.
---
About FDA Puff Bar Ban
July 20, the best-known U.S. supplier of disposable vape Puff Bar has actually received a warning letter from the FDA, buying the products to be gotten rid of from the market. The action came after months of news stories inaccurately declared Puff Bar was exempt from FDA enforcement. Can I still get Puff Bar after the FDA orders it off the market?
The Puff Bar site introduced recently that it had "stopped all on the internet sales & circulation in the U.S. up until further notification".
Therefore, it is no longer possible to buy Puff Bars in the United States until all the problems are fixed. In an era of increasing globalization, the incident still has a certain degree of impact on. Coupled with the severe Coronavirus, Puff Bars in many stores are always out of stock. Even if in stock, the shipping time will be much longer than before.
---
Puff Bar Vape Near Me
Puff Bar Price: How Much Is a Puff Bar?
| | Puffs | Puff Bar Price (AUD) |
| --- | --- | --- |
| Puff Bar | 300 | $15-20 |
| Puff Bar Glow | 300 | $25-30 |
| Puff Bar Plus | 800 | $30 |
| Puff Bar XXL | 1600 | $40 |
| Puff Bar Flow | 1000 | $35 |
How Can I Do a Puff Bar Wholesale?
Many vaping stores support Puff Bar wholesale. Some stores support filling out wholesale applications directly on the website. You can also contact the store to inquire about the price through their contact information. But before doing a wholesale, we must first evaluate the store and check whether the products they supplies are genuine
Can I Buy a Puff Bar In Amazon?
No, you cannot buy a Puff Bar in Amazon. To buy a puff bar, you must buy it from an overseas e-cigarette store with your prescription from a registered doctor.
Can I Buy a Puff Bar Near Me In Gas Station?
The disposable e-cigarettes are sold under brands like Puff Bar, Stig and Fogg in flavors such as pink lemonade, blueberry ice and tropical mango. … Critics of the FDA policy fear teens will simply switch to the cheaper disposables, which are widely available at convenience stores and gas stations.
How Old Do You Have To Be To Buy a Puff Bar?
To purchase a Puff Bar, you must be an adult., you must be at least 18 to buy and ues the Puff Bar.
---
Lush Ice Puff Bar
Enjoy the ultimate in simplicity with the Puff Bar Lush Ice disposable. Fruity and refreshing, Lush Ice provides a nice watermelon flavour with cool menthol to really jumpstart your taste buds.
Pomegranate Puff Bar
Pomegranate flavours aren't very common, given how hard they are to perfect. Unsurprisingly, Puff Bar Pomegranate is one of the few exceptions. Puff Bar manages to perfectly capture the authentic sweetness and sourness of pomegranate for a flavour as exotic as the fruit itself.
Blueberry Puff Bar
Blueberry Ice is a perfect blend of tangy blueberry sweetness with an icy, refreshing menthol finish. A perfect flavour for any time of the day, Puff Bar Blueberry ice is a great choice for menthol lovers who want a fruit flavour experience that isn't excessively sweet.
Pineapple Lemonade Puff Bar
Pineapple Lemonade Puff Bar is a taste of summer packed into a tiny vape device. The lemonade side offers a citrusy, fizzy flavour. Meanwhile, the pineapple gives it a sweet tanginess that feels like diving into a warm tropical beach, no matter where you are.
Guava Ice Puff Bar
Walk into a tropical paradise with PUFF BAR PLUS Guava ICE, a cool refreshing blend of menthol that just hits right with juicy tropical guava slices that is smooth and refreshing at any time of the day!
Cucumber Puff Bar
Cucumber is the very definition of "refreshing." The cucumber provides a mild flavour similar to the famous vegetable, while hints of menthol add an icy kick. A perfect choice for people who aren't into sweet flavours (or just want a change), Puff Bar Cucumber is a great all-day vape option.
O.M.G Puff Bar
O.M.G. Puff Bar is a triple medley of Orange, Guava, and Mango for a sweet, citrusy, and tart flavour, unlike anything you've experienced in a disposable vape pen.
Lychee Ice Puff Bar
The Puff Bar Lychee Ice disposable vape that contains a unique flavour that's hard to come by. While lychee isn't exactly a common variety, one puff of this flavour will fill your mouth with an intensely sweet, citrusy aroma further enhanced with an icy menthol undertone.
Watermelon Puff Bar
Watermelon Puff Bar may not be a real slice of the fruit, but its unique flavor cuts it close. Perfectly formulated to taste as authentic as possible, Puff Bar Watermelon provides a vaping experience that both tastes and feels like biting into a real watermelon slice.
Strawberry Puff Bar
Bursting with the flavour of natural, fresh strawberries, Puff Bar Strawberry is the perfect blend of juiciness and sweetness for a truly authentic taste.
What is the best-tasting flavours of Puff Bar?
Thanks for your patient reading! Here is the complete guide of Puff Bar. What do you think of the Puff Bar? Do you know why your Puff Bar not hitting now? Leave your comment below to let me know your thoughts! If your Puff Bar not hitting, or want to give a Puff Bar a try, please just feel free to contact us or add your items into the cart! We will provide professional ways to solve your problems and provide lightning-fast shipping all over the world.
As always, if you are new here or like this blog, please be sure to hit subscribe to stay up to date with our latest blogs. See you next time.
---
Related Posts:
👉 IGET Vapes Review: Shion, Plus, XXL and Max How To Choose?
👉 IGET vs HQD vs Puff Bar: Disposable Vapes How To Choose?