What Is RELX Vape Pens & E cig?
RELX vape (created by Kate Wang) combines elegant designs with innovative next-generation technology to provide beginner vapers with the most advanced electronic vapour cigarette starter kit available online.
Each vape pen is the culmination of our precise production process. We carefully monitor every step of the process, from design to manufacturing, to present new vapers with easy-to-use and efficient vaping devices. With our stylish vape pens, RELX hopes to provide smokers with an alternative to cigarette smoking.
RELX vape makes vaping a taste explosion, with RELX vape multi colour that ranges from regular, like black, red, pink…, to new combinations, like RELX vape Sunset glow, Nebula Radient…
RELX Vape For Sale At The Best Price
Package Content
Starter kit:
1 x Starter Kit
1 x USB Cable
Starter kit & pods:
1 x Starter Kit
2 x RELX Pod (Mint & Classic Tobacco come with regular colour; Ludou Ice & Watermelon mint come with the gradient colour)
1 x USB Cable
Specifications
Power: 6 w
Charges: 45 minutes
Battery capacity: 350 mAh
Honeycomb diameter size: 0.01 mg
Pod Nicotine Strength: 50mg/ml (5%), 30mg/ml (3%)
Pulls available on full charge: 250 ~300 puffs
Features
Softer and Smoother Pulls – Innovative ceramic atomizing technology for authentic flavour rendering and fresher throat feel.
Clean and Minimalistic Design – Buttonless operation & Compact and lightweight.
Magnetic Lock – Secures e-liquid pods in place & Intuitive and user-friendly.
Incredible Battery Performance – 250〜300puff available use in full power state.
Warranty
Thank you for your interest in the products and services of Vapepenzone. The warranty only applies to the products purchased from this site.
What does the warranty cover?
This Limited Warranty covers any defects in material or workmanship under normal use during the Warranty Period.
Within 30 days from the purchase, Vapepenzone will help you identify the damage of your product and directly replace it with a new one for free.
After 30 days, we will help you contact the partner brand for free repair or replacement of the product or product parts that have been proven to be defective due to improper materials or workmanship under normal use and maintenance. However, the relevant shipping costs incurred by the return and exchange of more than 30 days shall be borne by consumers.
How long does the coverage last?
If the product purchased from Vapepenzone is damaged under normal use, the replacement period is 30 days from the date of purchase, and the warranty period is 1 year.
Since it needs to be sent back to the brand's manufacturer for repair before send back to you, it may take about 1 month during this period.
What does this limited warranty not cover?
This limited warranty does not cover any problems caused by the following reasons:
The product was not purchased in this store
Condition, failure, or damage not caused by defects in materials or workmanship
If you have purchased a device from Vapepenzone but did not purchase the pods, then we will not be responsible for the device.
What do you have to do?
To obtain warranty service, you must first contact us to determine the problem and the best solution for you. Please follow the instructions to return the damaged product to our after-sales service centre. We will confirm the damage and report it to the manufacturer.
Returns
We want you to be happy with your purchase and we apologize if it is not. For whatever reason that you are not satisfied, we would be most happy to provide exchanges and returns for all items purchased from us if the following conditions are met :
Your purchase is within 30 days
All items must be in their original packaging with product tags intact
All items must be unworn, unused, and in their original condition
Originals receipts would need to be included
All items would need to be purchased from Vapepenzone
If any of the products received is deemed defective or a wrong shipment, Vapepenzone will bear the cost of shipping. Read more about Refund Policy.
How To Use RELX Pod System?
Prepare the RELX cigarette and pods
Attach the pod to the device
Inhale and exhale slowly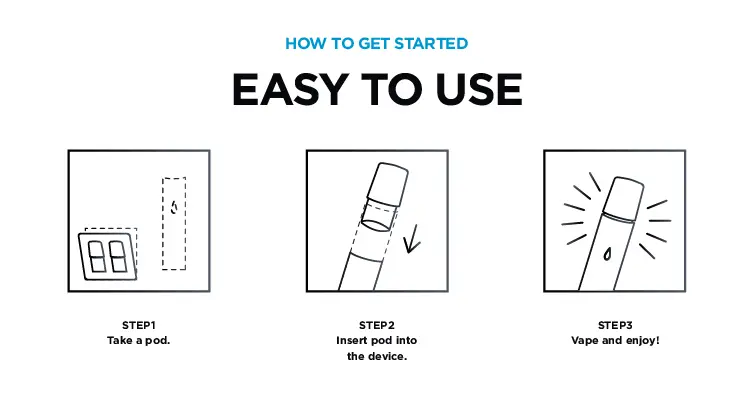 RELX Starter Kit Troublesome
What does it mean when the indicator of Classic device changes?
During Standing: when the device is not used, the indicator will be off;
Low Battery: when the power is less than 10%, the indicator will flash 10 times;
During Charging: The indicator will stay on, and after it is fully charged, it will be off;
The indicating light flashes 3 times:
Inhale protection: This protection mechanism is to protect the user from irritation caused by heavy inhale, the mod will initiate the protection mechanism.
Overcharged protection: This protection mechanism is to protect itself when the charging cable is unplugged with too much strength after it is fully charged or unplugged frequently, and the indicator will flash 3 times.
How do I charge my RELX device?
The RELX Classic uses a micro USB cable, while the RELX Infinity and Essential use Type C cables.
Your RELX device is charging when the LED light pulses white. You'll know your device is fully charged when the light stops pulsing and is a solid white. It takes about 45-60 mins to fully charge your RELX device. RELX's smart-charge technology is designed to reduce overcharging.
You can charge a RELX device with a RELX pod inserted into the device, but this is not necessary.
Learn more ways to charge your RELX vapes here.
Do I have to clean the RELX device?
RELX devices are easy to maintain. To clean the charge contacts and inside the RELX device, use a dry or slightly moistened cotton bud.
What is the best way to store the RELX device?
Avoid storing a RELX device for more than two weeks on an empty charge. It is best to charge the device entirely and remove the RELX pod before storing it. How to maintenance & store your vapes?
How do I turn on my RELX device?
No buttons are required to turn on your RELX device, simply inhale from the mouthpiece. Once you have inserted a RELX pod into your RELX device, you are ready for a unique experience.
RELX Vape Near Me
Where can I buy RELX vape?
Looking for buying RELX vape near me? Vapepenzone supplies the 100% genuine RELX starter kit & pods to Sydney, Melbourne, and even nationwide. Order yours now to get the same day dispatch!
How long can the RELX vape be used?
RELX Classic adopts a soft lithium battery with a capacity of 350mA and a charging time of about 1h. For a person who smokes one pack of cigarettes a day, it can last for a whole day, 250-300 puffs approximately.
Kind Reminder: In order to protect your own safety and the device quality, please do not use it while charging.
Any RELX vape discount code or coupon?
Subscribe to us at the footer of the store and you will get the RELX vape coupon code!