Discount Bundle
What Is IGET Goat Airflow Vape?
The IGET Goat airflow vape stands as a distinct offering in the vaping industry, seamlessly integrating top-notch design with advanced vaping features. As a prime product in the IGET 5000 series, it's specifically crafted for those who appreciate precision and customizability in their vaping experience.
Why Choose IGET Goat Disposable Vape?
Choosing the IGET Goat Disposable Vape is opting for unparalleled adaptability in your vaping journey. This device marks a significant milestone as it's the first in the IGET range to feature adjustable airflow.
Users can seamlessly switch between its three modes, tailoring their experience from a gentle draw to a more robust throat hit. Additionally, its low coil resistance accentuates the vaping sensation, ensuring every puff is memorable.
Package Content
1 × IGET Goats Disposable Vape
Specifications
Size: 23×23×122mm
Coil Resistance: 1.0 Ohm Coil
Battery: 1800mAh
Nicotine: 5% (50mg/ml)
E-liquid Capacity: 13ml
Puffs: Up to 5000+ Puffs
Adjustable Airflow strength: Strong, Medium and Smooth
Rechargeability: Not rechargeable
Features Of Goat Vape
The Goat Vape is more than just a disposable device; it's an experience:
Adjustable Airflow
High Capacity
Visible window
IGETS has continually pushed boundaries, and the IGET Goat 5000 Vape exemplifies its commitment to delivering top-tier vaping experiences for aficionados across Australia.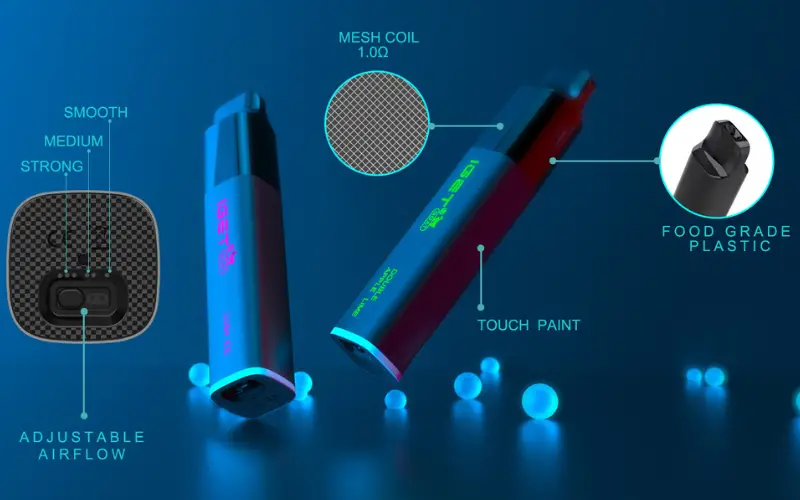 FAQ About Blueberry Raspberry Lemon IGET Goat 5000
How long does 5000 vape puffs last for?
The duration 5000 vape puffs last depends on individual usage. For a moderate vaper, it could last anywhere from 7 to 10 days. However, heavy vapers might use it up more quickly.
Do disposable vapes really last 5000 puffs?
Yes, certain high-quality disposable vapes, like the IGET Goat, are designed to last up to 5000 puffs. However, the actual number can vary based on how deeply and frequently it is used.
Do I GET Goats have nicotine in them?
The IGET Goat vape contains 5% (50mg/ml) nicotine.
How many puffs do Goat vapes have?
IGET Goat vapes offer up to 5000+ puffs.
What is the best Goat vape flavour?
Aloe Grape is one of the best Goat vape flavours.
Is the Goat vape better than the Legend?
Both the IGET Goat and IGET Legend are premium products, but they have differences. The Goat offers 5000 puffs with an adjustable airflow feature, while the Legend provides 4000 puffs. It boils down to personal preference; if you value more puffs and adjustable airflow, you might lean towards the Goat. If you desire a variety of flavours, with 24 options, the Legend might be more suitable.
Is blueberry raspberry a good vape Flavour?
Blueberry Raspberry is often regarded as a delightful vape flavor by many enthusiasts. The combination of the sweet and tangy notes of blueberries with the slightly tart flavor of raspberries creates a harmonious and mouth-watering blend.
Frequently Asked Questions
For a more in-depth understanding of our shipping and return policies, visit our detailed guide at VapePenZone.
What Is The Expected Delivery Time For My Order?
For most Australian regions, delivery occurs within 2-5 business days. For remote areas, it may take an additional 2-3 days. Contact our support with your postal code for precise timings.
How Soon After Placing An Order Is It Dispatched?
Orders made from Monday to Friday are processed within 24 hours. A tracking number will be sent upon dispatch.
Is It Possible To Modify Shipping Details Or Order Items?
Changes to shipping details are possible prior to dispatch. Post-dispatch, use the tracking page for redirections. For assistance, contact us immediately.
Do I Need A Prescription For Nicotine Vape Products?
Any Implications Of Australia's New Vaping Policy?
Australia is vigilant about policy changes. Subscribe for the latest updates from us.
When Will Out-Of-Stock Products Be Available Again?
Typically, products are restocked within a week. For specific products, our support team can help reserve them for you upon restocking.
What If My Vape Product Is Defective?
A 30-day warranty is provided from the purchase date. Reach out with specifics, and relevant media, for swift resolution.
What Should I Do If My Order Is Incomplete Or Lost?
Contact us with parcel details for an immediate investigation. We'll ensure replacements for confirmed missing items.
Is My Parcel's Packaging Discreet?
Absolutely, we value your privacy and ensure discreet packaging.