nicotine prescription

(VPZ Care included)
100% Secure, Fast and Online.
How to get a prescription?
You can speak to your personal GP about obtaining a prescription for nicotine, but they do need to be an Authorised Prescriber.
The easier option is to add a 12-month script to your order in the checkout process without having to leave this website. We will pass your case to a registered doctor and auto-attach your parcel. 
Below you can learn more about how the prescription services work.
Don't worry! Here are the options for providing a copy of your prescription to VapePenZone so we can include it in your orders:
Add a 12-month script (+$40) on our checkout page. We will pass your case to a registered doctor and auto-attach your parcel. A full refund is available if it's not approved.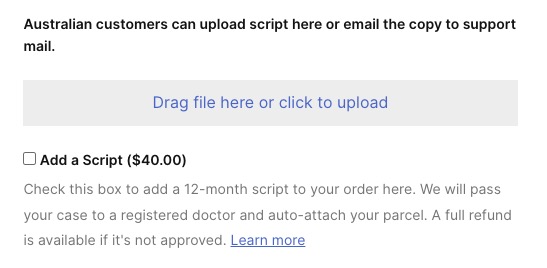 Medical questionnaire for 12-month nicotine script
You will receive a medical questionnaire related to your medical and smoking history. This allows our doctors to verify your age and provide a treatment that is specific to you and maximises your chances of quitting smoking for good.
A registered doctor who is TGA Authorised Prescribers of nicotine/vaping products will review your case. The script will be auto attached with your future orders in VapePenZone once it's approved. 
*Any of your private information will not be stored and exposed. Please contact us if you need a copy of the script.
This page provides general information only and does not constitute legal advice. VapePenZone cannot reimburse you for any seized shipments nor be liable for any fines levied by any authority – the onus is on you to ensure that you are compliant with any and all laws.