Have you heard of the IGET Goat? If not, you're missing out on one of the best disposable vapes on the market.
As we all know, IGET Vape is a good electronic cigarette brand. The IGET Goat is a new product, and most smokers have more and more problems with this new disposable vape.
Let's read the IGET Goat Review; VapePenZone will give details, help you choose the best IGET vape, and know IGET Vape Goat is worth buying.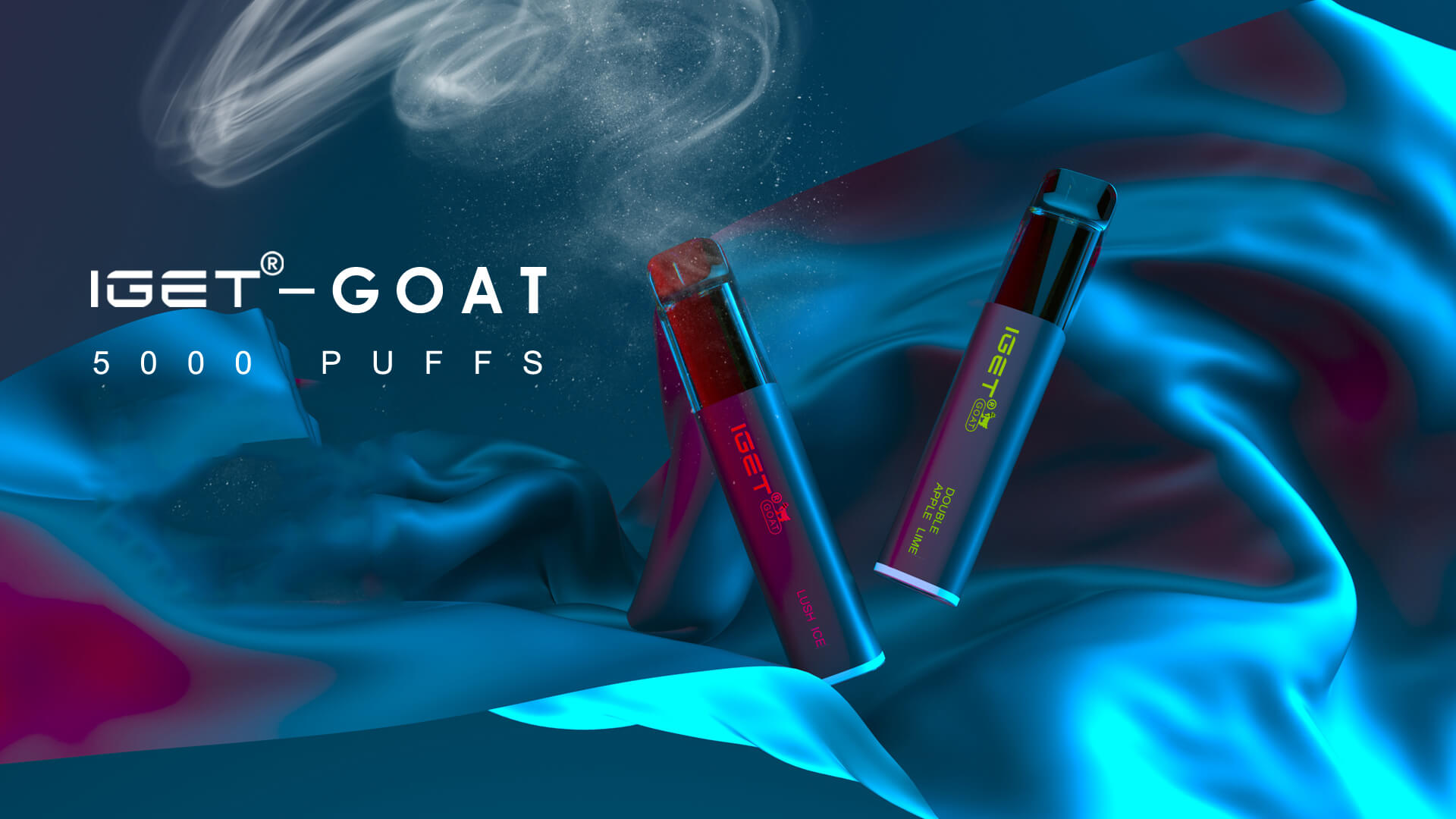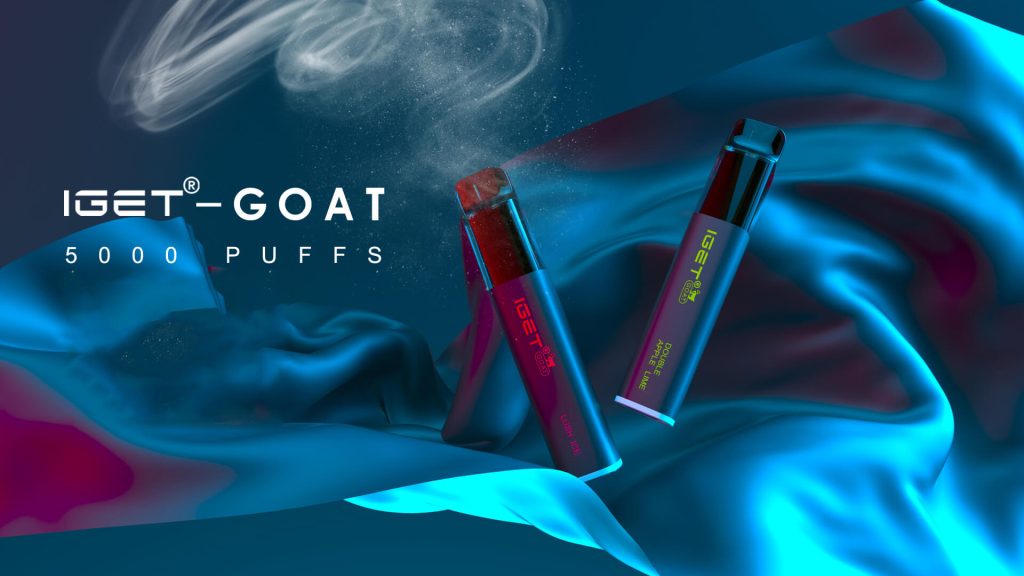 IGET Goat 5000 Puffs Overview
The IGET Goat 5000 Puffs is a disposable vape pen that comes pre-filled with 13.0ml e-liquid. It is powered by a 1800mAn battery and can be used for up to 5000 puffs. Can you believe that the small size has 5000 Puff?
The IGET Vape Goat is available in 15 flavors, including tobacco, menthol, and fruit. You can completely choose your favorite flavor here.
And IGET Goat Vape has a translucent housing that allows you to visually see the process of your e-cigarette liquid working to become smoke, a very special design. It means your e-cigarette becomes more transparent and safe.
IGET Goat uses advanced technology airflow to produce the best vaping experience. It has a built-in airflow control system that allows you to adjust the intensity of your vaping experience. This is a premier feature!
Let's read down, and compare from three perspectives about IGET Goat, IGET King, IGET Legend, and IGET Mega. Help you choose the best disposable vape in Australia.
Details
Adjustable airflow: strong, medium, and smooth.
Pre-fill: 13mL Salt Nic
Pre-charged activated with a single puff
Salt Nicotine: 5%, (50MG)
Battery: 1800mAn
IGET Goat 5000 Puffs Review – Maximum Mouth Bundle Enjoyment
IGET Goat Vape has 5000 Puffs that can hit in, and This is the biggest puff in the IGET vape product and disposable vape market. Whether you're a veteran or a first-time smoker, the IGET Goat 5000 Puffs is a good choice.
How Much Is Nicotine In IGET Goat?
IGET Goat has 5%(mg/ml) nicotine content. The nicotine level is what most smokers can access.
How Many Cigarettes Equivalent to IGET Goat 5000?
IGET Vape Goat 5000 is equivalent to 480 cigarettes.
How Long Does IGET Vape Goat Last?
It takes about 12-16 days. The specific time of use still depends on the frequency of the smoker and the vaping e-liquid.
IGET Goat Translucent Casing Review – Looks Straight At Your E-liquid
The IGET Goat is an upgraded version of the IGET King that continues with a translucent housing that displays the remaining e-liquid. This design allows vapers to visually see the atomization process: seeing your e-liquid become atomized and transported to the mouthpiece, a transparent process that makes many vapers feel at ease and safe.
Another function is to know clearly if your IGET disposable vape is over. I'm sure many smokers often have this problem, worrying all the time that their e-cigarette device is suddenly out of stock and can't be refilled in time. I believe this see-through housing design is useful for any smoker.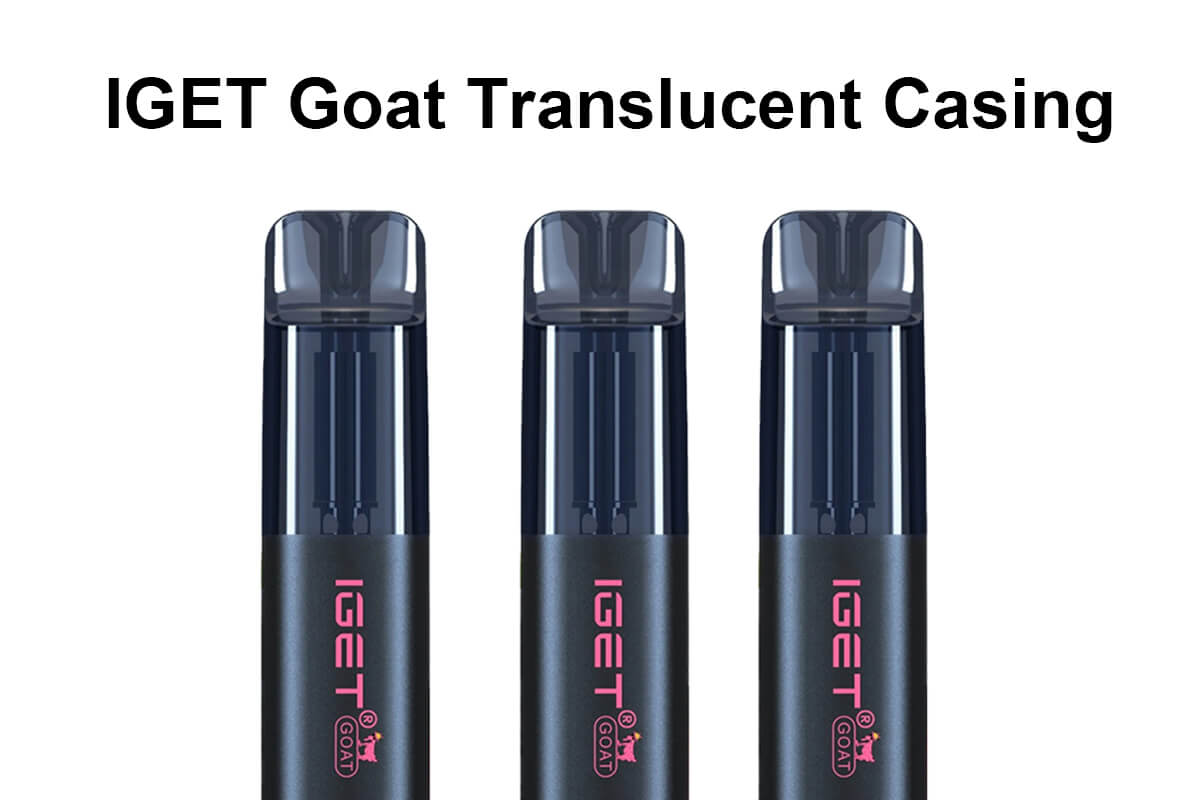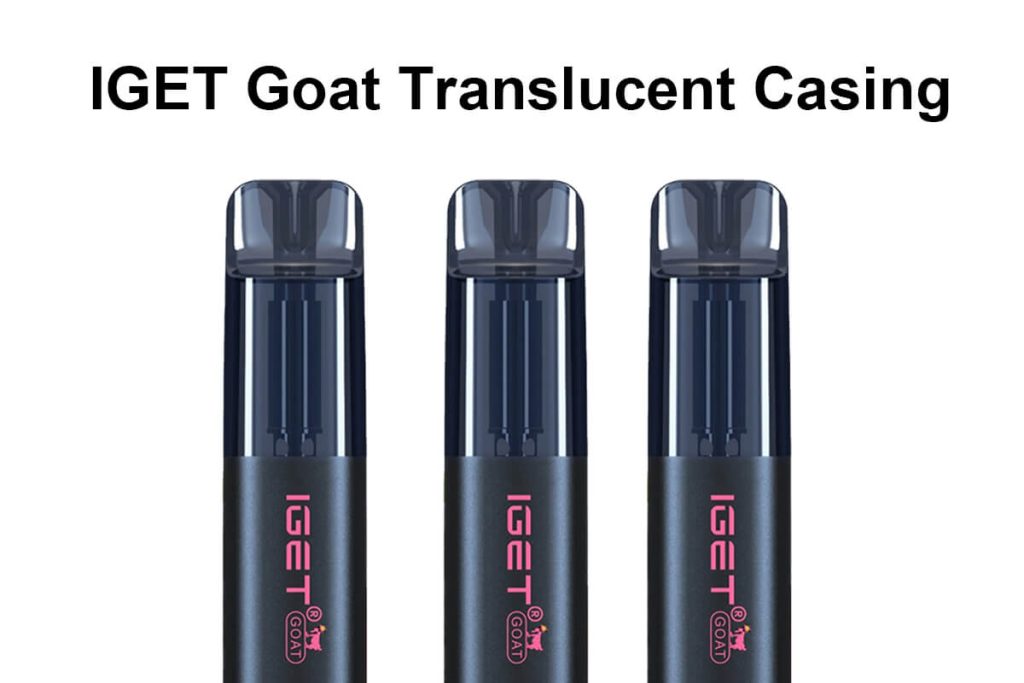 IGET Goat Adjustable Airflow Review – Is The Most Comfortable Way To Smoke
What Is IGET Goat Airflow?
The IGET Vape Goat has an extremely sophisticated design with an airflow control button at the bottom, which is unprecedented in e-cigarette design and is very attractive to vapers.
How To Use IGET Vape Goat Airflow?
There is an airflow adjustment switch at the bottom of the IGET Goat vape. It can switch airflow: to smooth, medium, or strong.
What Does IGET Vape Goat Airflow Do?
When you push the button to Strong, the airflow increases, and the vapor increases in parallel, you will feel a stronger airflow, and conversely, you will experience less flavor. Enhances your enjoyment of the vapor cloud with greater intensity and reduced flavor experience.
When you push the button to Smooth, the airflow can be reduced when the vapor inhalation is reduced. The coils are more functional to guide the tank to the electronic tank, which means your favorite flavors will be better experienced. You will experience more flavor, harsh throat hits, and a hot, thick, delicious cloud of vapor.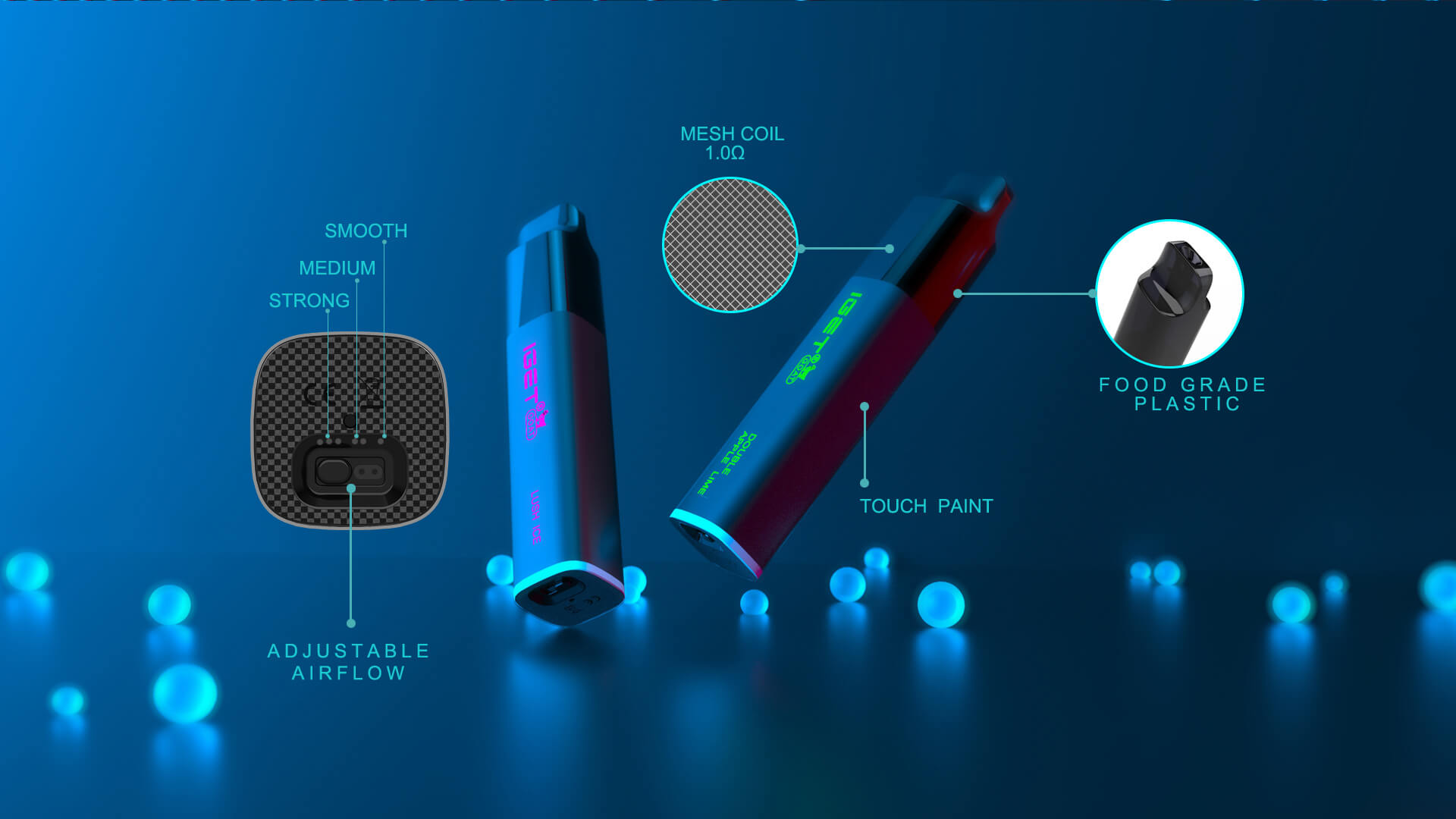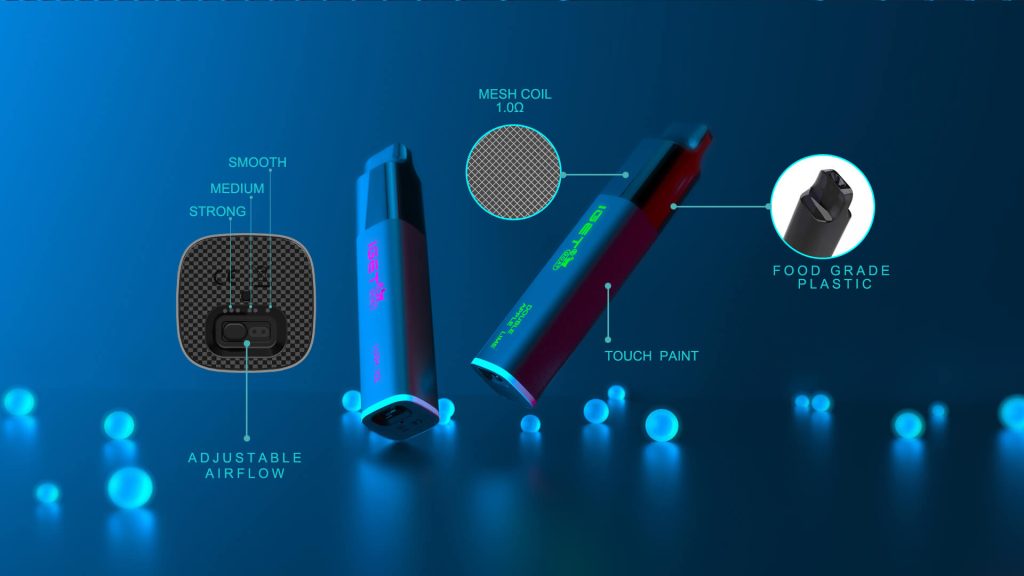 IGET Goat Flavours Review – Pure Flavor Straight To The Throat
There are a variety of IGET Goat flavours to choose from, and each one offers a unique and enjoyable vaping experience. Here are three of the best IGET Vape Goat flavours that you should try:
1. Strawberry: The sweet and juicy flavour is well-balanced and provides a refreshing vaping experience.
2. Blueberry: If you love the taste of blueberries, you'll enjoy this flavour.
3. Cherry Ice: Ripe and juicy sweet cherries that look fresh out of the neighbor's garden.
4. Strawberry Watermelon: Ripe and juicy strawberries with sweet watermelon, a feast of tropical fruits
5. Energy Rush: It's like a fizzy drink that instantly rushes into your mouth and straight down your throat
6. Aloe Grape: Gentle aloe vera with sweet and sour grapes, very continuous.
7. Double Apple Lime: The sweetness of the apple is the intro, followed by the uncalculated orange, a wonderful combination
IGET Goat Vape Near Me
IGET Vape Goat is a deserved choice, and you can buy it in VapePenZone. It promises to sell only 100% authentic products and has the full line of IGET Vape products. Local shipping to Australia guaranteed delivery.
Which Is The Best IGET Vape? IGET Goat, IGET King, IGET Legend, IGET Mega
| | | | | |
| --- | --- | --- | --- | --- |
| | IGET Goat | IGET Mega | IGET Legend | IGET King |
| Puffs | 5000 | 3000 | 4000 | 2600 |
| Nicotine | 5%(50mg/ml) | 5%(50mg/ml) | 5%(50mg/ml) | 6%(60mg/ml) |
| E-liquid | 13ml | 10ml | 12ml | 8.5ml |
| Battery | 1800mAn | 1450mAn | 1350mAn | 1400mAn |
IGET Vape Details
Which has the most Puffs
If you want to choose the most Puffs, IGET Goat is the first choice. Because IGET Vape Goat has 5000 puffs. Next is IGET Legend is close behind with 4000 puffs.
Which has the greatest nicotine strength
IGET King's nicotine strength is 6%(60mg/ml), which is the most prominent of the four IGET Vape. The other three IGET disposable vape all of 5%(50mg/ml)
Which has the best value for money
The IGET Vape Goat is the best choice if you want a disposable VAPE with more powder puff, a long working battery, and maximum e-liquid capacity. From the table, you can see that.
Of course, there are many other factors to consider, so after reading this table, I hope you can choose the IGET disposable vape you are most satisfied with.
FAQ
Why Is My IGET Goat Not Working?
If your IGET Vape Goat is not working, there are a few things you can check to fix the problem.
1. Ensure the battery is installed correctly and the connections are clean.
2. The battery is low; try charging the battery for a few hours before trying again. 3. If the problem persists, you may need to replace the atomizer coil. To do this, unscrew the old coil from the base of the atomizer and screw on a new one. Once everything is tightened, put the tank back in place and
Try again. Please contact customer service if your IGET Vape Goat still does not work.
Why Is My IGET Goat Taste Burn?
If you've been using your IGET Vape Goat for a while, you may have noticed that the taste of your vapor has changed. We'll go over them here. Possible causes of a burnt taste from your IGET Vape Goat: 
1. The coil is dirty and needs to be replaced. 
2. The wattage is too high. Try turning it down a bit and see if that helps. 
3. You're using the wrong type of e-juice. Try switching
How To Know When My IGET Vape Goat Is Empty?
1. Vapor production started to decrease.
2. The taste of vapor becomes faint.
3. The battery life indicator on the device begins to blink.
4. The vapor emitted from the equipment has a burning smell.