What's up vaper! Welcome to today's HQD Cuvie Air Review of the VapePenZone Blog! This is Chay.
Today we have the latest disposable vape product by HQD disposable vape here – the HQD Cuvie Air. It's the disposable vape with the biggest capacity on the market right now. With its 12 ml liquid capacity, it can last you up to 2 weeks.
HQD Cuvie Air Vape Review Specs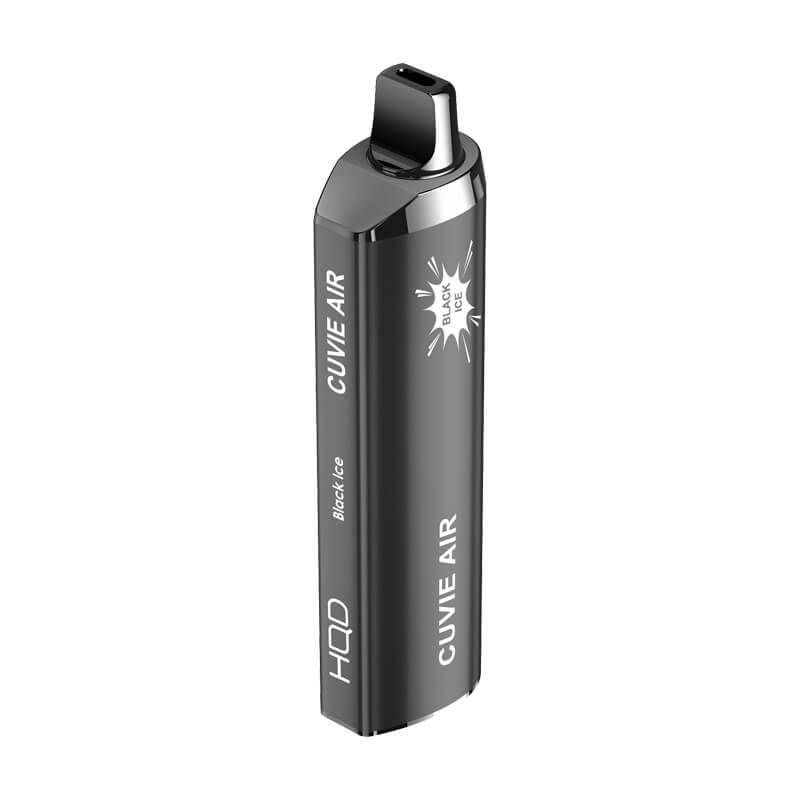 Size: 33 x 23 x 116mm
Battery Capacity: 1600mAh
Wattage: 7 to 12W
Puff Count: 4000+ Puffs
Weight: 67g
Input Voltage: 3.7V
E-liquid Capacity: 12ml
Concentration: 50mg/ml
Resistance: 1.4Ω
Flavours: 10 Available HQD Cuvie Air Flavors
HQD Rechargeable Vape
HQD Cuvie Air is a brand-new disposable sure to appease you're craving for some of the juiciest flavours on the marketplace. From Blue Razz right to Frozen Choco, there are numerous flavours you won't wanna miss out on! There are currently 10 flavours to select from.
This device includes about 4000 puffs in total amount, and also new Cuvie Air versions are able to be recharged using the given charging wire. This means that your new Cuvie Air will last as long as the juice inside as opposed to the battery, unlike older disposable vapes.
The Cuvie Air comes in a 50mg/ml nic level which suggests that it has 5% nicotine. This is standard for the majority of disposable vapes nowadays so as to get one of the most bangs for your buck!
The Cuvie Air has airflow holes under it with enhanced technology to see to it that you obtain the best hits out of your vape.
The device is sure to last you throughout your daily adventures.
Shape And Layout
The Cuvie Air looks more like a mod or pod vape than disposable vapes. It's a cylindrical shape vape with a flat mouthpiece on top. The mouthpiece is different to the old HQD vapes.
The material of the vape is aluminium alloy. It's cold and smooth to touch. Each flavour of vape has a different colour on the body matching the flavour.
Is HQD Cuvie Air Vape Rechargeable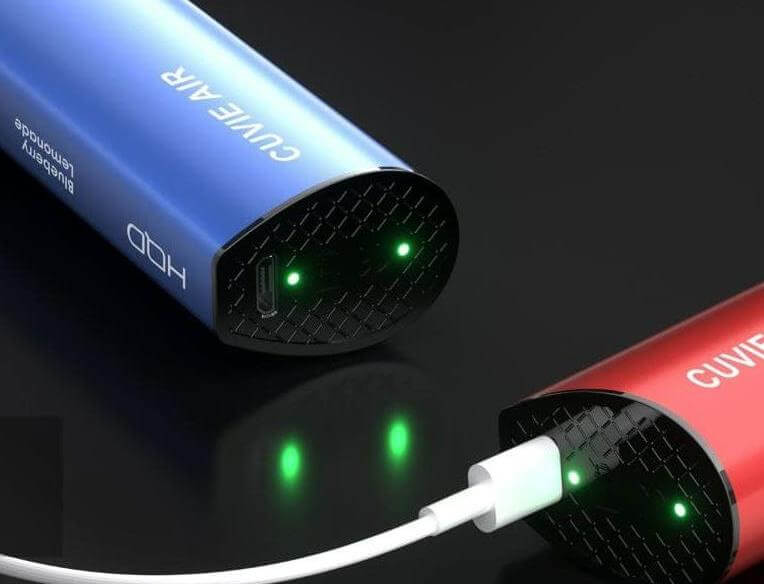 Yes, HQD Cuvie Air is rechargeable. The Cuvie Air disposable vape device is HQD updated version of their HQD Cuvie Plus. This cutting edge device has a rechargeable 1600mAh capability along with lasts for more than 4000 puffs! It has super-rich e-liquid flavours that divide itself from its competitors.
How Do I Activate HQD
Cuvie Air disposable vapes are very easy to use. All the user needs to do is open the package and take a puff on the mouthpiece.
Take your HQD Cuvie Air out from the package;
Find the mouthpiece;
Place your mouth around the mouthpiece;
Take a puff and hold the vapour in your mouth;
Inhale the vapour into your lung;
Exhale.
And that's how you activate an HQD vape charge. It's simple as that.
How Does The Cuvie Air Work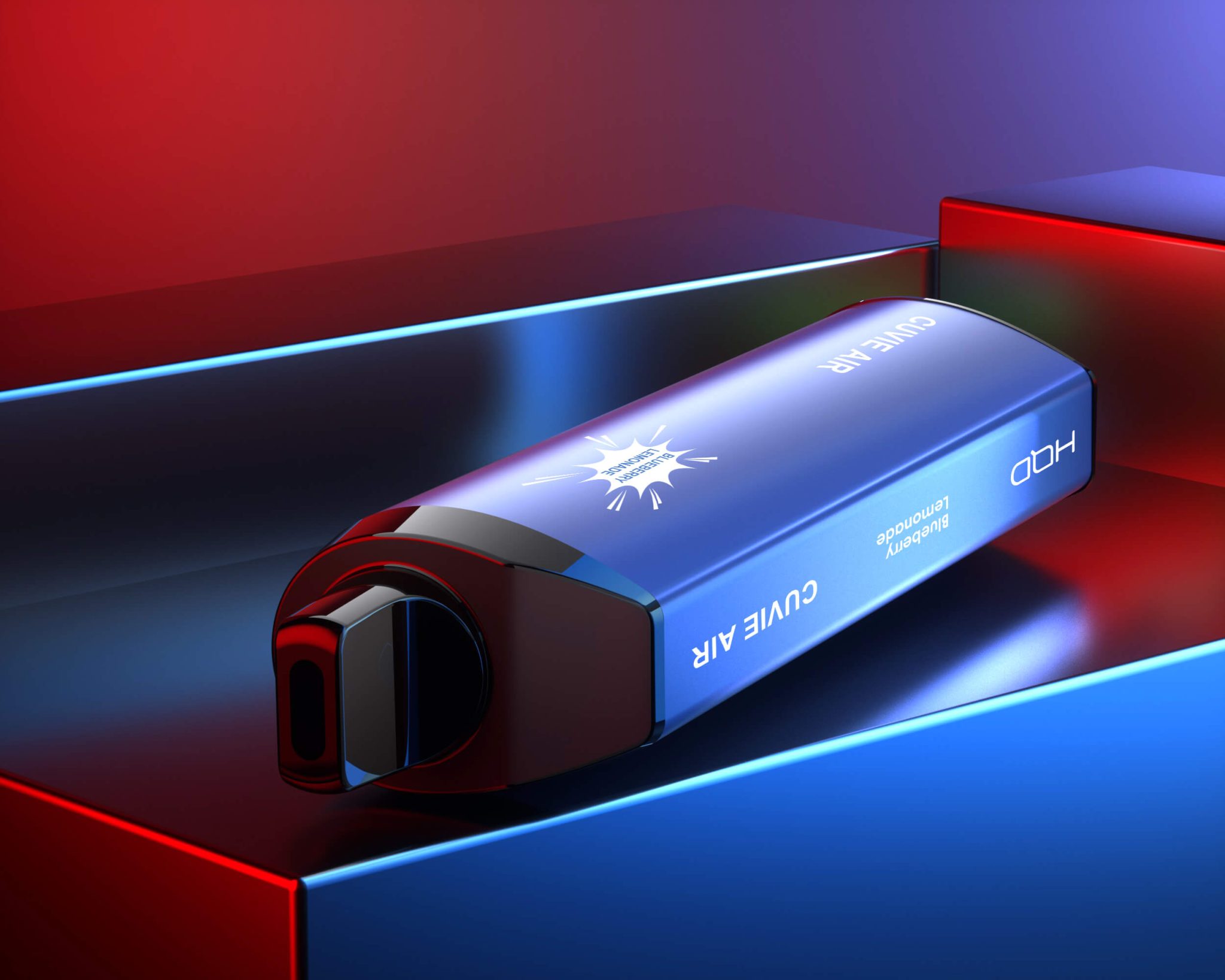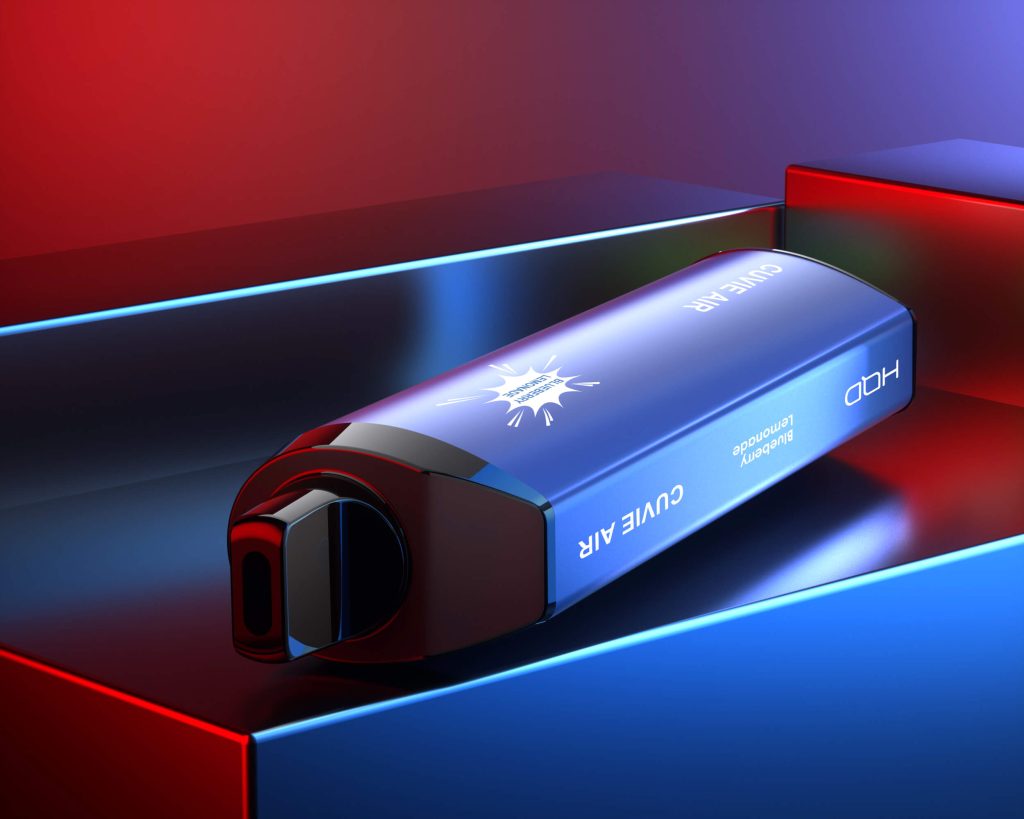 Power
The HQD Cuvie Air vapes house a battery that powers the interior vapourising process. The batteries utilized in Cuvie Air are rechargeable lithium-ion batteries that are billed from the base of the device utilizing a USB charging cable.
E-liquid
The Cuvie Air vapes run on e-liquid, sometimes described as vape juice. This is what is atomised right into the vapour which is inhaled as well as exhaled from the mouthpiece.
E-liquids are made up of a handful of key components, consisting of nicotine.
Atomiser
The procedure of changing e-liquid right into vapour is called atomisation. The liquid is atomised into a cloud of small particles by wicking the e-liquid into an inner heating element constructed from firmly wound conductive steel called a coil.
The battery present travelled through the coil powers warms the coil up as well as enables the user to attract vapour from the mouthpiece.
How Long Does a Cuvie Air Last
A Cuvie Air can last for around a week before the liquid runs out and you dispose of it.
And it can last you up to 2 days before your next charge. But we do recommend you charge your Cuvie Air Vape daily to get the best flavour out of it.
How Many Hits Does a Cuvie Air Have
An HQD Cuvie Air has 4000 Hits. The vape has a 12ml liquid capacity for you to get 4000 puffs out from one vape. Cuvie Air has the largest capacity in the disposable vape market now.
How Long To Charge HQD Cuvie Air
To ensure optimal performance and longevity of your device, we recommend charging it daily for 1-2 hours at a time.
Cuvie Air Vape Price
The price of the Cuvie Air is usually around $55. But here at VapePenZone, HQD Rechargeable Vape Flavours is at $42.98. If you're interested, you can click here to purchase.
HQD Cuvie Air Flavors
Cuvie Air currently has 10 flavours available:
Sky Mint
Blueberry Lemonade
Lush Ice
Blackberry Ice
Blueberry Raspberry, Grape
Gummies (Coke)
Kiwi Lemon
Strawberry Mango
Strawberry Watermelon
HQD Cuvie Air Sky Mint
Sky Mint is a deeply revitalizing salt-based nicotine e-liquid. Each puff will let you enjoy some brisk and also stimulating benefits that make it appear as though you're chewing on fresh peppermint leaves.
It's packed with minty air conditioning crystals to prepare you for any type of vibrant move you make as well as to take completely to the sky.
This rejuvenating flavour integrates fresh mint with a blast of revitalizing menthol, for a revitalizing experience that is totally unique, and revitalizing.
HQD Cuvie Air Blueberry Lemonade
Cuvie Air Blueberry Lemonade takes everyone's favourite summertime drink as well as upgrades it with fresh, succulent blueberries in order to offer you even more complete satisfaction.
HQD Cuvie Air Lush Ice
The Cuvie Air Lush Ice includes a rejuvenating watermelon flavour for a fruity punch with an icy menthol undertone. Lush Ice will certainly entice your taste with its real watermelon and lush honeydew blended to perfection with an icy surface.
Is HQD a Good Vape
HQD Cuvie Air is a good vape. It is every little thing you can desire from a disposable vape. It's small enough and light enough, so it's conveniently portable. The flavours are all really excellent as well as fruity, although there could be extra flavours apart from fruity ones, like tobacco and treat. The throat hit and draw are best to satisfy nicotine cravings with a single puff.
FAQ
HQD Cuvie Air Charge Time
It takes around 60 mins to charge your HQD Cuvie Air from 0 battery to 100%. But we do recommend you charge your HQD Cuvie Air daily since you can get a better flavour out of your vape when the battery is above 60%.
HQD Cuvie Air Not Charging
There're several reasons why your HQD Cuvie Air is not charging:
Short circus: try to shake your device with the mouthpiece facing down. There might be a short circus caused by liquid leaking.
Fully charged: if your vape is fully charged, it might seem like it's not charging. Try to vape your Cuvie Air and see if it's working. If it is, then vape it for a couple of hours and then charge it to see if it's charging.
If your HQD Cuvie Air is still not charging, please do not open the vape by yourself and try to fix it. Contact us instead for after-sale service.
Does Cuvie Air Have Nicotine
HQD Cuvie Air is at a nicotine level of 50mg/ml (5%). The liquid capacity is 12 ml, which means there's 600 mg of nicotine in one unit.
Cuvie Air Blinking Green
A blinking thumbs-up generally likewise implies that the charging procedure is complete.
At the same time, blinking red means that you have a low battery and also the pen will certainly switch over to reduced power output mode, specifically if the vape blinks while you are taking a drag.
HQD Cuvie Air Charger
You can use any charger or adaptor with a USB port. The Cuvie Air disposable vape kit only comes with a charging cable but not an adaptor. But you can charge it with any adaptor that has a USB port to it. You can even charge your vape with your PC if you can't find an adaptor.
How Many Cigarettes Is A Cuvie Air Vape
You can get 4000 puffs out from an HQD Cuvie Air Vape. So it's around 15 packs (20 cigs a pack) of cigarettes.
The nicotine level of Cuvie Air is almost the highest among all the vapes. So it'd be satisfying enough with one single hit. And unlike traditional cigarettes, with salt nicotine juice in this vape, you don't have to wait for 15 secs, you'll get the nicotine feeling immediately.
---
Related Posts:
👉 IGET vs HQD vs Puff Bar: Disposable Vapes How To Choose?
👉 HQD MAXX Vape Review: 10+ Perfect Flavours Vape?
👉 HQD Vape Review: HQD Cuvie Plus, The No.1 Trending Vape
👉 7 FAQs About IGET King Vape: Are They Absolutely Worth Buying?